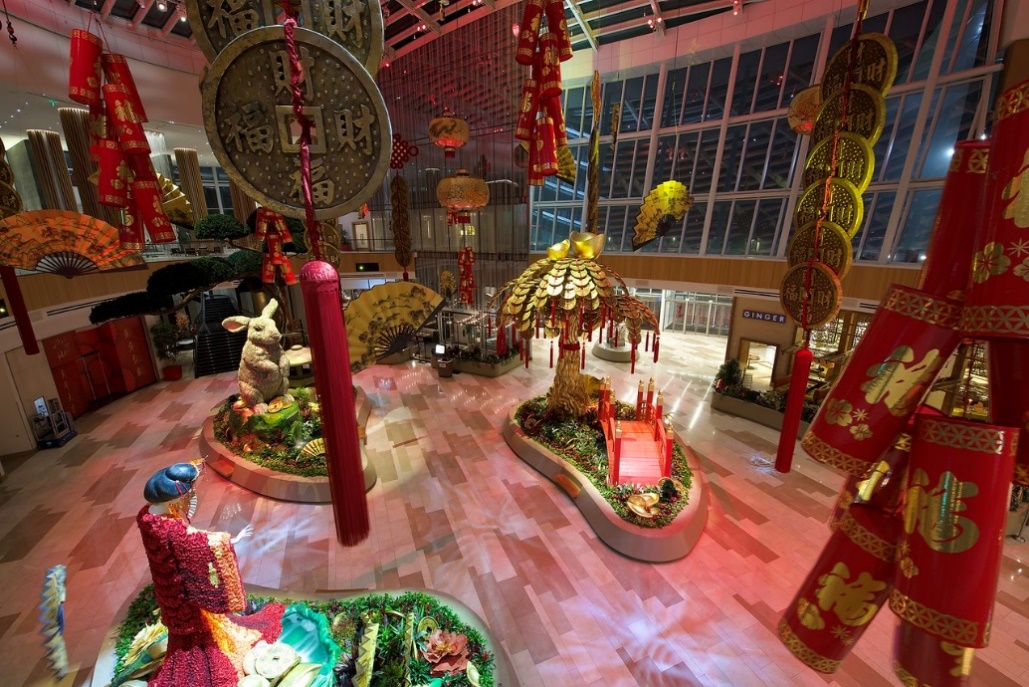 MGM National Harbor is celebrating the Year of the Rabbit with a variety of experiences throughout the resort from an authentic Lunar New Year menu at Ginger to a remarkable Conservatory display featuring a 30-foot-tall bonsai tree. A dragon and lion dance on January 22 will wow guests with a traditional, vibrant performance meant to elicit prosperity in the coming year. Additionally, guests are invited to take part in a Lunar New Year-themed photo opportunity complete with a large golden bunny and bamboo sticks, located in the retail district, adjacent to Specs.
The Conservatory
MGM National Harbor's latest Conservatory display honors the Year of the Rabbit and is designed to wish prosperity and luck to all who visit. Designers Jeremy Hargrove and Le Savarese of SolarLife Technology worked to bring the display to life, and a Feng Shui master ensured the positive flow of energy throughout the Conservatory. Guests can experience the festive display now through March 18.
The 2023 Lunar New Year Conservatory display features:
A 15-foot-tall animatronic rabbit
A 15-foot-tall princess
A 30-foot-tall bonsai tree
A 18-foot-tall traditional stone lantern
A money tree adorned with 260 oversized gold coins
Ten 4 to 6-foot fans with hand-painted scenery
Two jade rock fountains, a large wooden bridge and multiple ponds
Lunar New Year Activations
Ginger – MGM National Harbor's signature pan-Asian restaurant invites guests to celebrate the Year of the Rabbit with a special Lunar New Year menu available January 19-29. Highlights include Crispy Fried Crab Claws, Steamed Whole Fish, Sautéed Vegetables with mixed mushrooms and more. Click here to view the complete menu.
Lion Dance – Guests can celebrate the Year of the Rabbit with a special dragon and lion dance on Sunday, January 22 at 6 p.m. The performance will begin in the Casino Valet and continue throughout the Conservatory. The lion dance is a traditional celebration for the holiday bringing prosperity and good luck for the upcoming year.