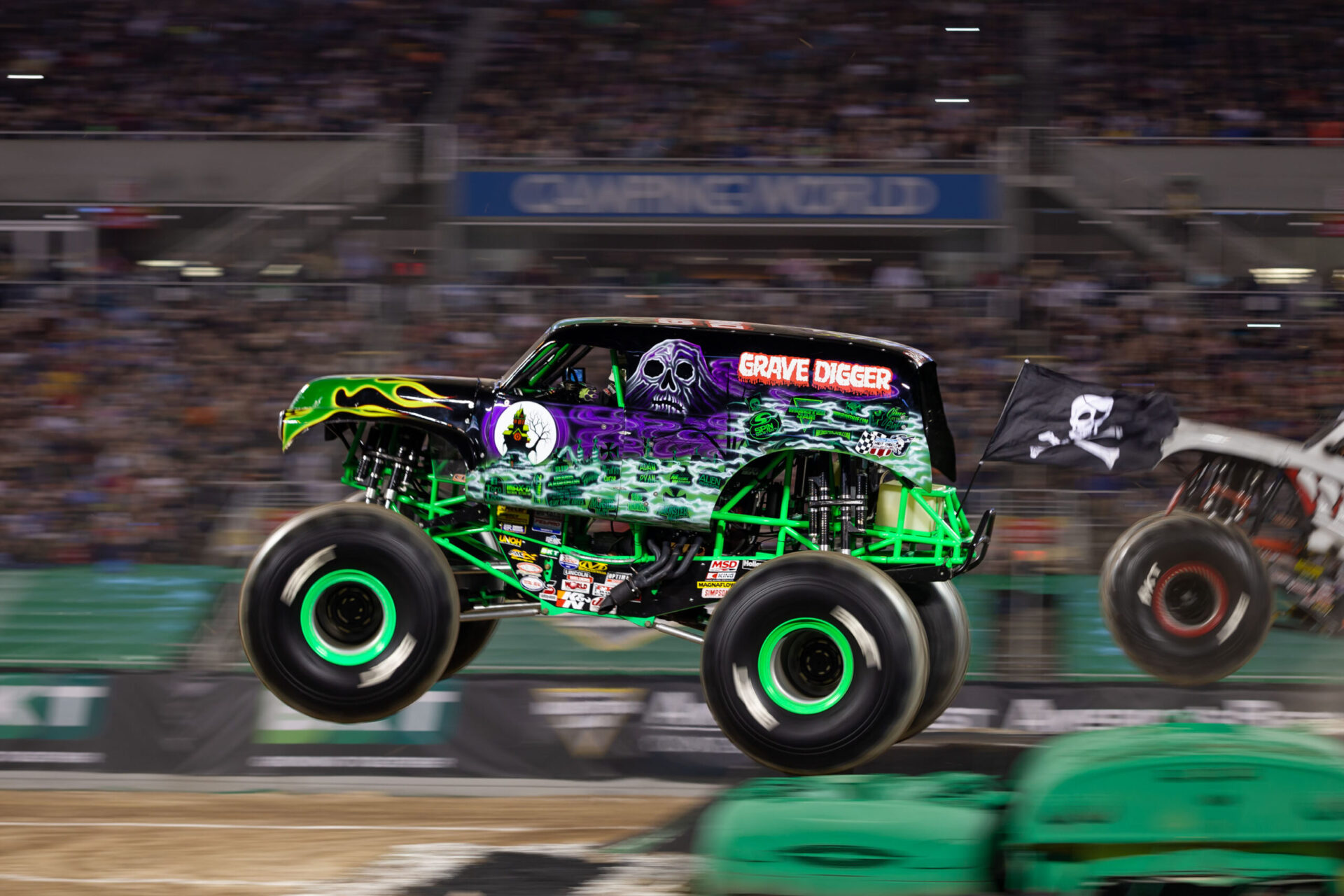 The Monster Jam Arena Championship Series has returned to DC and TRR has your family pack of FOUR (4) tickets for either Saturday JANUARY 28th @ 7pm or Sunday January 29th @ 1:00pm at Capital One Arena. Click below for more details!
TO ENTER:  Send us your name, location, and your favorite Monster Truck with the subject MONSTER JAM 30 to [email protected] by Monday, JANUARY 23rd @ 5:00pm EST
One randomly selected person in the DC Area will WIN those tickets, GOOD LUCK!
Monster Jam will be performing at Capital One Arena on:
Saturday, January 28 @ 7:00 p.m.
Sunday, January 29 @ 1:00 p.m.
Washington DC fans will be on the edge of their seats as world-class drivers show off crazy skills and all-out racing in fierce head-to-head battles for the Event Championship.  Engineered to perfection, the 12,000-pound Monster Jam trucks push all limits in Freestyle, Skills, Donuts and Racing competitions.  The Arena Series Central Champion will receive a highly coveted automatic bid to the prestigious Monster Jam World Finals® to compete for the title of World Champion.  The 2023 Monster Jam World Finals will be held in Nashville on July 1.
The Arena Championship Series Central features eight skilled athletes fighting for the championship while putting on a spectacle, constantly innovating and always entertaining.  Reigning Monster Jam World Finals Racing champion Brandon Vinson in the legendary Grave Digger® aims to repeat as series champion.  Fan-favorite Coty Saucier hopes to burn down the competition in Dragon®
Monster Jam drivers are trained, world-class male and female athletes who have mastered not only the physical strength and mental stamina needed to compete, but the vital dexterity to control 12,000-pound machines capable of doing backflips, vertical two-wheel skills and racing at speeds up to 70 miles-per-hour to produce jaw-dropping, live motorsports action seen around the world.
TRUCK LINEUP: Grave Digger® driven by Brandon Vinson; Dragon™ driven by Coty Saucier; Just Get-Er-Done driven by Brandan Tulachka; Wild Side driven by Zack Garner; Megalodon® driven by Mikayla Tulachka; Terminal Velocity driven by Jon Zimmer Jr.; 2 trucks/drivers TBA
**Truck and driver line-up subject to change
TICKETS: 
Tickets are available for purchase online at www.ticketmaster.com.
Visit MonsterJam.com for more detailed information.
RULES: Each household is only eligible to win a family four pack of tickets to Monster Jam Arena Championship Series on Saturday, January 28th or Sunday January 29th at the Capital One Arena in Washington DC. Only one entrant per email address per giveaway. If you have won the same prize on another blog, you are not eligible to participate in the giveaway.
Entries must be received by Monday, JANUARY 23rd @ 5:00pm. Any entry after the time stated, will not be qualified. Winner must be available on the day of the show in order to claim the tickets.  Winner is subject to eligibility verification. Immediate family members & staff of Capital One Arena and The Rogers Revue are ineligible to enter the giveaway. Contest is open to the residents of District of Columbia, Maryland & Virginia.
For more information on a Monster Jam near you, please log onto www.MonsterJam.com
The tickets will be available at WILL CALL on the day of performance. Good luck!