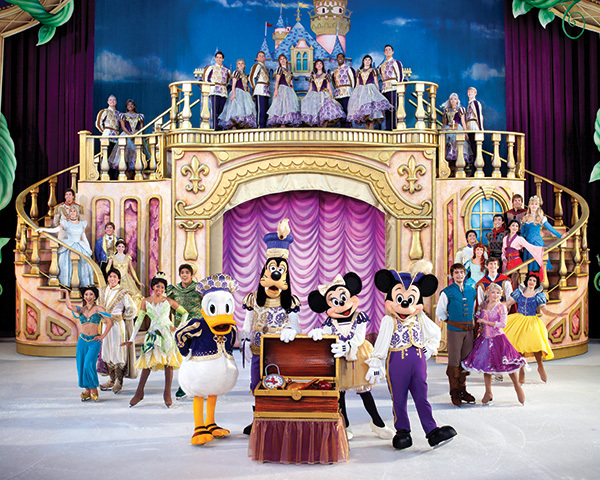 Feld Entertainment and Disney On Ice, animated the 1st Mariner Arena in Baltimore on Wednesday night with another ice capades creation, "Treasure Trove". A few all-time favorites mixed with some new Disney "classics" and you're in for a treat!!
 The costumes and the set pieces are decadently up to Disney snuff. The music naturally centers around Disney favorites from the featured classic movies and from the new ones, but they also had some dynamic and clever current additions, like Ke$ha's Tik Tok for the intro of Alice and White Rabbit.
The night started out with an interactive warm-up led by the ensemble, who then brought out Mickey, Minnie, Donald, and Goofy. There were pieces of "The Incredibles" and "The Princess and The Frog", but Act I centered around "Alice in Wonderland" and "Peter Pan". Act II carried more than I expected, with extended pieces from "Little Mermaid", "Tangled", "Snow White" and more full versions of "Lion King" and "Aladdin".
The skating has been stepped up over the years. Where Feld Entertainment and Disney could just depend on phenomenal costumes and sets and tried and true Disney magic, they enchant us with skaters who are at the top of their game. Naturally, it is a Disney show and there is a WOW Finale, complete with ball gowns, dancing, and fireworks. I was thrilled to see that not only did the entire cast come out in full costume for the end, but they had characters represented that weren't even part of the night's festivities. Joining Ariel and Eric in full ball attire was Cinderella and Prince Charming, Aurora and Phillip, and even Mulan. So, don't be late for this very important date to experience a whole new world.
Overall Experience: A++, The costumes are what only a Fairy Godmother could dream up! The set pieces and props would make Gepetto proud and the choreography could rival "Dancing With The Stars". The night was, in a word, Supercalifragilisticexpialidocious!
Production: A++, As you would expect from Disney and Feld Entertainment, who produce a myriad of events.
Venue for Event: A+, Even though there was traffic getting into town, it did not really hold us up enough that there was concern, the arena and surrounding garages were organized for the event, and every seat was a winner!