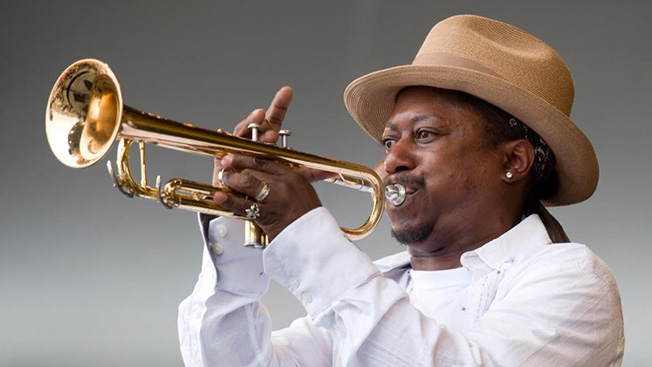 When an artist gives you a show, you politely clap your hands and smile but when an artist gives you an experience, you leap out of your seat, almost hypnotically, think you can sing, and let the music take control. "This is a lot like our own music and it just stirs something in me," said Washington, D.C. native, Alia Champman. Chapman and nearly 500 people in the Howard Theatre got a taste of New Orleans music and Chicago rhythmic melodies, Feb. 7, at the kick-off of the NOLA Funk Tour. "We came to party," says Walter "Whoadie" Ramsey, trumpeter and lead singer of the Stooges Brass Band. The band, along with New Orleans' Kermit Ruffins and the BBQ Swingers, songstress Nayo Jones and Chicago's Main Squeeze made four short hours of good music, entertainment, and feel like four minutes.

The moment the curtains went up and Ruffins walked out, he didn't have to speak because almost instinctively, the crowd knew to move to the stage, whistle, scream his name and dance. "This is the first time I've been able to catch him up here," said Jo Ann Smith. Ruffins' signature relaxed look, raspy voice, and unmistakable talent with his trumpet and lyrics, served the D.C. area a plate of southern hospitality they'd never forget. "I saw him 12 years ago, he rocked the house and he was just getting known back then and now he's become the man," says Ed Lockett. Ruffins, opened the set with "When It's Sleepy Time," a tune reminiscent of a little bit of traditional jazz but just funky enough to spark your anticipation for the next song. Though to many in the crowd, Ruffins was the main event, he opened the stage to Nayo Jones, a neo-soul singer with a bold, seductress persona on stage that matches her flow from the microphone. Jones, who was excited to be part of the tour, held the crowd's attention with her remix of "At Last," the Etta James classic and "Killing Me Softly," by Roberta Flack. "Kermit heard me sing and said "I'm going to put you to work,'" and here we are a year-and-a-half later and I'm on tour," said Jones.
Ruffins and Jones performances, complete with the audience waving white napkins in the air, took the audience on a snap your fingers, swing-era side of the experience like a lovely streetcar ride through New Orleans. The Stooges Brass Band hit the stage with an electric force. Their up-tempo brass music, singing, and choreography hyped the crowd to the next level, as promised by tuba player, Clifton "Spug" Smith. "We've come to have fun and we'll make sure they get off their feet," said Smith. The Stooges kept the momentum going with a mix of New Orleans second-line music, original chants and skits wrapped around the continuous harmony from the tambourine, trombone, trumpet, drums, and tuba. "It's amazing to me that they are able to keep that beat and rhythm and nobody's playing a keyboard," said Chapman, as she smiled and danced herself into exhaustion.
With all of the heat the New Orleans combo brought to the stage, you may wonder if there was room for The Main Squeeze. The concert was the band's D.C. debut. Judging from the crowd's reaction to their neo-soul style sound as the band hit the stage with their original song, "Love Yourself Somebody," The Main Squeeze was a perfect fit. "It's no better feeling you want than to know people want to have as much fun as you and that energizes you," said Corey Frye, lead singer for The Main Squeeze.
For more information on where to see and hear any of the bands, visit their Web sites. To hear music by Ruffins and the Barbecue Swingers, you can log on to http://www.basinstreetrecords.com/on-tour/kermit-ruffins/.
Newcomer, Nayo Jones has a catalogue of her music and performances at http://nayojones.com/.
The Stooges Brass Band has clips and comments, as well as music on their page at http://www.stoogesmusicgroup.com/.
The Main Squeeze takes you on a virtual tour at http://www.mainsqueezemusic.com/
TRR Concert Revue by Maniko Barthelemy