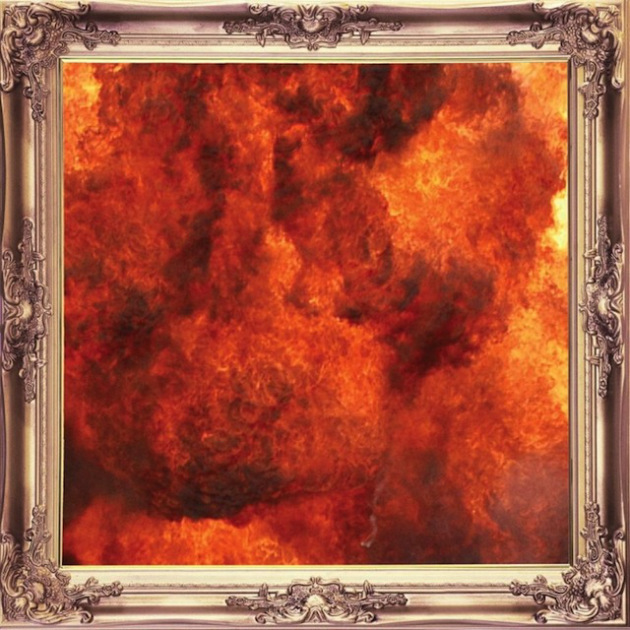 Kid Cudi's third solo album Indicud might be a hit among his current fans, but if he hasn't won you over yet with Man on the Moon: The End of Day and Man on the Moon II: The Legend of Mr. Rager, then I doubt this will do the trick.
As a Kid Cudi fan, I almost feel guilty for saying this, but after listening to the album all the way through, my first thought was "OK, I get it!" It's clear he still has the same loner "solo dolo" attitude because he is still going on about his personal demons. With The End of Day and The Legend of Mr. Rager, although criticized for being too whiny, his songs were relatable and he gave fans at least a couple of good "hang-out" anthems. This time around with Indicud, the lonely and reckless tone is a bit redundant.
The album starts out in his usual mellow fashion with his intro song "The Resurrection of Scott Mescudi" and leads into the second track "Un****wittable" quoting a line from the film The Good Son: "Once you realize you can do anything, you're free… you could fly." Right off the bat, it has a very dark feel that sets the mood for the rest of the album. I couldn't help but think that his brash attitude in the first two tracks has something to do with his controversial decision to be the sole producer on the album. Despite the gloomy intro, there are a few songs that make Indicud worthwhile.
Track 3, "Just What I am," is probably one of my favorites off of Indicud because it has that unexpected chill yet upbeat tempo, providing that cool vibe and style that only Kid Cudi can pull off. It reflects the side of him that attracted his fans in the first place. Similarly, the song "Immortal" is reminiscent of the care-free Cudi who listeners fell in love with back in 2009 when Man on the Moon I was released. It has a catchy hook and funky beat; two attributes that define Kid Cudi as an artist.
Another track that stood out was "Red Eye" featuring indie rock band Haim. If you want to hear Kid Cudi the rapper, you should probably skip this song. It is actually more so of a Haim song barely featuring Kid Cudi with melodic vocals all the way through, which I did not mind at all. I have to give Cudi his props for this one; featuring an allgirl indie band is a bold move for a rapper, but it just shows that he is not afraid to think outside the box–a quality fans love about him. It is a very refreshing switch up from the rest of the album and is perfectly placed in the middle at track 10 to keep the audience interested in listening to the remaining songs. "Red Eye" definitely put Haim on my music radar as a new artist I need to check out and that's always a plus!
Other than that, the first word that comes to mind to describe the album is 'familiar.' This is not a bad thing if you love Kid Cudi, but because the style is so similar to his previous work, but I was left wishing it was just as good. So if you're looking for the next "Day N' Nite", "Pursuit of Happiness," or "Mr. Rager," you won't find it on Indicud.
FINAL GRADE: B- (for keeping avid Cudi listeners happy, but failing to produce a track that is likely to attract new fans)
TRR MUSIC REVUE by Bessie Duckworth