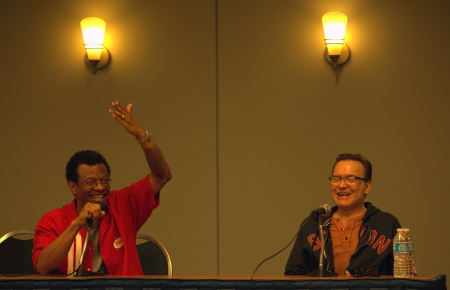 This year, Awesome Con DC held its first ever major comic convention in Washington D.C. and it was pretty epic. The Washington D.C. area has long had a thirst for comic art and this could be seen in the attendance and participation surrounding the event. It was held at the Walter E. Washington Convention Center, which was a terrific venue. There was a wealth of artistic talent in and around from the guests to the exhibitors and even the fans. This could be seen with the multitude of creative costumes everyone wore.

This was a long time coming. It's hard to believe Washington has never hosted a major comic convention. Nobody felt this more than event coordinator Ben Penrod and Steve Anderson of Third Eye Comics. Thanks to their hard work, Awesome Con DC is now here and it's here to stay.
I always looked at comic books as storyboards to either an animated feature or film. For the most part this is true. Every year countless major motion pictures, television series and video games are released featuring characters that originated from a comic book. That's why I like them; I feel comic books are the most original form of any idea set into production. If you want to know the real story, you read the comic book. It's just like when people say, "The movie was good but it wasn't as good as the book." Often I see this played out as details get lost in translation. This is why we need comic books!
One of the comic book artists I had the opportunity to preview was Chris Pyrate. I really liked his style. I'm a big fan of humorous drawings and animation and I could see his comic strips easily being translated into cartoons. He featured comics such as Cool Lobster, a stressed out lobster in need of therapy and Feral, a post apocalyptic world ran by mutated hyenas. I really enjoyed Feral. Featuring Tomko, an outnumbered dog who has to fight a slew of evolved hyenas just to survive, it's very engaging and original. You can check out more of Chris Pyrate's work at www.chrispyrate.com.
In addition to comic guests there were also a number of media guests as well. They included Ernie Hudson, Billy West, Phil LaMarr, Theodus Crane and Nicholas Brendon. I was extremely excited about the appearance of Billy West. He is an incredible voice actor who has played the role of some of my favorite cartoon characters: Stimpy J. Stimpleton, and Philip J. Fry (among a plethora of others). There was a Futurama panel Q&A session featuring both Billy West and Phil LaMarr that was classic. It was improv comedy at its finest. Listening to them recount behind the scenes memories of their work and hearing their characters and impersonations was priceless and something I will never forget. I had the chance to speak with Mr. West in more depth with an interview detailing the relationship between music and voice acting. Both the interview and the Q&A session can be seen through Art Way Alliance.
Art Way Alliance had an interesting exhibition. It's a emerging organization empowering the youth through art. Their table featured artists such as Jerome Wheeler, a fantastic illustrator who specializes in super hero characters. He designed some of the most awesome Converse shoes I have ever seen. He had a pair featuring Batman and Joker, a pair featuring The Legion of Doom and a pair featuring a host of DC Comic super heroes. These not official Converse shoes, just Jerome demonstrating his fandom, but they look incredible. You can preview these shoes at www.forbes.com by searching Jerome Wheeler. Another featured artist at the Art Way Alliance table was Darryl Bennett. He's a tattoo enthusiast whose work is reminiscent of caricatures surrounded by hip hop graffiti. Some of his inspirations include graffiti artists Crayola and Smash 137. His work can be seen at www.tokyothirteenarts.com Art Way Alliance has a number of upcoming youth comic book development camps and technology sessions you can read more about them at www.patriots-ttc.org
Awesome Con DC featured a large number of great vendors as well. They sold everything from comic books to toys and board games. They were reasonably priced as well: at TNT Comics you could buy a comic book for a dollar or 25 for $20 – not bad. I liked the Intergalactic Collectables booth. Seeing classic Transformers action figures and Exo Squad toys brought back fond memories. The variety was amazing! At the Collector's Corner booth I saw a classic X-Men Cable action figure for five bucks, still in the box! You can't beat that! I'm glad to see Awesome Con in DC and look forward to seeing it come back for years to come. Be sure to stay up to date with all the Awesome Con happenings at www.awesomecons.com and www.thirdeyecomics.com