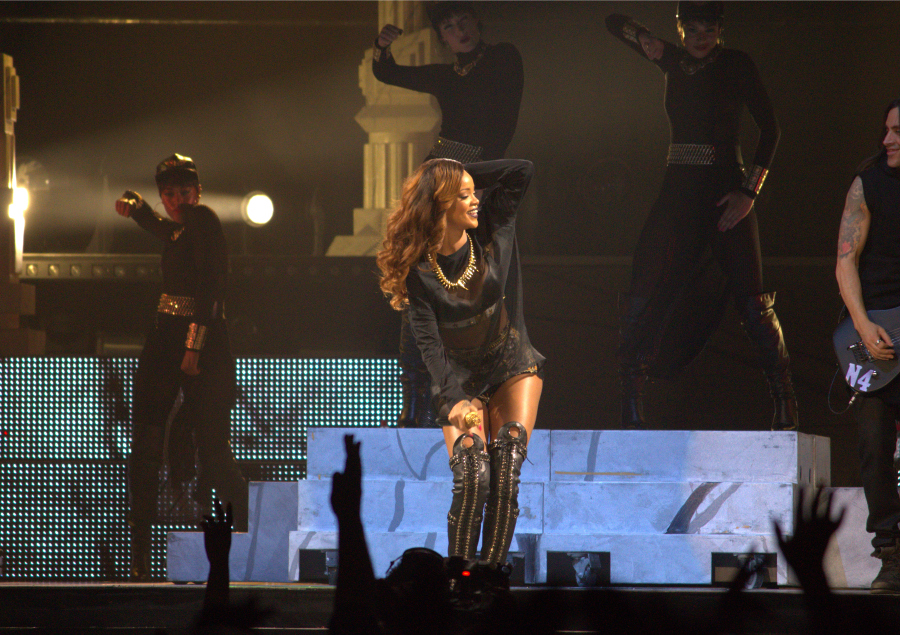 Finally! It's the RiRi-scheduled Rihanna Diamonds World tour at the First Mariner Arena in Baltimore. The original tour date was postponed due to a case of "laryngitis."  The long-awaited show featured a promising line-up with an up and coming rapper A$ap Rocky for the opening act and of course the iconic Rihanna headlining.
A$ap Rocky did his thing, and there's no need to even get into the details of that. He's a rapper; his lyrics speak for him. The bass boomed and "F**ing Problems" cranked. Rihanna on the other hand is supposed to be a singer. Now Rihanna fans, I'm not trying to offend you but Rihanna could not sing. It's not an opinion, it's a fact. She couldn't hold a pitch. It came out choppy at best with some notes just completely non-existent. I know she's been sick. She's had to cancel four tour dates and it's only the second month into the tour. She probably knows she's not at her best. She just doesn't want to cancel any more concerts and miss out on that cool half a million or so in performer's fees. I don't blame her – I wouldn't either. I do give Rihanna credit for the fact that she could've tried to lip sync the concert and didn't. For the most part, Rihanna is strictly an entertainer; her producers curtail the music they write for her to her particular vocal range which I would compare to loud talking. She's like a female hype man. No wonder she has so many club hits.
There were some redeeming features to the event. There was the enthusiastic audience who didn't seem to care how bad her singing was as long as they got a chance to see her perform. Then there was the elaborate stage arrangement which was dazzling, and A$ap Rocky really held his own. I know Rihanna has more hits than Ray Lewis in the Super Bowl and that she has collaborated with just about every major hip hop artist in the biz. But as someone who revues concerts routinely, I couldn't possibly endorse her singing from that particular night, although it would be hard to imagine much improvement. I guess Rihanna just has her own style. Harmonious speaking is the best way to describe it. Keep that in mind if you go see her live because she probably isn't going to hit those high notes. If you're a big enough Rihanna fan or intoxicated enough, maybe you won't notice. Else wise, don't be surprised if you're disappointed in the way she sings.