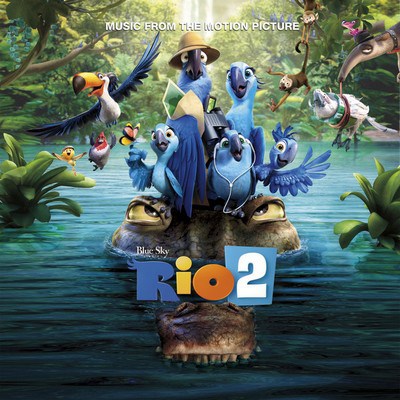 If you loved the awesome music of "Rio," you are going to love the soundtrack to "Rio 2." Blu and his new family return for a new adventure. This time, their fun filled experience is accompanied by the likes of Bruno Mars, Janelle Monae and the stars of "Rio 2," Anne Hathaway and Jesse Eisenberg. This soundtrack is as colorful as the characters themselves and is so exciting that you will not be able to keep yourself from singing and dancing along to the music. With such a diverse choice of songs—such as "Welcome Back," "O Vida," "What is Love?"—this is a soundtrack that will have you rocking to the glorious rhythm with Blu, Jewel and their feathered friends.
This exotic and amazing soundtrack is extremely unique for many reasons. In addition to the R&B and Neo-Soul singers lending their various talents to this soundtrack, we hear the beautiful voices of Brazilian musicians such as Carlinhos Brown, Milton Nascimento and Flavia Maia.  The combination of English and Brazilian Portuguese makes this soundtrack so stunning that you'll think you're actually in Rio de Janeiro and the Amazon.  Flavia's duet with Anne Hathaway in "Don't Go Away" is so breathtaking and beautiful that you will be moved to tears. Milton Nascimento's "Favo De Mel" and "What is Love?" with Janelle Monae featuring Anne Hathaway, Jesse Eisenberg, Jamie Foxx and Carlinhos Brown brings a Brazilian-American flavor to the awaiting ears of the audience. The music proves to be as animated as the characters and just as brilliant.
This soundtrack is so amazing and perfectly done that it is difficult to find a downside. The combining of cultures to create this lively and enjoyable soundtrack is what makes it stand out from the rest and is pleasing to fans of all musical genres. There's no way you can listen to even one track and not fall in love with the vivacious sounds and enticing rhythm in each of the songs.
Fans of "Rio 2" will not only love the story of Blu and his family, they will become enamored of the music. The music is so energetic that even the movie audience will find themselves standing up and dancing in the aisles. I would have to say that this is the most incredible and dazzling soundtrack I have listened to.
Final Grade: A+