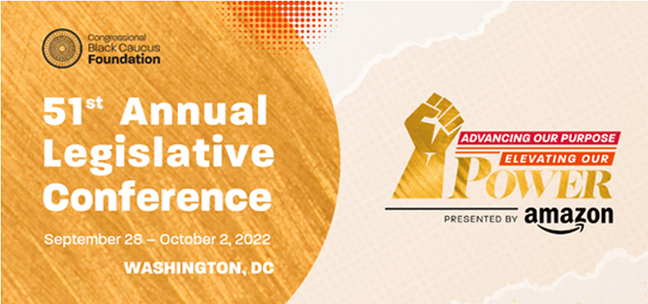 Today, the Congressional Black Caucus Foundation (CBCF) announced the in-person return of the Day of Healing (formerly known as the Prayer Breakfast), the inspirational high note for the 51st Annual Legislative Conference. The Day of Healing will take place on Saturday, October 1, at 7:30 a.m., at the Walter E. Washington Convention Center in Washington, D.C. and will feature a soulful gospel performance by Grammy Award winner Le'Andria Johnson and a special keynote message from theologian, pastor, and civic leader Rev. Dr. Otis Moss III, with additional performances from liturgical dancers and various musical talent.

"We are excited to welcome back all faith, political, and community leaders from across the nation, especially during this unprecedented time. Basic civil and human rights of all people are being challenged at this critical time in our nation's history. This year's Day of Healing serves as an important opportunity to unite and refocus on what is truly important for our communities," said CBCF President and CEO Nicole Austin-Hillery. "At this moment, we have an opportunity to reaffirm our purpose and mission—to empower the global Black community—and ultimately prevail over those forces seeking to revert back to ideologies that divide people and place barriers in the way of progress."

The Day of Healing brings together faith leaders and individuals from all nationalities and races representing our nation's various communities. In the spirit of #ALC51, Advancing Our Purpose, Elevating Our Power, the Day of Healing seeks to reignite a call to action for positive change across the nation. The event winds down #ALC51, the nation's leading public policy conference that touches on issues impacting the global Black community.

As the Day of Healing kicks off the conference's culminating events, the day will conclude with the annual Phoenix Awards, which honors individuals who have made significant contributions to society while uplifting and empowering the global Black community.

Sponsored by Amazon, #ALC51 will take place from September 28 to October 2 at the Walter E. Washington Convention Center in Washington, D.C., and is anticipated to attract more than 10,000 attendees from across the country.

Individuals interested in attending #ALC51 may visit the CBCF website to register. All members of the media are invited to request credentials by registering here.

COVID-19 protocols will be in place for those planning to attend in-person. For the safety of all attendees, the CBCF requires all attendees to be fully vaccinated and have received at least one booster shot prior to attending.