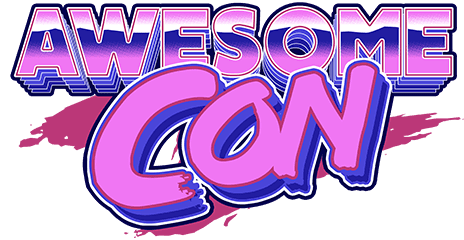 Over 50,000 fans of comic books, television and film, science and tech, and over-the-top cosplay will gather to kick off the milestone 10th anniversary celebration of geek culture at  Awesome Con presented by LeftField Media. The premiere three-day pop culture convention returns to its home at the Walter E. Washington Convention Center on Friday, June 16 through Sunday, June 18, 2023. The convention will feature hundreds of hours of programming including: celebrities and experts hosting panels, signings and exclusive reveals; cosplay fashion shows; gaming tournaments; fan meetups; acclaimed pop culture memorabilia collections; and as always, a diverse lineup of activities for the entire family.
Awesome Con is excited to celebrate a decade of uniting pop culture fans made up of all ages from across the Mid-Atlantic and beyond. Over the last ten years, the iconic convention has hosted over 200 special guests, 2,500 unique panels and special events, 1,500 exhibitors, and 2,000 creators. In 2013, Ben Penrod and Steve Anderson set out on a mission to run a comic convention of their own. They started Annapolis Comic Con, and after that, Awesome Con was quickly born. At the time, the dynamic duo never imagined that ten years later it would grow to become one of the largest fan conventions on the East Coast.
"I started Awesome Con on April 20, 2013 to provide a space for comic and pop culture fans in the DC area to celebrate who they are and the things they love," shared Penrod. "I'm so grateful to everyone who has participated in Awesome Con as attendees, exhibitors, guests, crew, and staff for the past ten years and I'm thrilled to see where the next ten years take us."
To celebrate this year's 10th edition, Awesome Con is excited to announce a lineup of top-tier celebrity guests including: Amy Jo Johnson (Mighty Morphin Power Rangers), Ashley Eckstein, James Arnold Taylor, and Matt Lanter (Star Wars: The Clone Wars), Billy Dee Williams (Star Wars) Danny Trejo (Spy Kids, Breaking Bad), Diane Guerrero (Encanto, Orange is the New Black), Elijah Wood and Sean Astin (The Lord of the Rings), Felicia Day (The Guild, Supernatural), Jodie Whittaker, Mandip Gill, Christopher Eccleston, and Billie Piper (Doctor Who), Karen Gillan (Doctor Who, Guardians of the Galaxy), LeVar Burton (Star Trek), Phil LaMarr (Justice League, Samurai Jack), and many more.
Anime fans are in for a special treat as Awesome Con welcomes 12 of the voice actors from My Hero Academia including: Austin Tindle, Caitlin Glass, Christopher Sabat, Clifford Chapin, Colleen Clickenbeard, David Matranga, Elizabeth Maxwell, Jason Liebrecht, Justin Briner, Leah Clark, Lindsay Seidel, and Monica Rial.
In celebration of Pride Month, the fan-favorite Pride Alley—presented in partnership with Geeks OUT and Metro Weekly—returns once again to celebrate LGBTQ+ artists and creators. The wildly popular Science Fair will also include a brand new Science Demo Stage presented by the National Science Foundation that will allow fans to get up close and personal with mind-boggling live science experiments and demonstrations. Other science programming tracks feature content related to NASA's Roman Space Telescope, the wonder women of NASA, and the exploration of the Moon.
Family-friendly programs take over Awesome Con Jr., which returns with playful events planned to educate and entertain both the young and the young at heart. Back by popular demand is the Awesome Con Jr. Movement Zone, where Awesome Con's littlest fans can shake a leg during Saber Guild Kid's Lightsaber Training, Kids Superhero Yoga, and the Kids Costume Parade. Young aspiring artists can also engage with and learn from professional artists in Awesome Con  Jr. Workshops, where creativity is highly encouraged.
The Awesome Con Book Fair is also back with exciting new bookseller partners, Loyalty Bookstores and Lost City Books. 23-time New York Times bestselling author Terry Brooks will headline the feature along with fellow accomplished authors TJ Klune, Mia Tsai, Emily Whitten, E.K. Johnston, and more. The Awesome Con Short Film Festival, which debuted eight years ago by local filmmaker Joe Carabeo will showcase indie short films from around the world.
Fans can take a look back at the history and the ten awesome years of memories and moments by visiting a special webpage dedicated to Awesome Con's 10th anniversary. Fans are encouraged to share their experience by using the hashtag #10YearsofAwesome. Follow Awesome Con on Facebook, Instagram, and Twitter to stay updated on the latest guest announcements, programming details, and more information leading up to the con.
Admission to Awesome Con is required to get an autograph and/or photo op with guests and each badge must be valid for the same day as the session. Fans can purchase autograph and/or photo op tickets by visiting here. Sunday of Awesome Con is also Father's Day—the perfect opportunity for fans to celebrate their super dads. The first 500 dads at the show on Sunday will get a free "Dad Bot" t-shirt.
For media members interested in covering Awesome Con, please visit here to apply for a press badge. Influencers are also welcome to attend and can apply for an influencer badge by visiting here.
WHEN:
Friday, June 16; exhibit hall hours 1pm – 8pm, programming until 10pm

Saturday, June 17; exhibit hall hours 10am – 7pm, programming until 10pm

Sunday, June 18; exhibit hall hours 10am – 5pm, programming until 5pm
WHERE:
     Walter E. Washington Convention Center
Celebrity Guests:
Comic Guests:
Book Fair Guests:
Cosplay Guests:
Special Guests:
TICKETS: Daily and full weekend passes are available.
Friday Only Admission: $45

Saturday Only Admission: $58

Sunday Only Admission: $50

3-Day Weekend Pass: $95

Premium 3-Day Pass: $170

Kids Admission: $15. Valid for kids ages 3-10. Valid for full weekend or any day individually.

VIP passes & experiences range from the Premium 3-Day ($170) to 3-Day, limited quantity Club Awesome Membership ($415), which offers access to various celebrity appearances, reserved Main Stage seating, 'Jump the Line' cards and exclusive Club Awesome merchandise items.
WEBSITE: www.AwesomeCon.com is updated regularly with new guests, exciting exhibitors, and special programming.