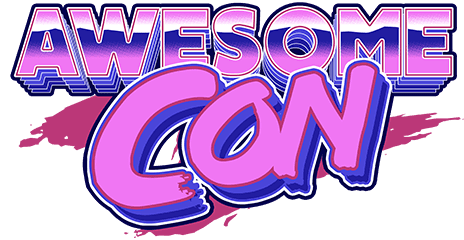 Awesome Con, Washington, D.C.'s iconic three-day pop culture convention, announces three days of programming complete with exclusive panels, workshops, meetups and celebrity appearances from Friday, June 16 through Sunday, June 18 at the Walter E. Washington Convention Center.


Awesome Con is excited to commemorate a decade of uniting pop culture fans made up of all ages from across the Mid-Atlantic and beyond with a special panel dedicated to celebrating the 10 year milestone anniversary. The wildly popular Science Fair returns with a special Science Fair Demo Stage presented by the National Science Foundation. Fans will have the opportunity to view mind-boggling and eye-catching live demonstrations. The LGBTQ+ focused Pride Alley, in partnership with Geeks OUT and Metro Weekly, returns with its largest slate of programming that spotlight LGBTQ+ artists, creators and fans. Just in time for Father's Day weekend, the family-friendly Awesome Con Jr. is back with a wide range of events planned to educate and entertain kids of all ages and parents alike. A fan favorite, Destination Cosplay will make its return to the show floor with cosplay demos, meetups and more. Awesome Con's Book Fair, presented by St. Martin's Press, is back! Powered by D.C.-based Loyalty Bookstores and Lost City Books, guests can enjoy book signings, access to writers and publishers and take a stroll down Author's Lane to discover independently published authors from a variety of genres.

Attendees can start planning their Awesome Con experience and view the full schedule of programming online at awesome-con.com/programming.


Celebrity and Comic Guests

Hear from some of the biggest leaders from the world of pop culture and comic books at panels, screenings, Q&As and more. For a full lineup of confirmed guests and panels, visit here.

The full main stage lineup includes:

Friday, June 16:
2:00 PM – 2:45 PM: Phil LaMarr
3:00 PM – 3:45 PM: Attack on Titan Cast – Jason Liebrecht, Elizabeth Maxwell, David Matranga, and Lindsay Seidel
4:00 PM – 4:45 PM: Billy Dee Williams
5:00 PM – 5:45 PM: Travis & Griffin McElroy
6:00 PM – 7:00 PM: Wes Johnson's Voice-A-Palooza ft. Maurice LaMarche, Rob Paulsen & others

Saturday, June 17:
10:30 AM – 11:15 AM: Next Gen Geeks with Travis McElroy, Griffin McElroy, Felicia Day & others
11:30 AM – 12:15 PM: Chris Eccleston
12:30 PM – 1:15 PM: Karen Gillan
1:30 PM – 2:15 PM: Lord of the Rings Cast – Sean Astin, Elijah Wood & Andy Serkis
2:30 PM – 3:30 PM: My Hero Academia Cast – Christopher Sabat, Austin Tindle, Clifford Chapin, Monica Rial, Jason Liebrecht, Elizabeth Maxwell, David Matranga, Lindsay Seidel, Caitin Glass, Justin Briner, Leah Clark
3:45 PM – 4:30 PM: Danny Trejo
4:45 PM – 5:30 PM: Diane Guerrero

Sunday, June 18:
10:30 AM – 11:15 AM: Billie Piper
11:30 AM – 12:15 PM: Doctor Who Cast: Jodie Whitaker and Mandip Gill
12:30 PM – 1:15 PM: Clone Wars 15th Anniversary Panel with Ashley Eckstein / Matt Lanter / James Arnold Taylor
1:30 PM – 2:15 PM: LeVar Burton
2:30 PM – 3:15 PM: Tokyo Ghoul Cast – Austin Tindle, Clifford Chapin, Monica Rial

Celebrities are also appearing on the Bot Stage in Room 202:

Friday, June 16:
4:00 PM – 4:45 PM: Bootleg Safari with Aaron Reynolds and Christopher Sabat

Saturday, June 17:
12:30 PM – 1:15 PM: Maurice LaMarche & Rob Paulsen
1:30 PM – 2:15 PM: David Barclay & Mike Quinn
2:30 PM – 3:15 PM: Amy Jo Johnson

Sunday, June 18:
10:45 AM – 11:30 AM: Colleen Clinkenbeard
11:45 AM – 12:30 PM: Felicia Day

Main Stage panels are being moderated by Tony Kim and Bot Stage celebrity panels are being moderated by Aaron Reynolds, Fantastic Frankey and Wes Johnson. Also please note that the final schedule may be subject to change and it is best to download the Awesome Con mobile app or check the programming page on the website for the most up-to-date schedule.



Pride Alley
Drag Bingo with Logan Stone and D'Manda Martini (Saturday at 6:00 PM on the Bot Stage – Room 202

Join Logan Stone and D'Manda Martini for Drag Bingo at Awesome Con! Come play some rounds of bingo with your drag hosts to win some fabulous prizes! Please arrive as early as 30 minutes ahead of the start time for sign ups. Contestants will be playing as individuals and not as teams.

Memory Lane: How Comics Helped Me Come out of the Closet (Saturday at 3:15 p.m., Room 206)

How Comics Helped Me Come Out of the Closet Every LGBTQ+ comic fan has that one story that sparked their journey, and it will always hold a special place in their heart. Reminisce with creators Tana Ford, Cat Staggs, Amanda Deibert and Dan Parent of the fan favorites that helped us feel more accepted, loved and comfortable in our own skin. These are the tropes we return to time and again because of their personal meaning and because they're just awesome!

Falling for the Queer Femme Fatale (Sunday at 1:00 PM, Room 206)

Geeks OUT gathers a few of our favorite creators and artists including Tana Ford, Cat Staggs, and Amanda Deibert to discuss some of the dangerous queer femme characters in comics including Harley & Ivy, Mystique & Destiny and why we love them.


Science Fair
NASA's Roman Space Telescope, "Planet Hunter" (Saturday at 10:45 a.m., Room 204)

With a field of view at least 100 times greater than the Hubble Space Telescope, Roman will survey the sky 1,000 times faster than Hubble while maintaining similar sensitivity and resolution, capturing more of the sky with less observing time. Come hear from NASA scientists about how Roman will hunt for planets like never before.

Nerd Nite DC: Live! (Saturday at 7:45 p.m., Room 204)

Nerd Nite DC excitedly brings its live show to Awesome Con 2023. Join us for three fun-yet-informative presentations about thumb-splitting shrimp (yikes!), the science of comedy (ha!), and the (r)evolution of the synthesizer.

Wonder Women of NASA (Sunday at 11:30 a.m., Room 204)

From Mission Operations to Public Engagement, come meet just a few of the wonder women who work at NASA. Hear about what led them to the space agency, the sometimes twisty paths they took to get where they are today and the challenges they've faced.

Sulfer Hexafluoride Voice Demo: Balloon in the Bottle, Liquid Nitrogen Demo, Elephant's Toothpaste Demo and more on the Science Fair Demo Stage presented by the National Science Foundation in Aisle 100 on the Show Floor, every day at the top of the hour

How Star Trek inspired me to be a scientist! (Sunday at 10:30 AM in Room 204)

The Nichelle Nichols Foundation, is excited to continue her legacy of inspiring the next generation. Please join three of the foundations board of advisors, as they discuss black holes, the search for aliens, and genetics. This is a family friendly panel and there will be a Q&A after their presentation. Our panelists love getting questions from young people who are curious and are interested in a career in STEAM (Science, Technology, Engineering, Arts and Math). If you are a Star Trek Fan or interested in learning more about the universe and DNA, please beam into our panel.


Book Fair, presented by St. Martin's Press
All Grown Up (Friday at 1:15 p.m., Room 209)

Authors David Ebenbach, EK Johnston, and Mia Tsai discuss the science fiction, fantasy, and pop culture that shaped their childhoods and made them into the writers they are today.

Ask an Author (Friday at 4:45 p.m., Room 209)
Interested in the approach that well-known authors took when they were learning to write? What resources did they use to get from where they began to now? This conversation between David Ebenbach, Mia Tsai, Justina Ireland, and EK Johnston and moderated by Terry Brooks, will help you in your quest to write, whether you're just starting out, an experienced writer, or a published author.

Other Worlds (Saturday at 1:30 p.m., Room 209)
How do you first create a world? What are the building blocks needed to withstand the twists and turns authors put their characters through? What's it like diving into a previously established universe and making it your own? Join authors Terry Brooks, TJ Klune, EK Johnston, David Ebenbach, and Justina Ireland as they discuss the creation and destruction of fantasy and science fiction worlds.

Awesome Con Jr.

Movement Zone:

Kids Costume Parade hosted by Shady Haze & friends

Saber Guild Kids Lightsaber Training hosted by Saber Guild Dathomir Temple

Father's Day Superhero Training hosted by Hellspawned Cosplay

Kids Superhero Yoga hosted by the Cosplayin Yogis

Story times hosted by the DC Public Library


Awesome Con Jr.

Workshops:

Make a Pokemon with John Gallagher

Potions Class for Young Witches and Wizards

Alien Invasion with Dawn Griffin


Destination Cosplay

The Elephant in the Room: Mental Health and Cosplay (Friday at 3:45 p.m., Room 207A)

No matter when we are or where you are in life, that can be affected at any time. We as Cosplayers wear so many masks. For some, to hide our individual pain. For others to escape an otherwise basic existence. We'll cover how we work toward mentorship, and collaborating with others to promote a peaceful and united cosplay community.


Super Slay: Part Trois – the Redieux (Friday at 6:45 p.m., Room 207A)

The Super Slay crew is back again to continue discussing how fashion and cosplay intermingle and mix with one another, usually through blurred lines.


Mando Mercs-This is the Way and the Way is good! (Saturday at 4:15 p.m., Room 207A)

Take your first steps into a larger Galaxy! Meet the Kyrimorut Clan and learn how to make your own unique Mandalorian armour and provide charitable contributions to your community.


Additional Programming Highlights:


The Geek Comedy Tour: Return to Awesome Con (Saturday at 7:15 pm on the Bot Stage – Room 202

The Geek Comedy Tour has returned for Awesome Con 2023, and has brought some of the nerdiest, best, and most comic book, tabletop gaming, RPG, anime, video game, sci-fi, and pop culture-obsessed stand up comics in the DMV with it.


Super Art Fight (Friday at 6:45 p.m. on the Bot Stage – Room 202)

Super Art Fight is the greatest live art competition in the known universe, a live-action performance where two or more artists battle against each other on a giant canvas. With the help of two quipping hosts and the Wheel of Death, they compete for the audience's affection in order to score the win.


OTP or NOTP: A Tournament of Cosplay Pairings (Friday at 5:00 pm on the Bot Stage – Room 202)

Cosplayers of all levels are welcome and encouraged to sign up, show off, and square up in random pairings to determine the ultimate OTP.


Learn to Geeky Bellydance: My Hero Academia Style (Saturday at 3:45 p.m., Room 207B)

The performers of Antipode dance have been belly dancing for over 10 years; If you are willing to learn, we're willing to teach! Come drag your friends to dance to some of your favorite geeky tunes. Everyone is welcome in this judgment free class, no experience required!


WEBSITE: www.AwesomeCon.com is updated regularly with new guests, exciting exhibitors, and special programming.