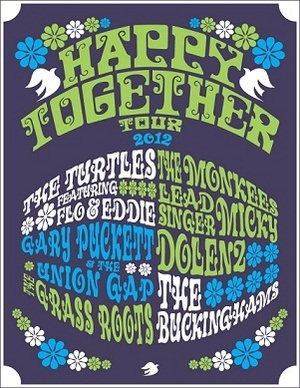 The Happy Together Tour took on The Filene Center at Wolf Trap last Sunday and we all had so much fun! This tour combines a lot of elements that make for a great concert. There are different bands that take part every year, but it's always a combination of rock groups from the 1960's and 1970's. This year's show included, The Buckinghams, The Grass Roots, Gary Puckett, Micky Dolenz of The Monkees, and The Turtles.
The Buckinghams kicked off the night triumphantly with hits, "Kind of a Drag", "Mercy, Mercy, Mercy", "Don't You Care", "Susan", and "Hey Baby, They're Playing Our Song". They are more clear now because in the 60's they were on a 45 🙂 Their performance was one of the highlights of the evening and I hope that they will return for a fourth year, next year! Next up, were The Grass Roots, another fantastic group from the era. Although, this incarnation of the group has members that are not original to the 60's, but that is a typical occurrence. In the case of The Grass Roots, the band has gone through several dozen members, even from their first year as a named band. This group is a great representation and performed, "I'd Wait A Million Years", "Sooner or Later", "Temptation Eyes", and "Midnight Confessions" expertly. They also did a tribute to our military, past and present and started their tribute song completely a cappella, which was very impressive. Their tone is terrific and most people wouldn't realize that they are not the original members. It' s a typical practice in the music industry to use the name of the band and create sort of a franchise and perform the greatest hits in concerts, even though the original members are no longer with the group for one reason or another.
Gary Puckett, of "Gary Puckett and The Union Gap" was the next on the bill and perhaps my most anticipated, as he was the only one of the night that I hadn't seen before in concert. He sang his greatest hits, "Lady Willpower", "Over You", "This Girl Is a Woman Now", "Woman, Woman", and "Young Girl". To the delight of female fans, when he started his set, since it was warm outside, he took off his suit jacket and the ladies cheered. He sang with heart and enthusiasm and the crowd responded very well. For me, I was a little let down, but with his almost 70 years of age, I was happy with the overall performance. His voice has changed and his lower register has given way to a higher version of his top hits. I think what I didn't like was the faster tempo at which they were sung. The act was a little more "loungey" than I was hoping for, but he is still a great performer.
Next out, what was supposed to be The Monkees, was now Micky Dolenz of The Monkees, as we tragically, lost Davy Jones earlier this year. Since Micky has always been a frontman for the group over the years, he put on a great set. We very much missed Davy's zest and personality onstage though. Dolenz did a heartwarming tribute version of "Daydream Believer"; as he sang clips of Jones ran on a big screen. It made me cry and I thought that it was a nice thing to do to honor his friend and bandmate. Sadly though, I was left with the thought that "Daydream Believer" died with Davy Jones. On a happier note, Dolenz is a consummate performer and did his group justice with "(I'm Not Your) Stepping Stone", "Pleasant Valley Sunday", "A Little Bit Me, a Little Bit You", "I'm A Believer", and "Last Train to Clarksville". Dolenz puts on a tremendous show and I will see him again and again and hopefully on this tour next year!
When The Turtles came out at the end of the night everyone was still ready to party, including me! They are always showman and hilarious and this tour is no exception. They came out to Lady Gaga's "Bad Romance" with wigs and capes adorned with hot dogs, burgers, ribs, and other assorted "meats", asking the question "What happened to music?" Then went into their set with vim and vigor. They sang, "You Baby", "Eleanor" and my two favorites, "It Ain't Me Babe" and "You Showed Me". "You Showed Me" is one of my absolute favorite songs and they sing it just they way they always have. They of course ended their set with "Happy Together" and finally the whole, sold out place, stood up and sang along. That was my only gripe of the evening…the audience! I know a lot of their fans are 55+, but when you hear dance music, you have to dance!! Unlike the Summerland Tour, where my feet hurt from jumping up and down and standing all night, this gang did not follow the energy that was being put out onstage, so extra points to the performers for keeping up their energy all night!
I also LOVED the way this tour ended the night. The brought everyone back out and as they came out they again sang a hit that they are known for, with everyone who was already onstage! It was great…The Buckinghams came out for bows and sang "Kind of a Drag", then The Grass Roots joined in and they all sang "Midnight Confessions", then Gary Puckett re-entered and they all sang "Young Girl" with all of us joining in..what fun! Micky Dolenz came back and you can tell that they all really have a respect for each other as performers, but they really have a great time together, too, as they sang, "(I'm Not Your) Stepping Stone" and then they all joined in for another round of "Happy Together". Everyone was cheering and dancing and it was fantastic fun!
It's a phenomenal way to spend an evening; rocking down memory lane with extraordinary groups that started it all!
Overall Performance: A++, You can't have a more fun evening, if you like music from this era!
Venue: A+, It's the perfect type of show for Wolf Trap.
The Happy Together Tour is moving around the country and runs through this summer and will hopefully be back next year! Unfortunately, this is where they dropped the ball…there is no tour website, so check your local venues. Or go to each groups site:
And as always www.wolftrap.org for the remainder of The Filene Center season and their just announced The Barns season