Vanessa Hudgens
5 min read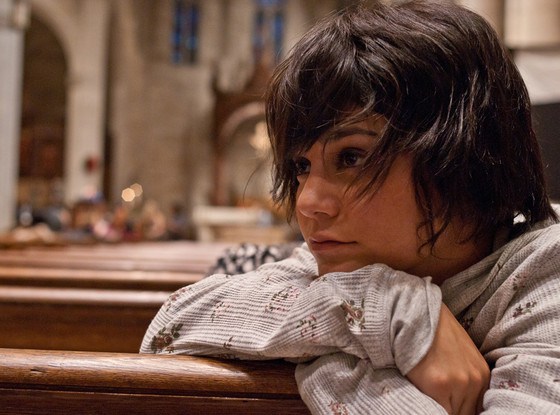 For 2014's first INTERVUE, I interviewed an actress who made a huge transition last year with such high-profile roles in "Spring Breakers" and "Frozen Ground." In her project "Gimme Shelter," which is due out January 24, Vanessa Hudgens plays  Apple "Agnes" Bailey who leaves her abusive mother's home to look for her biological father who works on Wall Street and urges her to get an abortion. When she refuses, she is forced to live on the streets. Recently, I had the chance to talk to Vanessa about her role.
What was your initial reaction when you read for the role Agnes "Apple" Bailey? What made you wanted to tackle the role?
VH: Just what a strong character she was.  Just the fact that she was a real survivor and that she took her future into her own hands. I just love strong women. I think that'S just something I definitely got right off the bat for her. I always love the idea of transformation like Charlize Theron in "Monster." It's amazing being able to watch an actor and not see an actor, just to see a character and be an audience member. I've always loved that aspect of acting. I knew that it was going to require that when I read this script. 
You actually stayed in a homeless shelter for a couple of weeks before filming. Tell us about your experience and what did you took away from it.
VH: I think they saw the fact that I was there and I wanted to do justice to their story. I really wanted to be a glimpse into their lives and being an over dramatization. They saw my passion for the project and knew that I was really invested in it. This isn't something that I was really going to take lightheartedly.  I was doing the chores with them. I didn't put myself on any different level except for the ones they were on. I tried to stay with them consistently. Sure enough, slowly, they opened up to me and the one who opened to me the most is the one that Apple's events with her mother actually happened to her. I was surprised honestly of how well she opened up to me and how she was so uncensored talking about it. I was also really closer to her son. If her son can trust me, she could trust me.
How was the directing process with Ron Krauss?  Did he give you a sense of what he wanted and let you follow your instincts?
VH: Ron and I kind of had an instant connection. I dont know how or why but we kinda got each other from the very beginning. He put me in place and I put him in place when it was needed. We worked side by side in this really kinda magical dance of a way. He, of course, would work with me on the scenes and let me know in his head where I was going. Sometimes, he would come and remind me of the things. He honestly can do it with a look. We were really on the same page. I think because we both had been in the world and the shelter, that became normal for us. We knew the character really well. I set boundaries when I had to. I love him and I could never have done this without him, his real sheer dedication and motivation.
Look for Vanessa's transformation in "Gimme Shelter" opening in theatres THIS FRIDAY from Roadside Attractions