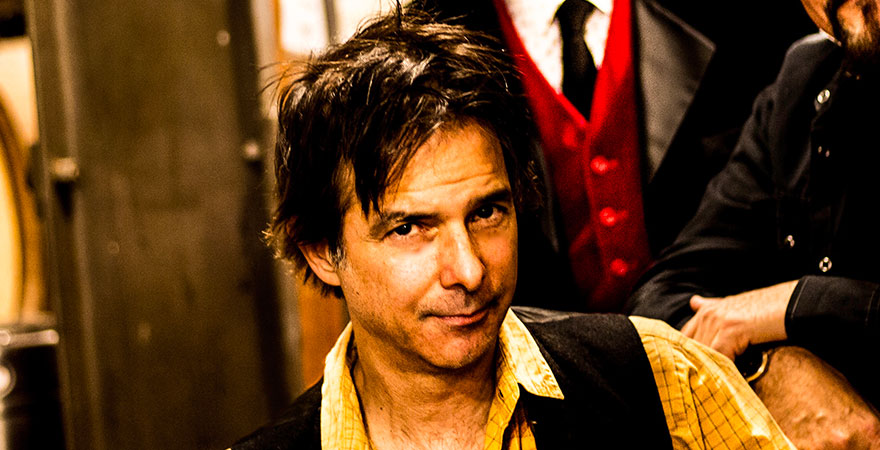 No matter what generation you come from, you know who John, Paul, George and Ringo are. That's right, The Beatles, also known as The Fab Four. If you love them, then you will absolutely love The Fab Faux, an amazing band of talented artists who perform songs from The Beatles to generations of fans. The Fab Faux is set to perform songs from The White Album at The Hamilton in Washington, D.C. on October 26th. The quintet consists of Will Lee, Jimmy Vivino, Rich Pagano, Frank Agnello and Jack Petruzzelli. I had the pleasure of speaking with Jack in regards to their upcoming performance at the Hamilton and I had a few questions about their show and what we can expect when we see them take the stage.
The Fab Faux is set to perform on October 26that the Hamilton. What can the fans expect to see when they come to your show?
Are you familiar with the title of the show and the theme of the show?
I know you're performing songs from The White Album.
That's right, The White Album. I don't know if you're familiar with that Beatle album, but it's 51 years old, and it was referred to as The White Album because it really didn't have any title. 1968. They're going to get a lot of the rock and roll numbers off of The White Album; Back in the USSR, Dear Prudence, I'm So Tired. We don't have our string and horn section this time, so it's going to be pared down to just the five piece numbers. It'll be primarily like a rock and roll show.
Out of all the songs from The White Album, what song do you love to perform most?
It can change on a nightly basis. They're all such great songs. I think Hey Jude is my favorite to play from that period of time.
That is a beautiful song. I can see why you enjoy it.
Yeah, I can see why you would enjoy it. (laughs)
Yes. For me, it started from watching the film Yellow Submarine.
Yep. The Beatles, as well as their visuals, cartoons are always entertaining for kids. And that's one of the great things about The Fab Faux. When we play, in the audience, we can see anybody from a 5-6-year-old to a 90-year-old. We have fans from every background, every age group. Music can transcend so many countries and demographics. It's a testament to how wonderful the music is.
What are you most looking forward to in regards to the show?
I like being in Washington, D.C. It's a great town to walk around in. There's a lot of things going on, whether you want to try different kinds of foods, go to museums, and our hosts, the mansion on O Street, Ted and his wife H do a fabulous job with what they provide for us. The coolest place to stay in Washington, D.C. So I'm looking forward to those kinds of things.
I read that you recently co-produced Joan Osborne's album The Songs of Bob Dylan and that you played on the album as well.
That is correct. I have been working with Joan Osborne since 1988, '89, somewhere around there. So, our history goes back along way; musical history and just being friends for that period of time. It's the third album that I co-produced for Joan. This one is myself, her and Keith Cotton, who plays in her band as well. He had been playing songs together and coming up with arrangements and just having so much fun learning Bob Dylan's catalogue and you can just imagine how difficult it was to choose one song, but I'm pretty happy with the choice we made and we're still playing the show out at the moment.
Are there any other artists you'd like to work with?
I couldn't say anyone in particular, but I hope that I still get to play with more high profile artists like the ones I've been playing with because when you play with people that have that kind of talent, it just makes you rise to the occasion. I've worked with Joan Osbourne, Rufus Wainwright, Patti Smith, Dean Hunter; some people that have made a difference in music and culture. And there's a lot of wonderful things that come with that, but primarily their talent and who they are so, I've been lucky with that and I hope it continues.
If there is anyone out there who wants to follow in your footsteps, what advice would you give?
Keep practicing. Learn different instruments, learn how to sing, and in this day and age, learn other facets of the music business. Whether it's engineering or technical side, because most people now, when they're younger, they don't have the opportunities that had when I was younger. I had a lot of opportunities to play music, and I had a good opportunity to make money playing music. It's more difficult now. There's less financial support from record companies. So, as far as being a young touring musician, it doesn't happen as much as it did when I was coming up. So I see now with younger musicians, they're also very talented in other fields. Whether it's engineering for live sound performances or engineering for the studio; technicians that can also be the backline technicians for the stage and for touring companies. Because no matter what, you still want to be involved one way or another. And if you're involved one way or another, then you're networking. And if you're networking, then one job will lead to another. You want to stay connected, you know?
Check out The Fab Faux at the Hamilton October 26th. If you want to keep up with their music and learn more about them, go to their website at www.thefabfaux.com.