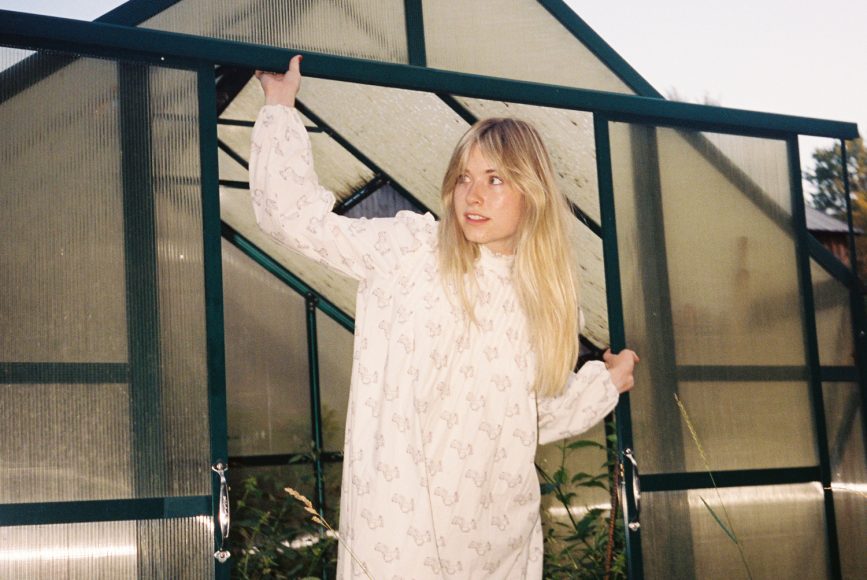 On this episode, we are talking a musician from our native Virginia by way of Charlottesville. She was born into a musical family and her star is on the rise, especially since her debut EP, I Don't Want to Lose came out back in 2019. It was followed by the sophomore EP, A Word Becomes a Sound. And now she has released a brand-new LP Look at it in the Light, which has some amazing songs. And if you want to see her live, she's coming to the DC9 nightclub on June 17 at 8:00 PM. Ladies and gentlemen, we have UVA Virginia's own Kate Bollinger.
Tickets are available by clicking HERE
DC9 will require proof of vaccination for entry.
Kate, welcome to THE INTERVUE
Hey, thank you so much for having me.
Well, it's great. Well, so glad to hear especially since you're a fellow Virginian like me, I hoped and I'm glad to be talking with you.
Me too.  I love talking to anyone from Virginia.
That's great to hear. Well, now let's get started. You have just released your brand-new LP, Look at it in the Light and it is a reference to the aspects of your life that you know, needs examining. And I want you to tell us a story about writing and producing this LP
All the songs kind of have a different process. Some of a couple of the songs I wrote just on my own in my apartment, on my guitar. And then a couple of the other songs I wrote with my producer, John, who I write a lot with. Then one or two of the songs were written. I started one of them alone, I brought it to John and to Chris, we played guitar in my band, and we sort of finished it together. So, it's a really collaborative project. And it's each song kind of came about in a different way.
Now, for those who have not heard of you, how would you describe your sound?
I think it's a lot of different things. I have a lot of different influences. And I don't really like to make one kind of sound or make songs that all exist in the same genre. But I take a lot of influence from folk music, pop music, indie rock, jazz, so I think it's combination of all those things.
Who were some of your musical influences asides from your family since you grew up in a musical family?
Yeah. Yeah, aside from them. I listened to a lot of Feist. Starting at a young age. She's a big influence of mine. I love the Beatles. I love Joni Mitchell. Recently, I've been listening to this folk artist named Elyse Weinberg who has this amazing album called Greasepaint Smile from the late 60s. So just a lot of different stuff, I've been kind of on a folk kick recently.
And I love the EP cover. Can you tell us a little bit more about the EP cover?
I thought of that idea of so long ago, a friend of mine showed me this music video by Jacques Dutronc where he and Francoise Hardy are on like a soundstage. And they're playing around with a scale a bunch. So, he'll be really small, and she'll be sort of looking down at him. And then it'll be like her legs and boots. And they're really huge. And he's standing between them, and he's super small, and then they'll switch, and she'll be really tiny, and he'll be looking down at her.
I just thought it was a really cool idea. I knew that I wanted to reference in some way. Then the more that the EP started to come together, a lot of a lot of the themes were kind of about self-examination, and stuff like that, it kind of became clear to me that the cover would be sort of a cool symbol, I guess, for looking inward and an examining your own life and yourself.
That's very fantastic. You grew up in Charlottesville, which is about three hours from Washington DC to a musical family, and you went to University of Virginia. I want you to talk to us a little bit about your time at UVA.
So, I grew up in Charlottesville. And I really didn't want to stay just because I grew up in the same house, for 18 years. I just was ready to get out of town. And then, as it got closer, I just kind of decided to stay because I guess I always kind of took UVA for granted because it's in the town that I grew up in. But the closer that I got, I kind of realized how great of a school it is. And so, I ended up going there.
I had a really good experience. I was always kind of split between music and going to school, but I did finish. Although the last couple years, I was a little bit preoccupied, started touring and stuff like that. My experience was good at UVA made a handful of friends that I love and keep in touch with.
Absolutely. And I read to your profile that you and I have something in common at school, we were both part of the student radio station in our respective colleges. So, what did you do with your radio station?
I had a radio program I think my first year. I had like a one-hour slot every week that I did with my radio partner, and I remember he was kind of like an equal split. I would do 30 minutes of whatever I was playing in, and he was playing 30 minutes of like psychedelic Turkish music, which I thought was cool. But my 30-minute set was a little bit more all over the place. I would play stuff that I loved growing up like Joni Mitchell and the Beatles.
Then I would also play newer stuff that I was into, like the band called Crumb. And then my friends, Jane and James & I had like a late-night show at one point called The Graveyard Shift. And we would play mostly pop. We always kind of had a theme like one week we did 90s Hip Hop and another week, it would be different stuff. I was kind of all over the place. It was fun.
Now you are a signed artist. You've been signed recently to the Ghostly International independent music label; how does it feel to be part of that?
It's an honor. I mean, I, it really is a dream come true. I didn't know about Ghostly. I've always loved music, but I haven't always been that plugged into the music industry. I don't know that many labels, but it's strictly an electronic label. So, they just weren't really on my radar. The more that I talked to them, the more I realized that they would be a good fit just because they have such a strong aesthetic. Everyone that works there is just really kind and has good taste. And I feel like they're willing to kind of follow my lead with what I want to do, which was important to me.
What is the overall message you want to convey with your music?
All my songs are just kind of little pieces of my life. And I think if that can mean something to anyone else, then that is amazing to me. And that all my favorite music is just kind of my favorite because it has some sort of strong feeling about it that I really connect to. So, I think just knowing that people connect to it and get something from it is really amazing to me.
And now in the next week, you're going to be performing at the DC9 nightclub on June 17th. You're bringing along Lael Neale, as your opening act. What can people expect? Are you performing mostly from your new EP or a combination of your freshman and your sophomore albums?
Yeah, they combination of older stuff. And then the EP and then some unreleased stuff, too, which I'm really excited to play. That's right.
Will this be your first time performing at DC9?
I think so actually.  I'm trying to remember I don't think I've ever played DC9. I don't know that I've ever even been there. It looks really cool, though. I'm excited.
Summer's coming up in less than a month, what is one of your favorite summer activities that you love to do?
I just love being outside really in any way. I love going for hikes and just reading outside and listening to music. So, I'm hoping to do that somewhere with my friends, maybe go to the beach or something like that.
To get more information about Kate and to see if she is playing near you: Go to katebollinger.com
For Kate's social media