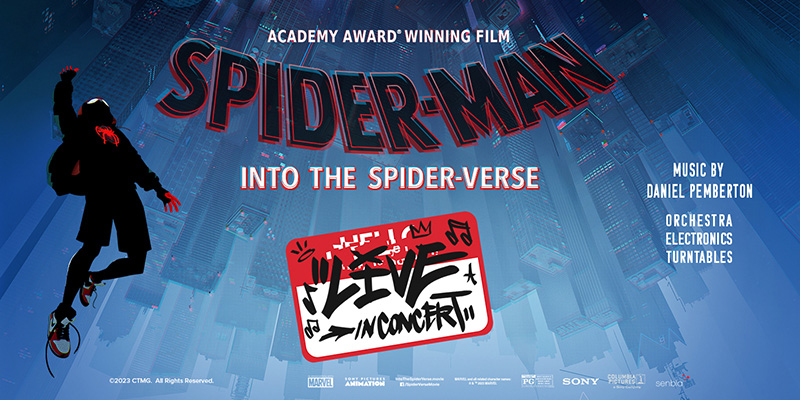 An all-new national tour is coming D.C.'s National Theatre on Saturday, September 30, 2023 at 7:30pm which will bring fans a whole new way to experience their favorite box office hit Spider-Man: Into the Spider-Verse. The Academy Award-winning film from Sony Pictures Animation will be accompanied by a live orchestra, band and turntables with a scratch DJ playing music from the score and soundtrack. Joining the tour is The Broadway Sinfonietta, an all-women and majority women-of-color orchestra. Emily Marshall will serve as the tour's conductor. Today's announcement comes on the heels of the show's sold-out world premiere at Kings Theatre in Brooklyn this past March. Preview the event here.
Tickets will go on sale to the public on Friday, June 16, 2023 at 10:00am. Tickets will be available online at BroadwayAtTheNational.com or in person at The National Theatre box office located at 1321 Pennsylvania Avenue NW, Washington, D.C. 20004. Box Office hours are Monday through Friday 12:00-6:00pm with extended evening and weekend hours during performance days. Ticket prices start at $25. Orders for groups of 10 or more may be placed by contacting our group sales department at [email protected].
Ticket buyers are reminded that Broadway at The National and Ticketmaster are the only official retail ticket outlets for all performances at The National Theatre. Ticket buyers who purchase tickets from a ticket broker or any third party should be aware that The National Theatre is unable to reprint or replace lost or stolen tickets and is unable to contact patrons with information regarding time changes or other pertinent updates regarding the performance.
The film's music score was composed by Academy Award® nominee, multiple Golden Globe®-nominee and Emmy-winning composer Daniel Pemberton, known for his work on movies such as The Man From U.N.C.L.E., Oceans 8, Enola Holmes, The Bad Guys and Steve Jobs.
"Spider-Man: Into the Spider-Verse is one of my favorite scores I've ever written," said Pemberton. "Utilizing a full orchestra, crazy electronics and unbelievable turntable scratching techniques amongst a million other things is so technically complex, I never thought we'd ever be able to actually reproduce it in a live setting; but somehow, we have. I am ridiculously excited for fans around the country to see their very first Spider-Verse concert later this year."
The hip-hop infused film score contains original music showcasing elements of heroism, resilience and is complemented by song contributions from industry greats Post Malone, Lil Wayne, Jaden Smith and Nicki Minaj.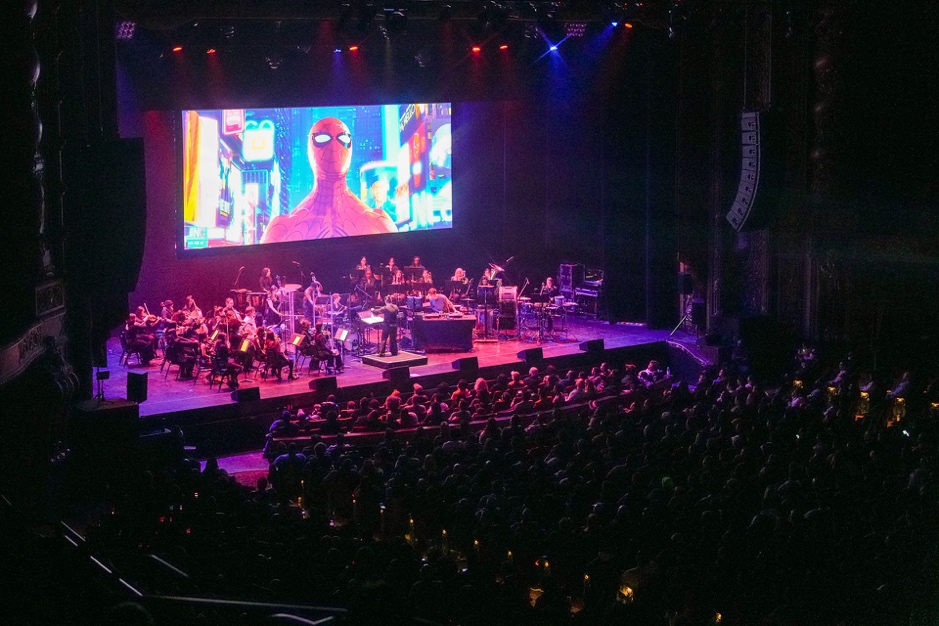 Set in New York City, Spider-Man: Into the Spider-Verse introduces Brooklyn teen, Miles Morales, who after being bitten by a radioactive spider gains Spider-Man like powers. The film was directed by Bob Persichetti, Peter Ramsey, and Rodney Rothman, screenplay by Phil Lord and Rothman with a story by Lord based on the Marvel Comics, and produced by Avi Arad, Amy Pascal, Lord, Christopher Miller, and Christina Steinberg. It features an accomplished and diverse cast including Shameik Moore (Miles Morales), Hailee Steinfeld (Gwen Stacy / Spider-Gwen), Jake Johnson (Peter B. Parker), Chris Pine (Peter Parker), and Mahershala Ali (Aaron Davis / Prowler). The film received widespread praise from critics for its groundbreaking visual style, characters, story, voice acting, and soundtrack. The highly anticipated sequel, Spider-Man: Across the Spider-Verse had a theatrical debut June 2, 2023.
Spider-Man: Into the Spider Verse Live in Concert is produced by London-based promoter and production company, Senbla.   For tickets and more information about Spider-Man: Into The Spider-Verse Live in Concert please visit www.spiderverseinconcert.com.
Additional Information
LOCATION
The National Theatre is located at 1321 Pennsylvania Avenue NW in downtown Washington, D.C. Nearby metro stops include Metro Center and Federal Triangle. For parking information and further directions, please visit BroadwayAtTheNational.com.
GROUPS OF 10+
Groups of 10 or more can be placed by emailing [email protected]. To learn more about group benefits, visit BroadwayAtTheNational.com.
TICKETING DISCLAIMER
Dates are subject to change. Ticket prices do not include a service charge and per ticket facility fee. For the most up-to-date information on The National Theatre's health and safety policies, please visit BroadwayAtTheNational.com/health-and-safety