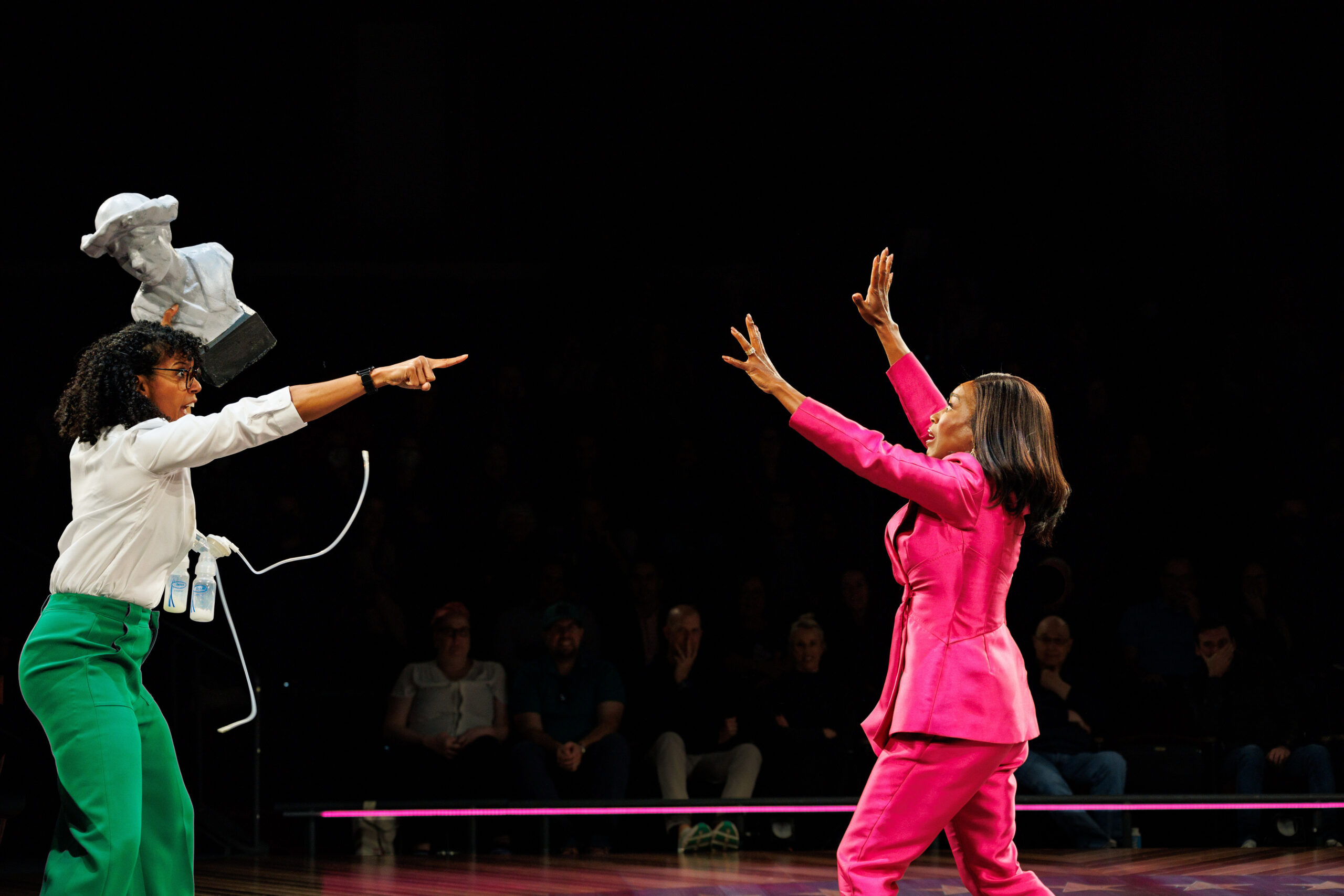 The subscript for Arena Stage's newest play POTUS: Or, Behind Every Great Dumbass are Seven Women Trying to Keep Him Alive (POTUS) is no false advertising. The hilarious, absurd, and poignant description is exactly the experience you'll get from watching Selina Fillinger's POTUS at Arena Stage.
POTUS would score negative on the bechdel test, if that were even possible. It's about seven women whose lives orbit around one man: the President of the United States of America, also known as POTUS. (And get this, the President isn't even a character in the play!)
The seven women around the President are: the Chief of Staff, Press Secretary, Secretary, FLOTUS, journalist, an affair, and his sister. 
The power of this story is that it is both personal and national. Every one of us in the audience can see different aspects of ourselves or our friends in the seven women portrayed. I was so moved by Yesenia Iglesias' portrayal of Chris, the journalist, competing for her job against a much less competent younger man, all the while trying to pump between interviews for her newborns. It highlighted how much harder American society makes it for women to re-enter the workforce after becoming parents, while still expecting 200% productivity. 
The Chief of Staff, Harriet, was played by Naomi Jacobsen, who I have had the honor to see in other Shakespeare productions around the DMV. Harriet is incredibly loyal to an individual who isn't loyal to her. She sacrificed her personal life to build the President into the position he now holds, keeps his policies and image in check, and receives betrayal in return. Jacobsen's portrayal of Harriet was in turn sarcastic and heartbreaking. 
Timeliness: 9/10 (What's a 10? Merchant of Venice)
POTUS is a stand in for any organization or idea that you care too much about that doesn't return the consideration. It's your workplace that treats you as replaceable when you give up your life for it. It's executing the mission at the expense of the people who make that mission possible. 
There's nothing that screams America more than succeeding at the expense of others.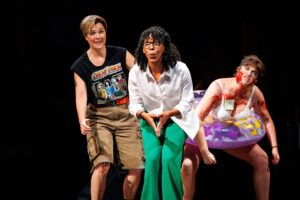 Originality: 9/10 (What's a 10? Hadestown)
The entire performance was a breath of fresh air. Yes, I've seen all female performances before, but this one was so liberating in its satire. Each character brings a different take on the challenges of being a woman in society, all wrapped in an inappropriately worded bow. The Affair, Dusty (played by Sarah-Anne Martinez), was a character that initially annoyed me with her ditzy affect, yet rapidly won me over in the second half with how the character holds up a mirror to society about double standards.
Technical Execution: 9/10 (What's a 10? Hamilton)
POTUS is presented on the Fichandler Stage at Arena. Fichandler is a theater in the round, where audience members sit on all four sides of the stage; this adds an added choreography challenge for the actors who must perform to all four directions. The performance was enhanced by the use of a theater in the round as the movement of actors on, through, and off the stage created different experiences depending on where one was sitting. 
Fun/Engaging: 10/10 (What's a 10? Six)
This show was hilarious and absurd, sticking the landing with its heartbreaking ending. Please go see it and then tell me about which characters you resonated with and the lines that live rent free in your mind.
Final Grade: A
POTUS: Or, Behind Every Great Dumbass are Seven Women Trying to Keep Him Alive plays at the Arena Stage through November 12, 2023. POTUS marks the first show under Arena Stage's new Artistic Director, Hana S. Sharif and I cannot wait for what else she brings to SW DC.  Tickets for POTUS are $56-95 plus applicable fees. Tickets are available at arenastage.org. Tickets may also be purchased by phone at 202-488-3300, or in person at the Sales Office at 1101 Sixth Street, SW, D.C., Tuesday-Sunday, 12-8 p.m. 
Running Time: 1 hour and 45 minutes with a 15 minute intermission