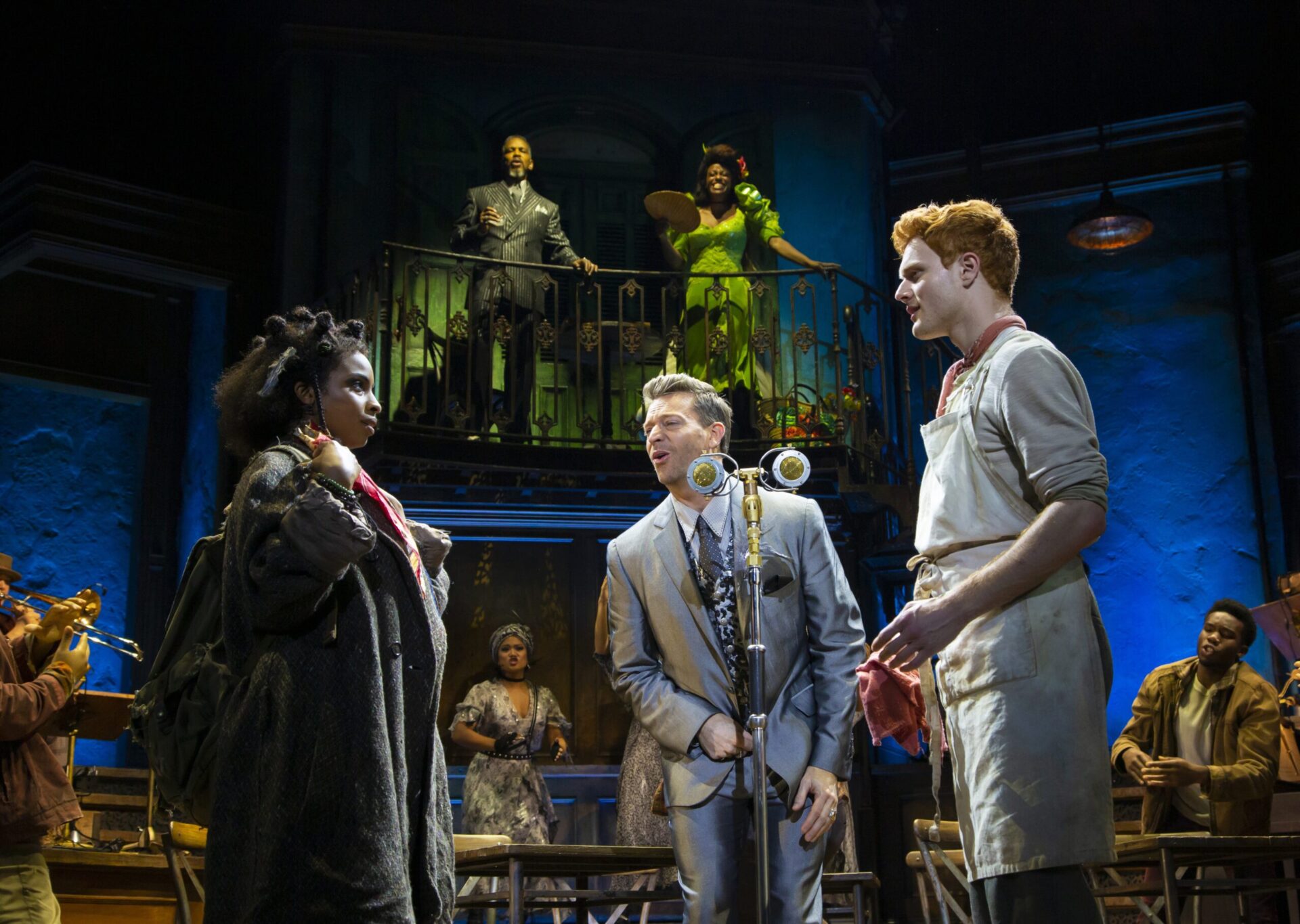 Hadestown is only the fourth time in Broadway history that a woman has been the solo author of a musical in its entirety, from the music, to the lyrics, and the book. From Anaïs Mitchell's genius comes a retelling of the Greek myths of Orpheus and Eurydice, and Hades and Persephone, set to jazz, folk, and rock. 
[SPOILERS AHEAD] 
Orpheus and Eurydice fall in love in the spring, yet when winter comes, Orpheus' sole focus is on writing music while Eurydice succumbs to a winter storm. When Eurydice arrives in the Underworld, she can't be faulted for making a deal with Hades in exchange for her life, if it means that she'll have food in her stomach. Eurydice is a woman looking out for her own survival. 
Orpheus' travels to the Underworld to rescue Eurydice, where he wins over Hades and Persephone with his music. Hades allows the couple to return to their lands, with a twist; Orpheus must walk without looking back to confirm if Eurydice is still with him. 
After Orpheus takes his final step back into his world, he turns, and with one look back, Eurydice, who has not fully completed her journey, gets sucked back into the Underworld and away from Orpheus forever. 
As you would expect in a musical by indie/ folk musician, Anaïs Mitchell, the (really GOOD) music is imbued into every facet of the performance. Mitchell blends together seemingly disparate genres through characters' personalities; like Hermes' va va voom jazz, Orpheus with his hopeful indie quality, or the folksy fates. Days later, I'm relistening to the Broadway soundtrack recording, catching lyrics I didn't hear the first time around.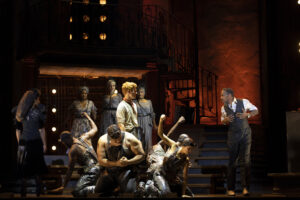 Structured like a Greek play, Hadestown features a powerhouse Chorus. In Greek plays the chorus was a representation of the audience, signaling the appropriate responses from those in attendance. The Fates and the Chorus combined serve this function, explaining the motivations of the lead characters while simultaneously setting the scene.
During "Wait for Me," the chorus dances with lamps swinging from the ceiling as Orpheus makes the dark journey to the Underworld, as the Fates tempt him from his path. The Underworld itself is electrified, in a 20th century, incandescent way, marking a stark contrast to the gentle world above. One of my favorite pieces was "Chant," where the vocalizations and choreography of the Chorus transform the cast into pieces of the Underworld's machinery. The Chorus is used repeatedly in this manner to effectively create the environment of a grueling Underworld. 
I left the Kennedy Center Opera House debating if Hadestown was a story of hope or futility. How does Orpheus become a symbol of hope when he fails Eurydice over and over? 
Is part of the tragedy that Eurydice still chooses to follow Orpheus back to Earth even though there is no guarantee that this time he can provide food or warmth? There was a reason she ended up in the Underworld in the first place. Yet in Mitchell's retelling, Eurydice's journey out of the underworld is also an example and inspiration for the others trapped by Hades.
Hadestown is about beginning again, in spite of tragedy, in spite of insurmountable barriers, in spite of climate change and other societal challenges. The penultimate song, "Road to Hell (reprise)," is about why we continue to tell tragic stories.The actors break the fourth wall to show us that this story is about us, as we each make our way through our own hardships in search of a better world. 
Final Grade: A
Hadestown, the winner of eight 2019 Tony Awards® including Best New Musical and the 2020 Grammy® Award for Best Musical Theater Album, marks the official opening of its national tour at the Kennedy Center Opera House from October 13–31, 2021. Tickets are $45 – $175 and can be purchased online at https://www.kennedy-center.org/. 
Running time: 2 hours and 30 minutes, which includes a 15 minute intermission.
Kennedy Center's COVID Safety Protocols
Proof of vaccination and a photo ID must be presented before entering the theater. Masks must be worn at all times while indoors. See the Kennedy Center's full COVID Safety Plan for additional instructions.