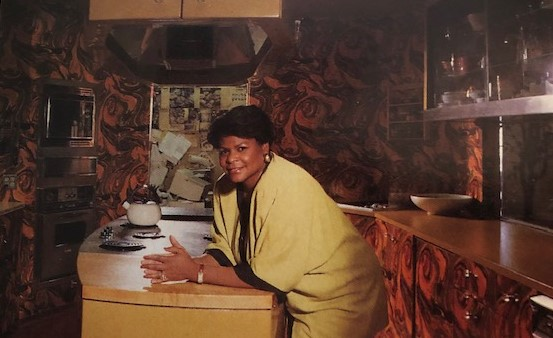 The Smithsonian's National Museum of African American History and Culture (NMAAHC) has acquired the Ebony Test Kitchen. Built in 1972 as a prominent feature of the Johnson Publishing Co. building in Chicago, the Ebony Test Kitchen is where recipes were tested and prepared before they were published in Ebony magazine for home cooks around the country.
The 26-by-13-foot iconic kitchen consists of two separate but connected spaces, including a sitting area, all-electric appliances, wine rack and display and storage cabinets. The visual aesthetic of the test kitchen has been described as "Afrocentric modernism," "psychedelic" and "bold." The kitchen includes swirled orange, purple and avocado green wallpaper, brightly colored cabinets and what in the 1970s were considered the height of modern amenities and appliances such as stovetop grills, a trash compactor and a refrigerator with an ice and water dispenser. The space was designed by Palm Springs-based interior designers William Raiser and Arthur Elrod of Arthur Elrod Associates.
"The Ebony Test Kitchen is a living, breathing testament to the power of Black excellence and innovation in the culinary world," said Kevin Young, the Andrew W. Mellon Director of the National Museum of African American History and Culture. "The kitchen was a place where recipes were reimagined, flavors were explored and stories were shared—a place that celebrates Black history and culture in a way that was not only inspiring but delicious."
While there are no immediate plans to display the test kitchen inside the museum, NMAAHC seeks to feature the iconic kitchen as part of an initiative highlighting foodways' integral role in African American culture during the modern era through digitization. In the meantime, this piece of history will undergo conservation work and new plans developed for its reconstruction. While conservation is taking place, visitors can explore more about the Ebony Test Kitchen on the award-winning Searchable Museum site: https://searchablemuseum.com/the-ebony-test-kitchen.
Landmarks Illinois initially saved the test kitchen and assembled a team of volunteers who physically removed it, piece by piece, from the Johnson Publishing Co. building, preventing it from being demolished and lost forever. The Museum of Food and Drink (MOFAD) restored the Ebony Test Kitchen and updated its components for the "African/American: Making the Nation's Table" exhibition last year. Many of these materials are also part of a donation to the museum.