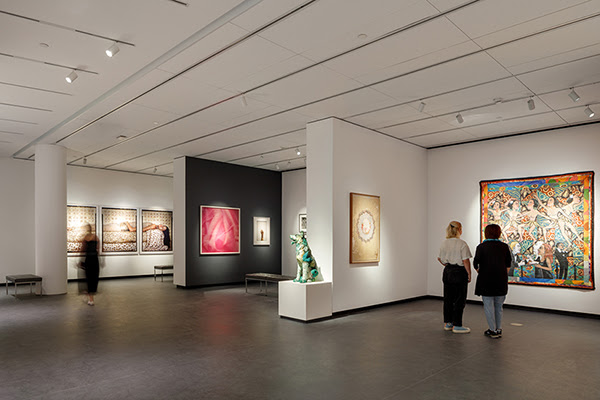 On October 21, 2023, the National Museum of Women in the Arts (NMWA) will reopen after more than two years to unveil its highly anticipated top-to-bottom renovation. The historic building's transformation will be highlighted by immersive exhibitions showcasing powerful works by contemporary women artists and a bold thematic reimagining of its stellar collection of international art spanning six centuries. The world's first major museum solely dedicated to championing women artists, NMWA has expanded and enhanced the visitor experience at its home at 1250 New York Avenue, NW, in Washington, D.C., with new exhibition spaces, enlarged public programming areas, enhanced amenities and increased accessibility. To celebrate opening weekend—Saturday, October 21 and Sunday, October 22, 2023—NMWA will offer free admission and festivities, including art-making, interactive activities and live performances. Tickets are available now for NMWA members and on September 19 for non-members.

"This expansive transformation heralds a new era for the National Museum of Women in the Arts," said Director Susan Fisher Sterling. "Our building is the flagship for our mission, which resonates today more than ever. NMWA's renovation—made possible thanks to extraordinary donors and dedicated staff members—brings new possibilities for dynamic exhibitions, programs and connections. This venture springs from our work championing gender equity through the arts."
Transformed Building
NMWA's $67.5 million project, designed by Baltimore-based architectural firm Sandra Vicchio & Associates, is the museum's first full renovation since opening in 1987. It honors the legacy of the 1908 Classical Revival structure while improving its façade, interior spaces and infrastructure.
"As an architect, I believe the building plan should first and foremost support the mission of the institution," said lead architect Sandra Parsons Vicchio. "Through a close collaboration with the museum's leadership and staff, our design brings NMWA's mission to life in this stately historic structure. We focused on increased accessibility, greater flexibility to exhibit works of all types and sizes, seamlessly integrated technical capabilities for everything from digital artworks to interactive programming, and spaces to inspire and delight artists and visitors. At the end of the day, this renovation is about the art and the people."
The team restored the roof and grand brick-and-limestone exterior in accordance with the D.C. Historic Preservation Office and made updates to the Great Hall and mezzanine, preserving the iconic spaces while improving functionality for art displays, programs and events. Gallery spaces are enlarged by more than 15%, offering curators more creative flexibility. Structural supports concealed above ceilings and within gallery walls can accommodate the size and weight of monumental sculptures. The galleries' new layout offers both broad vistas and intimate niches to highlight works of different scales.
A new Learning Commons features an exhibition gallery, the Library and Research Center with a reading room open to the public, and a Studio that provides flexible space to host varied events, including hands-on workshops, open studio sessions and curated conversations. The Performance Hall is upgraded with new furnishings and state-of-the-art technology to enhance presentation of talks, films and performances.
Less visible but significant infrastructure updates aim to provide an enjoyable experience for all visitors, including accessibility improvements in accordance with the Americans with Disabilities Act, new amenities and upgraded technologies. Enhanced wireless and interactive connectivity in the galleries will enrich visitors' experiences and learning opportunities. Upgrades to collections storage, lighting, climate control and security technology support long-term art conservation along with energy efficiency. While not visible to the public, the art storage facility and institutional archive will enhance NMWA's ability to care for its current collection and provide room to grow in the future. New passenger elevators support movement through the building for all visitors.
Inaugural Exhibitions & Reimagined Collection
NMWA's renovated galleries will open with innovative presentations not previously possible. The inaugural exhibitions and remixed collection installation highlight new opportunities: nearly 40% of the works on view will be exhibited for the first time at NMWA, including nearly 70 works from the museum's collection.
NMWA's major inaugural exhibition, The Sky's the Limit, features contemporary sculpture and immersive installations by 13 international and U.S.-based artists. A rare survey of large-scale work by women from the last two decades, The Sky's the Limit showcases 31 sculptures dating from 2003 to 2023 by artists Rina Banerjee (b. 1963), Sonya Clark (b. 1967), Petah Coyne (b. 1953), Beatriz Milhazes (b. 1960), Cornelia Parker (b. 1956), Mariah Robertson (b. 1975), Alison Saar (b. 1956), Davina Semo (b. 1981), Shinique Smith (b. 1971), Johanna Unzueta (b. 1974), Joana Vasconcelos (b. 1971), Ursula von Rydingsvard (b. 1942) and Yuriko Yamaguchi (b. 1948). Works dangle from the ceiling, cascade down walls and extend far beyond their footprints on the gallery floor. Monumental scale and a bold approach to materiality are combined with handwork, repetition and unconventional materials to achieve maximum impact. On view through February 25, 2024, the exhibition is accompanied by a fully illustrated catalogue.
"The ambitious inaugural exhibition is all about shifting perspectives," said Chief Curator Kathryn Wat. "We want to change conventional thinking about sculpture and share these personal and powerful works by some of the most important artists working today."
To complement the grand scope of The Sky's the Limit, NMWA presents two focus exhibitions. Hung Liu: Making History highlights ten works by the renowned Chinese-born American artist (1948–2021), who transformed her canvases and prints into evocative memorial sites for women and children. Impressive: Antoinette Bouzonnet-Stella focuses on the 17th-century French artist's series of 25 prints from 1675, The Entrance of the Emperor Sigismond into Mantua, installed in a unique wrap-around presentation. Both spotlight exhibitions are on view through October 20, 2024.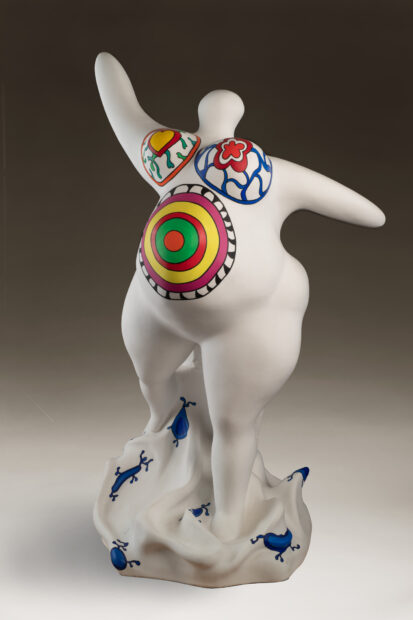 An extensive collection reinstallation, Remix: The Collection, offers thematic and provocative combinations of works from NMWA's holdings that span six continents and six centuries. The reconfiguration of the gallery spaces creates compelling new sightlines between works, inviting discussion and new insights. Visitors will be greeted at the Remix entrance by an archetypal representation of femininity by Niki de Saint Phalle: a joyful, five-foot-tall Pregnant Nana (1995). Favorites from NMWA's collection will be presented thematically in nine groupings, such as "Fiber Optics," in which a quilt by Faith Ringgold and a sculpture made from thread by Sonya Clark weave in themes of race and history; "Photo Credit," featuring early works by pioneering photographers Yevonde and Berenice Abbott, as well as contemporary images by Lalla Essaydi and others that expand photography's boundaries; and "Land Marks," with works by Rosa Bonheur, Loïs Mailou Jones and Jaune Quick-to-See Smith that illustrate how landscape images are rarely objective or neutral.
To inaugurate the museum's new Learning Commons and its reinvigorated research center, Holding Ground: Artists' Books for the National Museum of Women in the Arts features nine new works inspired by NMWA's mission, created by book artists Alisa Banks (b. 1961), Adjoa Jackson Burrowes (b. 1957), Julie N. Chen (b. 1963), Suzanne Coley (b. 1965), IBé Bulinda Crawley (b. 1959), Colette Fu (b. 1969), Kerry McAleer-Keeler (b. 1971), María Verónica San Martín (b. 1981) and Maricarmen Solis (b. 2000). On view on the ground floor, In Focus: Artists at Work is a series of commissioned videos profiling women artists in the museum's collection. Created by NMWA and the award-winning film company Smartypants, the videos feature the Guerrilla Girls, Delita Martin, Rania Matar and Alison Saar for the first iteration, and then Ambreen Butt, Sonya Clark, Colette Fu and Graciela Iturbide.
Café & Shop
The café, open from 10 a.m.–2 p.m. when the museum is open, features grab-and-go items prepared daily by the local, women-owned and -operated Adelaide Catering Company. The menu includes sandwiches, soups, salads and baked goods made from fresh produce and locally sourced ingredients. The museum shop offers a curated selection of art books, apparel, jewelry, homewares, accessories and more, including products created specifically for NMWA in collaboration with women artists and designers.
Tickets
Timed tickets are required for all visitors; tickets are available now for NMWA members and starting September 19 for the general public. Tickets, timed on the hour, will be released on the first Tuesday of each month for the following month. NMWA will be open Tuesday through Sunday, 10 a.m.–5 p.m., until 8 p.m. on the third Wednesday of the month, and closed on Mondays and select holidays. After the free opening weekend (October 21–22, 2023), admission is $16 for adults, $13 for D.C. residents and visitors ages 70 and over, and free for visitors 21 and under and for those with disabilities. Admission is free the first Sunday and second Wednesday of each month; timed tickets are also required, and advance reservation is recommended. Group tours and visits for school-aged children are available.