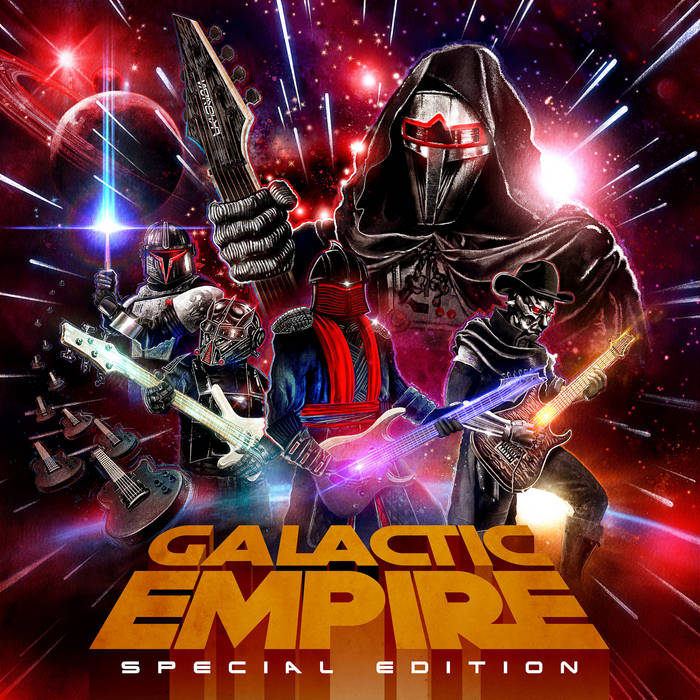 Lightsabers, Stormtroopers, Sith, and Jedi…Star Wars as a juggernaut of a franchise needs no introduction. Even if you are not a Star Wars fan or have (gasp!) not seen a single Star Wars film or show, you know Star Wars. For music fans, especially those who enjoy heavy shreds, blast beats, in your face guitars, and everything metal, do you know of Galactic Empire? If not, you should, as the latest album from this Pennsylvania metal band, titled Special Edition, is not to be missed – unless your musical aim is that of the average Stormtrooper.
Special Edition is not just a note for note recreation in metal style of John Williams legendary and iconic work. The band, while taking care to represent and show all the details of the original music have made sure to add their own flair and flavour to each track, enhancing and showcasing both the original themes and their own noteworthy musical abilities. Taking classically influenced music and adding blast beats, lead guitar lines that range the entire galaxy…ehem, fretboard of the guitar, heavy, relentless rhythm guitar, and "force"ful bass, with a liberal amount of distortion, even a rebel will be seduced to turn to the dark side of the force…er music.
The opening track is simply the famous opening fanfare of the movies, metal style, that immediately pulls the listener in and ramps up the excitement. Tracks like "Star Wars and Revenge of the Sith" and "The Imperial Suite" include the original motives and elements while the first incorporates some of the original "May the Force Be With You" music and the latter opens with the rhythm of flavour of the opening of the "Imperial March". The track "Dark Side Assault" will give the discriminating listener not only a proper metal battle track, but elements of the Episode 1, 2, and 3 music are woven through the musical fabric.
We also are treated to more character based themes. These use Reverb and Delay type of effects to create a musical depth that is true to the characters' stories and the metal roots of the band. "The Mandolorian" is both adventurous and determined, while being somewhat desolate and wandering, with its less thick musical textures and surprisingly simple melodic fade. "The Book of Boba Fett" has more of a heavy rock feel with some clearer, less distorted lead guitar melodic parts, while still having a strong opening and finish. "Obi Wan Kenobi" contains much of the original music and purposeful, serious sound as well. These tracks eschew the high pitched guitar runs for a more middle sound.
Finally, we come to the pay off in the form of the "Victory Celebration" Track. This upbeat, lively track with steadier, less aggressive drum work and a clearer melodic line with less distortion makes a truly great finale and would not be out of place as a sports team fight song or any movie anthem style track. It is a great finale to a high energy, epic, and energetic in your face album that anybody can enjoy.
In short, if you like metal, this album is for you. If you like Star Wars, this album is for you. If you like both, then the force is truly with you, and if you like neither, well then "your lack of faith is disturbing." This is a solid album by fans, for fans with some serious attitude. To quote Master Yoda, "Do, or do not, there is no try" and Galactic Empire has definitely done it.
Final Grade: A
Galactic Empire: Special Edition now available wherever streaming music is sold