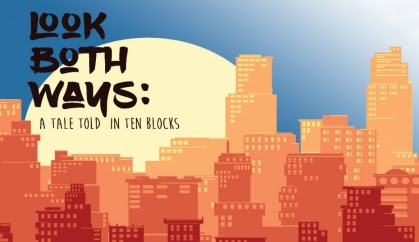 The John F. Kennedy Center for the Performing Arts announces the full cast and creative team for the world premiere of Look Both Ways: A Tale Told in Ten Blocks. Co-produced with D.C.'s Theater Alliance, El Chelito and Raymond O. Caldwell bring Washington, D.C. native, New York Times best-selling author, and Kennedy Center Next 50 leader Jason Reynolds' book to life with music and lyrics by Nick tha 1da; choreography by Tiffany Quinn; and direction by Caldwell.
Ten unique perspectives are woven together in this production about what happens after the dismissal bell rings. Representing 10 blocks of a neighborhood (one tale per block), it's a poignant look at the detours faced on the walk home, and in life.
Look Both Ways features an ensemble of Savina Barini, Charles Franklin IV, Ixchel Hernández, Tre'mon Mills, Kalen Robinson, John Sygar, and understudy Tyrell Stanley.
"I am very excited about the Kennedy Center's stage adaptation," says author Jason Reynolds, "Look Both Ways is a much bigger world, and I'm curious to see how the connections happen. It's a story about how our lives are tethered by fewer degrees than we think. We just don't often pay attention to it."
The full creative team includes Dramaturgy by Jennifer Clements, Scenic Design by Jonathan Dahm Roberston, Costume Design by Jeannette Christensen, Lighting Design by Alberto Segarra, Sound Design by Brandon Cook, Video and Media Design by Kelly Colburn and Dylan Uremovich, and Properties and Puppet Design by Amy Kellett. Kelsey Jenkins is the Production Stage Manager, Emma Sheffer is the Assistant Stage Manager, and Ezinne Elele is the Assistant Director.
Tickets for the production are currently on sale via the Kennedy Center website, at the box office, or by calling 202-467-4600.
The Saturday, October 28, 1:30 p.m. performance is a sensory-friendly performance designed to create a performing arts experience that is welcoming to all families, including those with children with autism or other sensory sensitivities.
Following the performance on Saturday, October 14 at 1:30 p.m., patrons are invited to stay for a creative conversation where young audience members can ask questions and hear stories from the show's artists and creative team