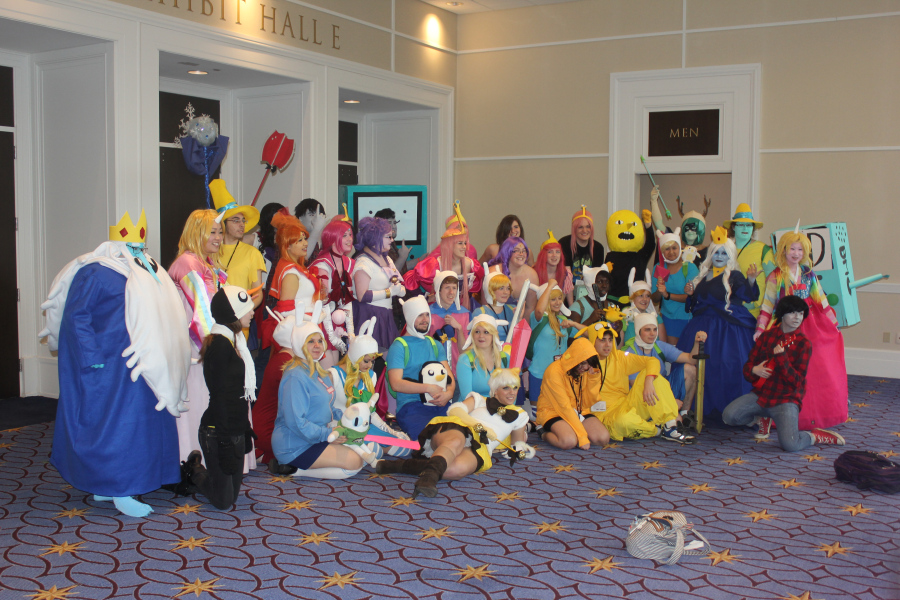 Katsucon is an event in its 19th year; the 3rd year in a row it was held at the Gaylord National Resort & Convention Center.  That's a long time! The programming grid already had a block welcoming you back to Katsucon Twenty February 14th-16th 2014. They must be doing something right. Maybe it's just the growing popularity of video games and anime over the past 30 years. I personally have been a big fan for a long time. It has become customary for me to click on Toonami after coming home at whenever o-clock in the morning on a Saturday night. So I was looking forward to this convention, let's see how it held up.
To give you a complete review of the entirety of events that took place would be impossible. I mean at any given moment there could have been as many as 17 different programs, classes, viewings, contest, tournaments and showcases. All these events took place over the course of three days, Friday morning till Sunday afternoon. Unless you booked a room and were there all weekend, you missed a lot. We arrived for Saturday's festivities. Walking through the main entrance of the Gaylord, it was Halloween times twenty. You actually felt out of place if you didn't have a costume. There were hoards of people coming and going and just lounging around. It took over an hour just to make it to the registration desk because there were so many interesting costumes that you felt obligated to take pictures and socialize. That would have to be the best aspect of Katsucon, the people. Better than any event I attended, was just walking around meeting interesting people explaining their costumes.
With so much to do, you really had to make the most of your time. It helped to plan your day out. It felt like an adventure, I mean your surrounded by people dressed like their in a fantasy world, with a map, navigating around the Gaylord's gigantic multilevel convention area. Being I am a music reviewer, one of my primary focuses was the Sound Bee HD concert being held in the Potomac Ballroom. Sound Bee HD is a Japanese Heavy Metal rock band. They dress Goth, all black with leather and make up, like Kiss but not as extreme. Sound Bee HD is known for their energy on stage, if their not head banging their pacing around stage pumping their fists. They play up tempo guitar riffs and drum beats layered over electronic samples. They sounded good, even though I couldn't completely understand the lyrics the vocals matched the instrumentations, not to mention some killer guitar solos. The lighting was intense; anymore strobes and I would have broken into an epileptic seizure, it was a fun. For as massive as the Potomac Ballroom is, the volume filled the area adequately. The Sound Bee HD was definitely the best musical highlight of Katsucon.
In addition to the numerous activities scheduled, there were a number of activities not listed anywhere on the program that we happened to catch wind of. One of which was a drawing party, which was pretty much just a bunch of people in a hallway sitting in groups drawing and the other a rave taking place in the video game room. I heard about the rave and had to see what that was about, so we made our way  down to the first level and followed a line of people through the security check points.
So this was where everybody was at! There were probably more attendees at the rave than any other event at Katsucon. It was a huge dance party. The crowd was extremely enthusiastic, chanting, waving and twirling glow sticks. Too bad the sound was horrible. I don't know who the DJ's were because this  event wasn't even listed on the program. They played Trance music which is not my favorite type of electronic music (it's too repetitive) but I'm not being bias. The speakers were way too small for a room that large and they weren't even elevated. The crowd in the front row swallowed up all the sound, made everything sound muffled. I have reviewed and been too quite a few electronic music concerts and this was by far the worst sounding one. The 9:30 club has speakers, at least ten times as large for a club one twentieth the size, no joke. I guess that's not the DJ's fault, but I can't with all the concert experience I have say that was a good sounding concert. It was a great party, terrible sound. I can't believe that people didn't seem to notice.
This event was like a marathon. We were in attendance for over twelve hours. There were other events I attended. I couldn't sit still through any of the viewings with so much to do. The market was cool; there were a lot of awesome toys. Mobile Suite Gundam figures, Transformers, all sorts of video game imports, I even saw a Jaguar console for sale. I thought the video game tournaments could have been better, you wouldn't even notice there was one going on. Katsucon was a fun convention; now wonder it has been going on for as long as it has. Maybe not the most organized convention ever, but none the less a really good time.
TRR Convention Revue and Photographs by Alan J. Duckworth