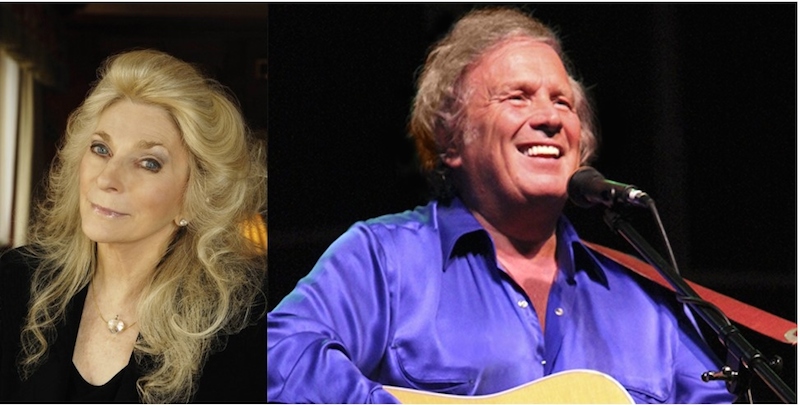 Judy Collins opened the show and showed the audience how to fill The Filene Center's stage with just a woman, her guitar, and a pianist with his piano, backing her up. Judy's wistful, folk, and Irish style filled the evening air. With this being her 30th performance for Wolf Trap, she is definitely a summer staple. I found her to be a delightful and interesting person and was sad that they announced that she would be leaving the premise at intermission and wouldn't be signing autographs, but I did appreciate that it was told to everyone ahead of time. I hadn't seen her in concert before and I am truly glad that I did!
She is a unique person and has been the first person that I have ever thought I would say, "I would like to have dinner with and discuss life"! I bought her book, "Sweet Judy Blue Eyes, My Life in Music", which has been a very cool read. She has been there, done that, at the epitome of when you would want to be there, doing that! With an enviable past, the book has been a nonstop read. It also brought more life to the concert that she interjected stories of her relationship with Steven Stills, life in Greenwich Village in the 60's, and background behind the lyrics of some very famous songs.
The unfortunate part of the concert was that Collins' voice is not the once clear tone that it used to be, but at 74, with no enhancement mics…she wasn't bad! Her voice rang true and beautiful when she sang Irish melodies. Her classics were what waned, but not the whole song, just towards the high notes. Like I said though, what do you want?! A truly legendary woman and I am better for seeing her perform. Smartly, she did not end the night with her iconic, "Both Sides Now", she sang that second to last. It was not her best performance of the night, but we all know that she had to sing it. The issue wasn't the high notes though, well, not the biggest issue. My biggest problem was that it was rushed by her pianist, but she still sang slower. They mismatched tempos. She finished strong with, "In My Life" which was beautiful and a lovely way end.
The rain held off and Don McLean started strong with, "Well Alright" and "Peggy Sue Got Married" and while some of the songs he performed that night were not his, once I got into the idea, it was great! He did sing his songs, of course. Songs that he has written, such as "Jerusalem" and "Vincent". He even joked that he owns the rights to his songs, so he might as well perform them! His voice is just as good as when I saw him twenty years ago. He also sang various songs that he has always loved, such as "Crying" by Roy Orbison. He said that this is because he is lazy and doesn't want to learn new ones…lol
Of course he finished off the night with an extended, extended version of, "American Pie" and ended with an upbeat, rousing chorus with everyone up and dancing and singing along.
Don McLean is one of those singers, who songs really tell a story and take you on a journey. That is why he is a great pairing with Judy Collins. It's a night of fun, good music, and reminiscing. For those who didn't grow up listening to Don McLean and Judy Collins, it is a great night to discover where depth in a song is from!
Overall Show: A, the weather alright and Judy and Don were consummate professionals.
Judy Collins: A-, aside from a few high notes and an odd, "Both Sides Now" she is totally interesting and has a lovely voice still. I wish she had books that were signed for sale.
Don McLean: A-, the middle section of his show dragged a bit, but he picked it up.
* I feel that harsher critics wouldn't be as nice about Collins' vocals on her folk songs and the slower moments in McLean's portion. But these are icons in the music industry and important people in American history. Overall, the show is a success and something very worthwhile!
Venue: A, parking was under control, Dave in the sound booth did a fantastic job. The Filene Center was pretty full, I think that the threat of rain kept some people away, which is a shame. I can only hope that they will both be back next year!
For info on Judy Collins, go to www.judycollins.com
For info on Don McLean, go to www.don-mclean.com
The remainder of the season at The Filene Center and the newly announced Barns performances are available at, www.wolftrap.org