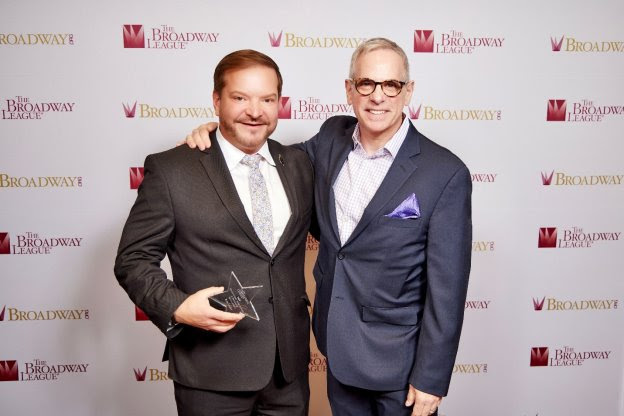 Ron Legler, President of The Hippodrome Theatre at the France-Merrick Performing Arts Center and Jack Eldon, Vice President of Domestic Touring and Regional Engagements at Disney Theatrical Productions at the 2023 Spring Road Conference. Photo by Jeremy Daniel.
Ron Legler, President of the France-Merrick Performing Arts Center (FMPAC), home of the historic Hippodrome Theatre, is the proud recipient of The Broadway League's 2023 League Award for Outstanding Achievement in Presenter Management (aka the Samuel J. L'Hommedieu award). The prestigious award was presented to Legler at the 33rd Annual Spring Road Conference in New York City on Wednesday, May 17 in recognition of his demonstrated excellence in management. The award is the highest honor that can be given to an executive of a performing arts center affiliated with touring Broadway.
Legler is a 28-year industry veteran who recently celebrated his ninth year as president of the FMPAC in Baltimore. His earlier career included milestones such as nearly a decade of leading group ticket sales for Broadway productions and serving as president of the Florida Theatrical Association and Orlando's Downtown Arts District and vice president of the Orlando International Fringe Festival. Since moving to Baltimore and leading the FMPAC, Legler has consistently grown the Hippodrome's subscriber base, initiated impactful Maryland legislation on behalf of the theatrical community and led the charge on a $21 million project to redevelop a 10,000-square-foot flexible performance and events center at the FMPAC called the M&T Bank Exchange, which is slated for a grand opening in October 2023. The Exchange will host some "soft opening" events leading up to the grand opening and will open their booking calendar in July 2023.
Since 1992, the League Awards recognize those who have displayed exemplary service to the Touring Broadway industry and are regarded as innovators in their profession. This year's conference welcomed a record-breaking 850 attendees to New York City representing approximately 150 markets around the U.S. and Canada. Legler was celebrated among League members and their staff of presenters, producers, general managers, marketing and press directors, education coordinators and box office and group sales teams — all of whom help make it possible to bring Broadway to North American cities all year long.
"I am blown away by this extreme honor and proudly share this award with everyone on our hardworking team at the Hippodrome," said Legler. "I am so grateful to my esteemed colleagues and the work we accomplish together, including bringing the magic of live theater to hundreds of thousands of people in the great state of Maryland.  There is nothing like seeing Broadway in the heart of downtown Baltimore!"
For more information about the 2023 League Awards, visit broadwayleague.com. To learn more about the FMPAC and upcoming performances at the Hippodrome Theatre, visit BaltimoreHippodrome.com.