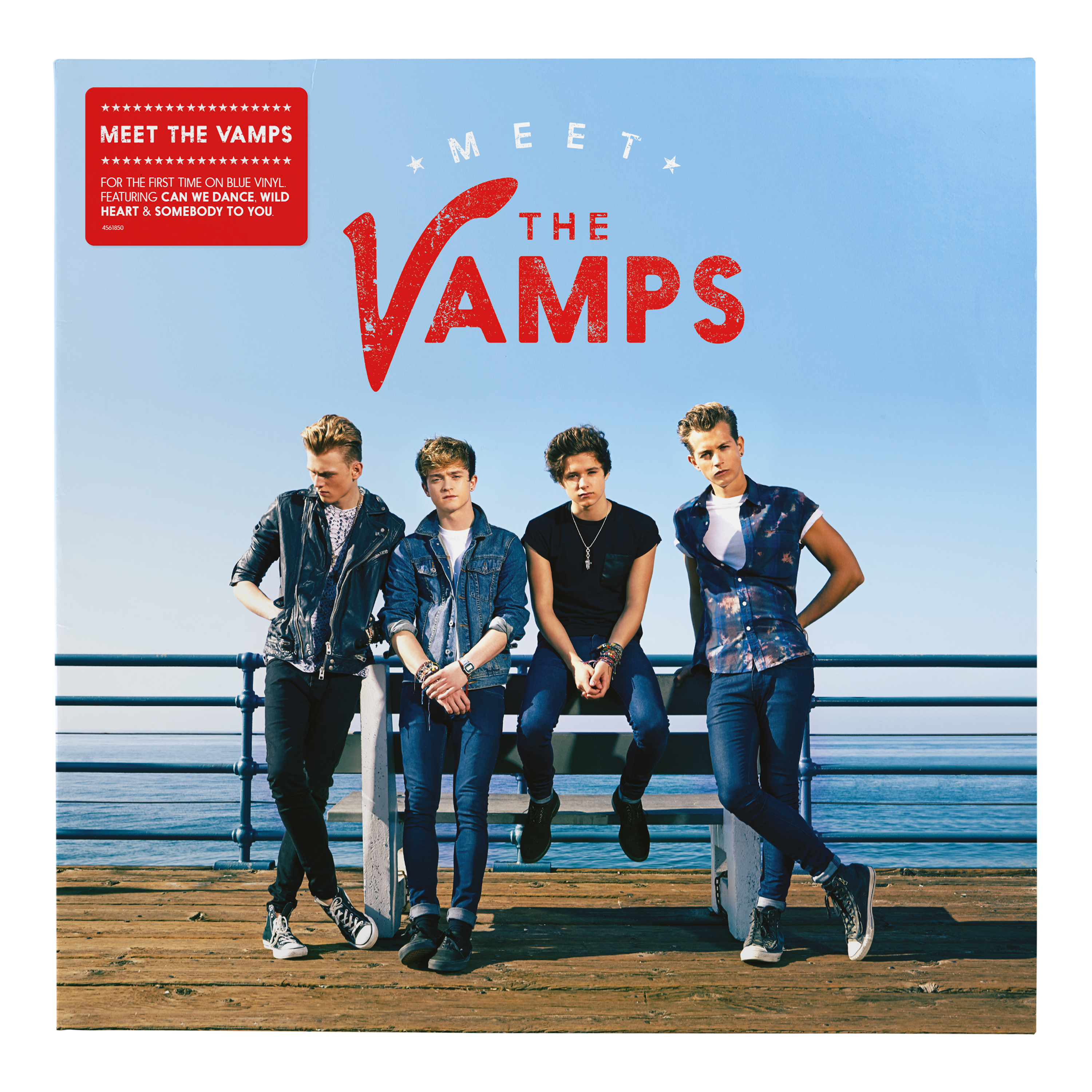 Infectious, upbeat, catchy, YOLO, optimistic, ear worm…all these and more describe UK musical group the Vamps, and 10 years later give or take (and we will take…copies that is!) they are re-releasing their hit album "Meet the Vamps" on vinyl, a comeback and throwback to great pop music on a comeback and throwback music medium. With fellow world renowned and talented acts such as Demi Lovato and Shawn Mendes, this album is a home run- and that is saying something in a genre that is very fickle where today's hit is tomorrow's "flash in the pan".
The Vamps have a fantastic balance of acoustic and electronic, accessible but not overdone, and wide-ranging appeal. Nothing in the album is specific to any single decade or era of pop music with influences and musical construction and inspiration from multiple decades spanning back into the 50's and 60's. Stacked vocals drive the catchy choruses, lyrics are far from bland, and the entire album is full of uplifted youthful energy. There is an innocence but not naïveté, and even sweet nostalgia but also a here and now feel woven through the tracks. Best of all, each song is danceable and singable.
"Can We Dance" and "Somebody To You" (featuring Demi Lovato) shows some of the awkward but innocent overtures of young people on the dating scene. The first is reminiscent of a "crush at first sight" while the latter is a declaration of love without being lovesick and has a sound and feel that is not too different from the Lumineers "Ho Hey". There is a his and her side element and Demi's vocals fit seamlessly. "Last Night" is a fun TGIF type musical romp with a let's live in the here and now with no regrets feel, as is "Wild Heart" – exciting, fun, and just living life to the fullest.
"She Was the One" and "Another Heart" showcase some vulnerable wishful and wistfulness while still retaining a broad appeal, while "Move My Way" would be a great tune for fans of Taylor Swift's earlier work. "Risk It All" has some definite intentional or otherwise 1950's/60's musical construction, and an innocence but passion that is not old fashioned but more timeless, especially with its clean sound, simpler progression, and structure of lyrics. Songs like "Girls on TV" are cheeky, but inherently sweet with the lead singer comparing the lady of his affections to be like a little bit of several famous women such as Beyonce and feeling lucky as a person to be with her as her lover. This song also features a ukulele on the beach type sound that taps into the common thread of "love in summer" which is a standard pop music theme.
One track that deserves a mention of its own is "Oh Cecilia (Breaking My Heart)" featuring Shawn Mendes, a pop powerhouse in his own right. This track features a repeated interpolation of a section of the song "Cecilia" originally brought to creation and fame by legendary duo Simon and Garfunkel in the 70's. This will be instantly recognizable to many music fans of all ages and definitely jumps out at the listener. For a song that has been sampled all or in part by over a dozen acts, and covered all or in part by over 40 acts, the Vamps and Mendes give it a new unique voice in a way that is neither overdone nor tired, but rather is a fun Easter egg for fans of the original – a way to draw in new listeners to pop music tunes that are timeless and enduring across decades or generations.
The Vamps "Meet the Vamps" vinyl debut of their hit 2014 album is a must have for any Millennial, Gen Z, or even the current Gen Alpha who loved or loves pop music as either their main genre or as a guilty pleasure. Even Gen X can find something to appreciate here. This album is a guaranteed win for those who enjoy musical artists and acts like Olly Murs, Wave, the late Aviici, 5 Seconds of Summer, the Wanted, or One Direction. It is a nonstop feel-good musical ride from start to finish. The question remains – will the vinyl possibly open the door or create a possibility for more great pop music from this group? The current music industry could use an injection of music like this, as pop music in the current era is lots of sizzle but little steak with too many artists appealing to a niche or narrow group.
Final Grade A
Meet The Vamps makes its debut in the revered format with a blue vinyl edition arriving from UMe, direct-to-consumer, on June 9.