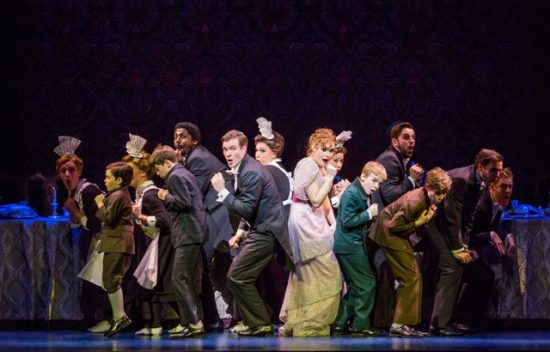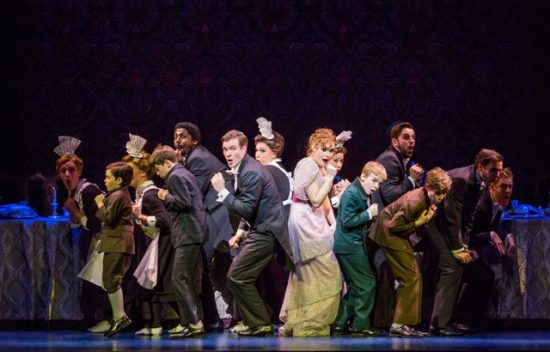 "Finding Neverland" may sound familiar…"Peter Pan", "Hook", "Pan", isn't that movie with Johnny Depp and Kate Winslet? Yeah, yeah, you've heard it all before and seen it! Well, not like this!! This show envelops you right from the beginning and brings you right into the amazing mind of J.M. Barrie. This is the tale of how the story weaver, found his inspiration in four boys and changed his life in many ways. I know, you're going to say that you have seen the movie! When you see a picture of a flower, you do not get the grace and elegance of its soft, silky petals, or the intoxicating aroma of its perfume. It's just not the same! This maybe the same idea of a story, but it's a musical, with choreography that is You can tell that this choreographer loves dancers and showcasing their individuality. Oh, did I mention that the choreography was created by Mia Michaels, one of the greatest in the world!?!?
On top of the exquisite choreography is the brilliant acting, and inspired costuming, and beautiful sets. Heading up this cast is a gentleman that, I suspect, we'll be seeing a lot more of, in the future. Taking on the leading role, portrayed by Matthew Morrison on Broadway, is Billy Harrigan Tighe. His singing brought joy to my ears and my heart. His voice is part of that enveloping that I was talking about! He starts to sing and I melted into the show. The emotion that he captures as Barrie is pure magic.
Christine Dwyer uses her fierce vocal skills to enchant as Sylvia Llewelyn Davies. Her control and masterful craftsmanship of a song, makes me feel that she was made for this part.
John Davidson, a veteran of stage and television, provides a comical and steady presence. I love his performance. This part(s) takes a special type to enjoy themselves on stage and create a "villain" that you enjoy and love anyway.
The four boys….wow! Where to start?! The acting of Tyler Patrick Hennessy, the stage presence and abounding talent of Colin Wheeler; all four boys in fact, are so fantastic to watch. Their commitment to their characters, along with their terrific singing abilities, really makes the show! Their portrayal makes you understand how Barrie could be so enamored as to create one of the most iconic stories, from these boys. There's a scene (one of the very few without Tighe) where the boys form a "band" and just embrace the joy of being in character and on stage and it became one of my favorite scenes in the show.
There are a lot of standouts in this cast, but there's a love that you can feel being emitted from the stage. The successes are everyone's. The magic is shared by all of them. I'd be remiss if I didn't call out the lovely and energetically talented dancing of Dee Tomasetta. This young lady has amazing star quality!
Bravo to entire cast! Magical, is a great word to describe every aspect of this beautiful show! "Finding Neverland" runs through Sunday, July 2, 2017.
Visit www.france-merrickpac.com for The Hippodrome's full calendar. And
www.findingneverlandthemusical.com/tour
The Hippodrome has only the best touring companies to grace their stage. If you want to make sure that your money is well spent, you cannot go wrong with a show at The Hippodrome.