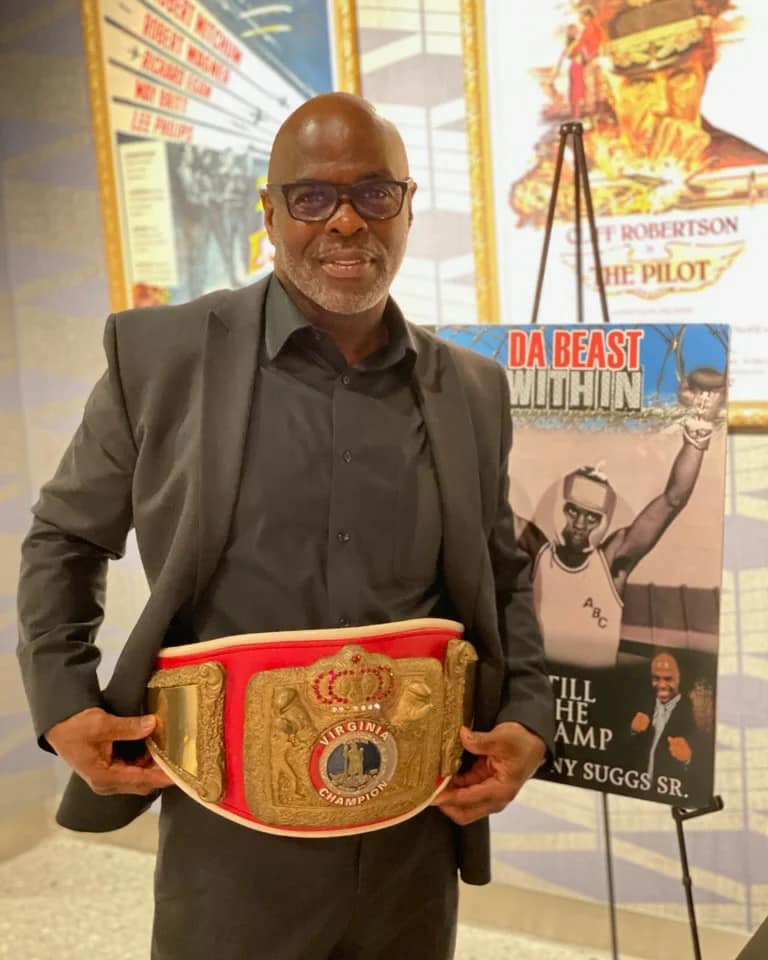 On Tuesday, February 28th, I attended an advanced special screening-type fundraiser of CREED III at the awesome Alamo Drafthouse Crystal City; benefitting local nonprofits whose mission is to raise funds to support children with disabilities like Variety DC or children involved in sports like Fight for Children.
Each ticket purchased that evening received a mini CREED III poster and a photo opportunity with 80s boxing legend Anthony Suggs Sr., a five time Golden-Gloves Champion, National Golden Glove Finalist, Golden Gloves Outstanding Boxer of the year and Olympic Festival Gold Medalist. He is also an author of the book "Da Beast Within Still The Champ."

The evening was filled with great energy and positivity as the Alexandria Boxing Club youth members were also special attendees to this event. Alexandria Boxing Club is a premier boxing club with a renowned reputation for building champions. Founded in 1980, the club serves as a community anchor and has been home to thousands of aspiring youth–some of whom have gone on to become Olympians, National Champions, and World Champions.

Appointed back in May 2022, Alice Williams, Executive Director of the Alexandria Boxing Club explained that "the 501 3(c) organization has been in existence for the past 40 years mentoring inner city Washington, DC children ranging from ages of eight through seventeen; teaching them the sport of boxing with a US Boxing Association partnership where amateurs will have an opportunity to compete."

I was impressed with 16-year-old Club Member Marcus Luther who is currently an 11th time boxing national Champion and ranked number one for the last five years. When asked how he felt about the film and Michael B. Jordan's directing skills. Luther stated "Jordan did a really good job with the film and I really enjoyed it. I liked the movie's boxing techniques training scenes best because this is what I do personally on a day to day basis in the gym."

Overall, the film CREED III delivers everything you would want in a great action film especially the sound and visual effects of each boxing fighting match. Great flashbacks of 20 years backstory of when the main hero, Adonis Creed's (Michael B. Jordan) past introduces a new character with "Diamond" Damian Anderson (Jonathan Majors) who had dreams of competing professionally or making it in the Olympics until he is sent to prison. Both look believably stronger in their boxing outfits and gloves which makes me wonder how long it truly takes to get in fighting movie shape which motivates me to sign up for future classes.
I appreciated the inclusivity direction of Jordan's usage of The American Sign Language (ASL) scenes with wife Bianca Creed (Tessa Thompson) and his daughter Amara Creed (Mila Davis-Kent). I enjoyed seeing how Adonis balances life after being a world champion trying to train new boxers in the old gym now renovated he used to admire growing up and a family man in retirement. But will he stay in retirement when forced to challenge his former best friend? I highly recommend anyone to see this inspirational movie trilogy to find out the ending of this next chapter.

Rating: A