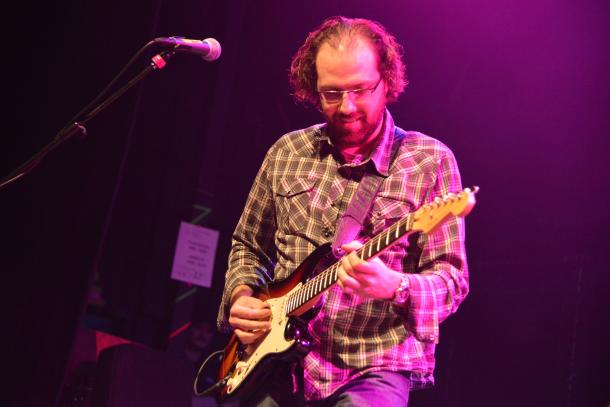 Punk fusion band Kung Fu is currently on tour and their fans couldn't be happier. The New England based band started out in 2009 and they've been going strong ever since. While Kung Fu has seen success as a group, Tim Palmieri, guitarist for Kung Fu, has also found his own success as a solo artist. I recently had a phone conversation with Palmieri about Kung Fu and his career and I learned quite a bit about what makes Kung Fu's music so amazing and how Palmieri's musical career began.
On your website, I noticed you offer guitar lessons. What inspired you to teach?
What inspired me to teach? Well, what initially inspired me to teach was people asking me and the money aspect, I mean this is in my 20's kind of deal. When I really started to take this seriously I was like, I also absorbed a lot of information over the years, and it's good to share this information. If I could be a positive spark in somebody's career or life, or bring a lot of joy or success, that's good for me. That's good karma, that's good vibes, good energy, so it's important to not be selfish with knowledge.
How did you get started in the music industry?
Well, I've been playing guitar since I was four, and obviously it was all fun and recreation. Really, I started taking guitar seriously when I was eleven but the music industry, I guess, I started digging heavily at fourteen or fifteen, but you know that's still, you know I was in high school or what not. Once I graduated from high school we formed a band and like started to hit the road. I guess I've been in the industry since 1997. I just knew right away that I wanted to be a full-time musician. I never went to college, and I had the hankering to be the next Led Zeppelin (laughs).
Are there any future projects in the works?
Nothing in the works, I don't think. Eventually, I'll do a solo album, but really, right now it's all Kung Fu. Writing new tunes for the band, working on an album that will be released beginning of next year, and uh, yeah. I have enough projects right now for when Kung Fu's not on the road, I'll be able to play in different groups and get my musical outlet via different genres and favorite bands of mine that I've been inspired along the way.
You've performed with Mike Gordon and Jon Fishman from Phish, Bill Evans, Snarky Puppy, etc. Are there any artists you would like to collaborate with in the near future?
There are plenty of artists, many guitar heroes of mine, like Mike Stern, John Scofield. There are just so many; I would love to work with Eddie Van Halen but I don't know if that's ever going to happen.
You never know.
You never know, yeah. I guess the answer is, I'm open to working with anyone who has inspired me along the way or that I view as a musical treasure that wants to collaborate in some manner if the logistics work out. I mean Kendrick Lamar, Katie Perry, let's do it, come on! I'm down for a lot of different things.
How did you get started with Kung Fu?
Kung Fu was born in November of 2009, and it started out as a fun Monday night residency gig that was going to start January of 2010, so yeah, basically it started out as "alright, we're going to start playing these Monday night gigs at a new venue", and Dave Lavolsi was the one who spearheaded the idea at the time. He's no longer our bassist, but I started it after Adrian, our current drummer, and then after myself and Todd Stoops, and Chris Jensen on sax is no longer with us. Todd, Chris and Dave are no longer in the band so it's just Adrian and myself, the two founding original members.
And it just started out with this scope of punk fusion, from the 70's, whether complex or on the simple side of things, started writing tunes and then our sounds cultivate and then through social media at the time, being able to stream our concerts in the small club in New Haven across the country, uh, started gaining some attention and snowballing so, promoters started reaching out, started slowly traveling, you know, it was very organic the way it happened.
What advice would you give an up and coming artist?
TP: An up and coming artist…well, practice. Practice, practice, practice. Not only your instruments but your vocals, but also practice songwriting. Constantly work on that. Craft your songwriting. One song can change the world. You want to copyright everything you do and get used to reading contracts and you gotta just work hard, not give up. Don't take things too personally. We're all artists and we can get sensitive about our business. At first, you're gonna have to handle a lot of the business but you just have to toughen up and once you get to a point of success, you can hire managers. No matter what, you are not only a musician, but you are a business manager. You have to be savvy on the business side of it as much as being an artist. I don't think there's much separation of powers anymore.
What are you most excited about in regards to the tour?
In regards to this current tour that we're doing called The Feds Tour, it's one set of Kung Fu one set of Steely Dan. I look forward to just hearing this music. I'm a huge Steely Dan fan, and anytime people share the same musical groups and genres, you have something in common with that person, psychologically, or emotionally, so it's fun to play this music who care about it as much as I do, and it builds connections. That's why were here. We're in the business of meeting people, making new fans. I look forward to just getting up there and rocking out like I always do, via my own music and via the Steely Dan catalogue.
Chatting with Tim was an absolute pleasure and to find out that he's a Steely Dan fan was just as awesome. If you are interested in the rockin' tunes of Kung Fu and Tim Palmieri, check out their respective websites https://www.kungfumusic.com and https://www.timpalmieri.com. Keep an eye out for their tour schedules and get ready to have an amazing experience!