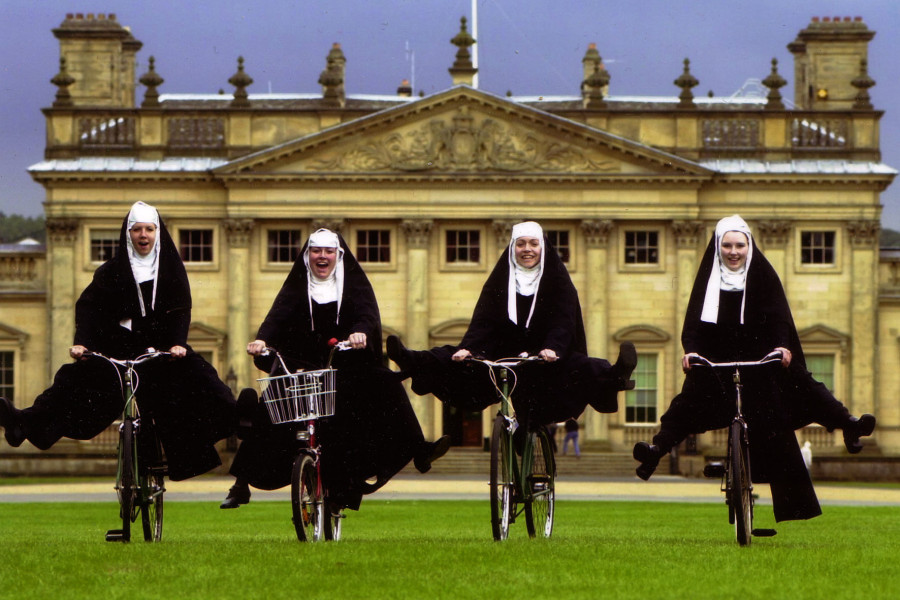 Whether it's your first time or your 131st time seeing the film version of, "Sound of Music", you will enjoy this sing-a-long! You don't need to know the words because they are there for you.
I loved the bigger screens that were brought into The Filene Center. I wish they were the screens that they used for every film. They really made you feel like you were in the movie, spinning around with Julie Andrews and climbing trees with the Von Trapp children. What I really liked was the pre-show. They gave out goody bags with props to use during the film and taught us what to do with each prop. Delightfully, they had Emil de Cou, Festival Conductor for the NSO as our emcee for the evening and they also brought in local choral teacher, Ms. Babcock from Centerville High School, to warm us all up before the movie started. It was a fun treat!
I won't go into a synopsis of, "Sound of Music" but Julie Andrews and Christopher Plummer are still amazing! lol
It's a wonderful movie that really holds up over time! It's a classic and this is definitely the most enjoyable way to see it! There were TONS of people in costume for the pre-show costume contest. Everyone from every age group was enthusiastic and it made the night so much fun! Every prop was used and everyone stayed with it until the final credits rolled. Despite the pending rain storm, the audience and lawn were packed and that says a lot about the type of entertainment this is…a fantastic date or family night for any and all ages!
I am excited to learn that besides, "Sound of Music" the company also does an, "Grease", "Hairspray", "High School Musical 3", "Joseph and His Amazing Technicolor Dreamcoat", and the ultimate sing-a-long movie, "Rocky Horror Picture Show". There's also Elvis and ABBA sing-a-longs and just announced "Lion King". Check out the website for dates and times and hopefully Wolf Trap will have more of these on the schedule.
Overall Grade: A+, this is a great idea and wherever you can see it, or sing it, you should! Venue: A+, it's a joy to be outside and seeing great classics. I wish they did more of them towards the end of the season and into the Autumn. "Rocky Horror…" at the beginning of October would be fun!