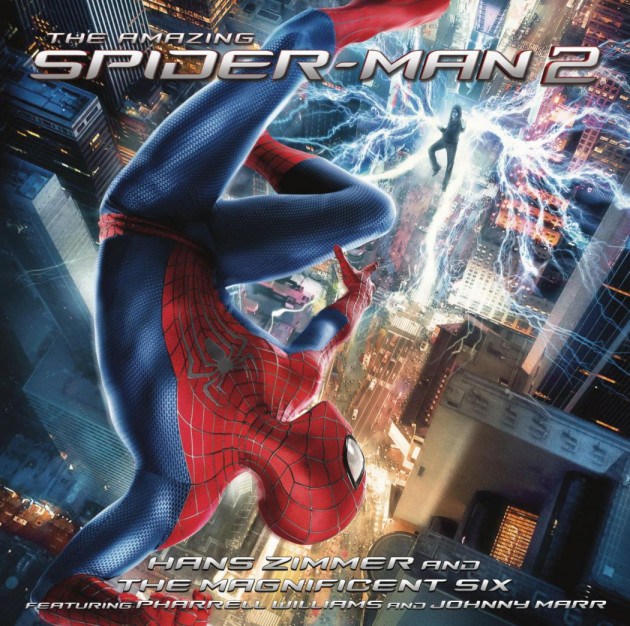 Our web-slinging hero swings back into action in "The Amazing Spider-Man 2". This time around, Spider Man's adventure is accompanied by an intense 2-disc soundtrack. The soundtrack composed by Hans Zimmer and The Magnificent Six and Johnny Marr features Alicia Keys, Pharrell Williams—who also serves as co-composer for the soundtrack (what hasn't he done lately?) —Kendrick Lamar, Phosphorescent, The Neighbourhood, Czarina Russell and Liz. While the soundtrack is primarily instrumental, it has an exciting and over-the-top sound that is worthy of an action film.
In the tracks "No Place Like Home," "I'm Electro," and "My Enemy," you can hear the combining of musical styles. You hear the classical, traditional melodies you would hear in a movie score mixed together with hard rock and Techno. Such collaboration creates a unique and new sound that catches the ear of the listeners and makes them eager for the next track. Not only do we get to hear an amazing orchestra conducted by equally amazing composers, we are treated to some of today's best artists. Pharrell's "Here" and Alicia Keys ft. Kendrick Lamar's "It's On Again" add the R&B and funk aspect to the album, giving the fans something to dance to. Pharrell's "Here" serves as a love story for our hero and his lady love. This is truly a well-rounded soundtrack with many intriguing songs the fans can enjoy.
This is an awesome album with breathtaking choices of songs. To have Pharrell work with a well-renowned composer made this album exceptional and truly worth listening to. Most instrumental soundtracks or scores would be mellow or easy listening. This soundtrack is completely different and is more of a rock and roll type of album, and that is what makes it so remarkable. Pharrell's contributions to the soundtrack—both instrumental and vocal—make this album absolutely enjoyable and Alicia Keys and Kendrick Lamar's "It's On Again" will excite the audience.
If you love variety, this is the right soundtrack for you. There is a something for everyone, and that certainly works in this soundtrack's favor.