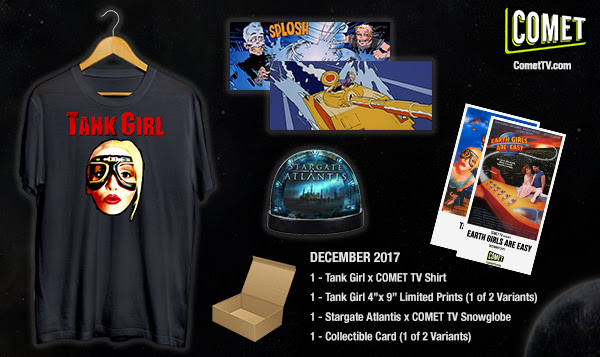 It's December, the time when you think of a rolling fire, having dinners with friends, and… Tank Girl! I mean, come on we're not getting sentimental now are we? This month COMET TV has some of the cult-iest movies of all time. Earth Girls Are Easy, Tank Girl, Leviathan… and that's just what I could remember off the top of my head! Think of what I could talk about if I looked it up!
And TRR would want to give you the opportunity to have an awesome December of your own all month long! The COMET TV December Prize Pack is perfect for your Tank Girl or Atlantis fan!
TO ENTER: Send us your name, location, and the answer to the following questions about the Tank Girl cast
What film did Lori Petty play Kit Keller, pitcher for the Rockford Peaches?
The film's director Rachel Talalay, directed some episodes of Doctor Who, name two of them
Speaking of "Keller", Jet Girl, played by Naomi Watts, played Rachel Keller in what horror film series?
Send all three answers to therogersrevue@gmail.com with the Subject TANK GIRL by January 5th @ 7:00pm EST
One randomly selected person will WIN this prize pack, GOOD LUCK!
The Comet TV December Pack has:
1 – Limited Edition Tank Girl x COMET TV T-shirt: "Look, if you want to torture me, spank me, lick me, do it." …. Lock and load with this exclusive Tank Girl goggle-eye tee and get ready to break necks next time you're stocking up on ammo.
1 – Tank Girl 4″x9″ UV Print: SPLOSH, BAM! If you're a true Tank Girl fan like we are, you couldn't get enough of the film's animated sequences. We're paying homage with two variant UV prints pulled right from the film and custom made for this kit.
1- Stargate Atlantis x COMET TV SnowGlobe: Tis the season to be Stargate! Bring home the bubble city trapped in this limited edition SnowGlobe… where else are you gonna snag this?
1 – COMET TV Collectable Card: You'll get one of two collectable COMET TV cards featuring Earth Girls Are Easy & Tank Girl.
RULES:
Each household in the US is only eligible to win the Comet TV's Tank Girl Pack. Only one entrant per email address per giveaway. If you have won the same prize on another blog, you are not be eligible to participate in the giveaway. Entries must be received by JANUARY 5, 2018 @ 7:00pm EST. Any entry after the time stated, will not be qualified. Winner is subject to eligibility verification. The prize will be sent via FedEx or USPS. No P.O. Boxes please.