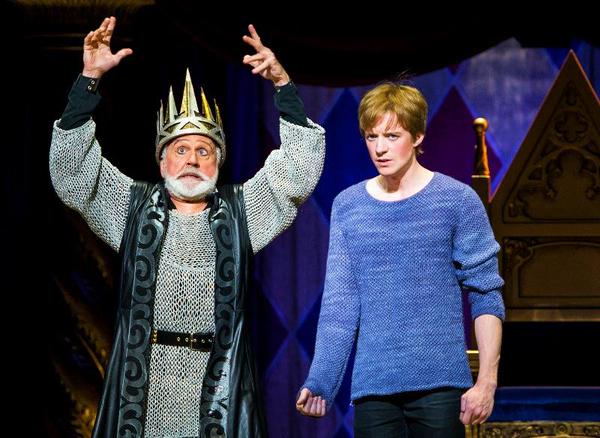 The national tour of the Tony Award-winning, pop musical, Pippin takes up residency at Baltimore's Hippodrome. The circus-inspired staging of the revival breathes new life into the book and score of the 1972 hit. The original cast left large shoes to fill, with Ben Vereen as The Leading Player and John Rubenstein in the title role.
This new incarnation of Roger O. Hirson and Stephen Schwartz's dark, coming-of-age musical has an edge to it that makes it exciting to listen to and thrilling to watch. The staging incorporates circus choreography and acrobatics, mixed with the original Fosse technique. Nothing was left out of this dynamic version.
Sasha Allen (The Voice) steps into the formidable dancing shoes of Ben Vereen and Patina Miller as the Leading Player for the Touring Production. She brings an effortless charm to the role and I love her unique vocal stylings. Her vibrato is so enveloping that I wanted more and more. While she is obviously not a classically trained Fosse dancer, she was brought up to speed very well and certainly held her own. Her characterization was what I found to be most compelling. She was cute and sexy at the same time and I enjoyed her performance.
As Pippin, Sam Lips is also superb. The character of Pippin can come off as a petulant child, but Lips keeps him fun and charming. The choreography that Pippin has to do for this production is nothing like the original. Lips have to dance "badly" for the majority of the show; until he comes into his own and struts his stuff…then the choreography takes flight.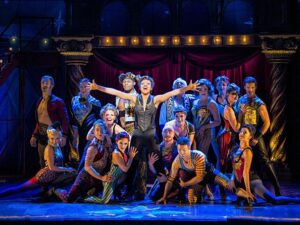 The entire cast in this production is impeccable. As Berthe, Pippin's Grandmother, Adrienne Barbeau proves that you can be graceful, stunning and captivating at any age. Her timing was fantastic and her singing was great…especially considered he hung upside down! Kristine Reese as Catherine is also lovely and charming, but has a genuine spirit that made her my favorite of the night. Aside from her presence was her voice. Soft at times and grandiose at others, with a beautiful tone and great diction. While Sabrina Harper, as Fastrada, is the real deal as far as dancing and her presence is reminiscent of Cathy Moriarty as the perfect villain.
The greatest thrill of the night was watching star of the original '72 Pippin, play as King Charlemagne. John Rubenstein brought energy to that stage that I could feel in the audience. His exuberance and zeal was evident from the first line and the audience at him up. Some knowing that he was the original Pippin, some just familiar with his television work or other endeavors, some just seeing him as Charlemagne, any which way, he was seen as a great presence onstage and we're all the better for having seen him perform.
Not to leave anyone out because I could speak to every individual onstage, but as a whole the ensemble is remarkable. Half circus performers and half musical theatre performers, the show was very precise and daring, to say the least!
I also found the use of magic in the show particularly intriguing and beguiling.
This is truly not one to miss!
For more info on the tour of "Pippin", go to www.pippinthemusical.com
And for further info on the Hippodrome, go to www.france-merrickpac.com