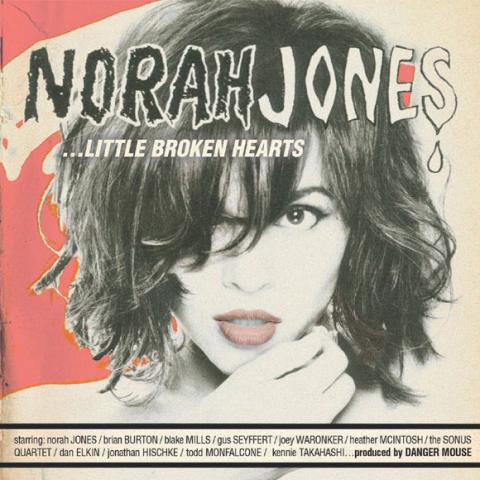 Little Broken Hearts is Norah Jones' 5th solo effort and details different responses to heartbreak such as leaving ("Say Goodbye" and "Out on the Road") or even murder ("Miriam"). Danger Mouse produced and helped Jones write the album to amazing effect. They truly used the past the move her music forward in several tracks deep in a 60s groove such as "4 Broken Hearts," while others are so simple and straightforward they could have been on Come Away With Me, her critically acclaimed and wildly successful first album.
It seems a bit difficult to get a real handle on who Norah Jones really is, and that is definitely part of her magic. Her voice transcends genre; her country songs with a full band are just as compelling as her dramatic tunes with nothing but a few piano keys to back her up. Norah Jones is also unique in that her rich-as-honey voice almost effortlessly goes from wistful to haunting to flirtatious. Many want to compare her to Adele, and while both are highly talented musicians who have miraculously not succumbed to the immense pressure on women in the entertainment industry to become a sexy shell of a human, I see a vast difference between the two. Adele's music shouts her emotions and the point she is trying to get across, while Norah Jones is as smooth and subtle as a silk scarf fluttering in the breeze.  "She's 22" is a perfect example of how deftly Jones can pour dejection all over a song and make it totally different from a tune with the same subject matter. The lost lover in the song has moved on (sound familiar?), but the voice lamenting over the situation is not on the verge of tears or screaming in pain. She asks plainly, "Does she make you happy? Are you really happy?" in a small, unassuming voice that almost made my heart break.
I know we are in the digital age and with that comes the ability to pick and choose the danciest hits or sappiest love songs and leave the rest of the tracks unheard, but I cannot tell you how much I loved this entire album. Buy the whole thing. I know you will become just as obsessed with the voice, the writing, and the production as I did.  If you insist on just getting a track or two, then spend your buck and change on "Happy Pills" and "Take It Back." "Happy Pills" is just so darn catchy (thanks partially to its feature in a Target commercial) and "Take It Back" is easily the most unique and well-crafted song on the album. You will enjoy getting lost in the slightly electronic trance of the seemingly endless layers of instruments.
Some music makes a great soundtrack for a run or is created to be played for drunk people in clubs, but this album is meant for those times when you simply want to listen to music. If you are the kind of person who considers just listening to your records (or cassettes or CDs) a great way to spend an hour, then Little Broken Hearts is perfect for you.
Final Grade: A+
Music Revue by Stephanie Taylor
Little Broken Hearts is available online and at your local music retailer. Norah Jones is touring this year and while her Wolf Trap show is sold out, tickets for other venues across the country are on sale now.