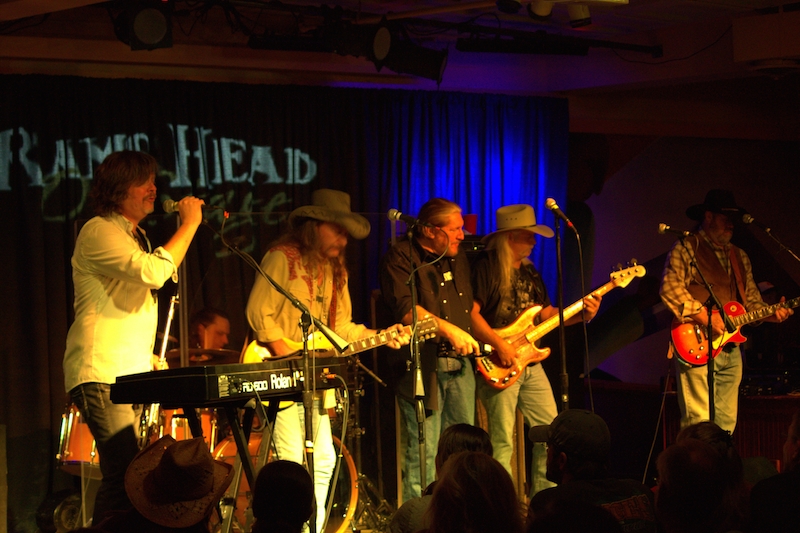 Its Saint Patrick's Day the number one drinking holiday of the year and Rams Head On Stage is dishing up plenty of Tallamore Dew's (Irish whiskey and ginger ale) and "Kiss Me I'm Irish" specials, which is a Rams Head tavern family tradition. Slow cooked corned beef prepared in house with cabbage and red bliss potatoes served (optional) with a pint of Guinness. But I'm not here to sample the food, I'm here to sample some of the live entertainment they have to offer, and it doesn't get anymore live or entertaining than the Marshall Tucker Band.
MTB or Marshall Tucker Band are Southern Rock legends. I know everybody knows them for their song "Can't You See" but their way more than just that. With the Marshall Tucker Band, it's not about what song their playing more than it is about what song their jamming on. That's the way it should be. You don't just play a song; you jam on it for about a half an hour or so. That's something MTB does well. Their performance of "Blue Ridge Mountain Sky" is a prime example of that.
Marcus James Henderson opens with an upbeat but at the same time very smooth saxophone solo; a few verses of lyrics are sung then its back to ten minutes, give or take, of saxophone and guitar solos trading off with each other. Let me just say that Henderson is an outstanding musician. He does it all; saxophone, flute, keyboards and sings. His flute solos particularly. Their encore performance of "Running Like the Wind" was impressive. Every time he picked up the flute, it was a moment of intense anticipation. It was the style of playing that just made you want to holler. I thought he was going to hold up a lighter and spit flames from his flute, Ron Burgundy style. That's the only way it could have gotten any better.
Guitarist Chris Hicks was great as well. He sung the verses in "Can't You See" and performed it fine. Pretty much everybody in the audience sung the chorus; it was an amazing experience! They played a number of classic's "Midnight Promises", "Pretty Little Love Song" and "I'll Be Loving You", all of which sounded  great. One thing that made this performance stand out was the range of talent from every musician on stage. Everybody besides the drummer was playing an instrument and singing at some point.
This band although not 100% the original ensemble sure does the original line up some justice. The Marshall Tucker Band is holding up just fine. They are just as rockin', jazzy, and bluesy as ever. Tonight if you weren't clapping you were singing or maybe you were doing both if you weren't giving one of the many standing ovations they received throughout the night. The only way to really understand is to see them yourself.