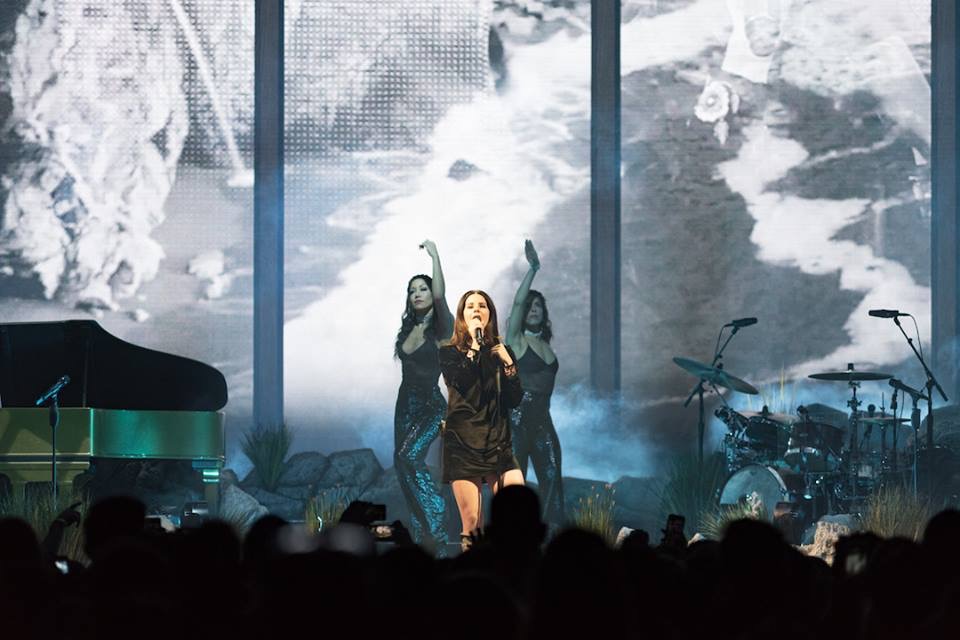 The gorgeous Lana Del Rey stated she was nervous performing inside downtown DC's Capital One Arena on Thursday night, January 25th, but you would never know it especially when she reached her pitch-perfect high-note vibrato. She sang for over 90 minutes without even breaking a sweat which I thought was a huge compliment considering she was wearing a chic black turtleneck mini-dress with black and gold-glitter pattern high-heeled boots.

Looking at the main stage you immediately see palm trees, beach chairs, rocks, a campfire, and a grand piano. A projector turned the floor into a swimming pool, sandy beach, or a blue lagoon, depending on the moment, and video screens recast the performance into an ad hoc black-and-white movie. For example, fans sometimes caught a glimpse of changing phases of the moon, old Hollywood montages, footage of civil rights protests, etc.   I was memorized by the sultry 60s girl-group inspired dance choreography and Del Rey played some guitar, too. She beautifully sang a mixture of songs from all four of her albums in her signature deep and haunting tone, contradicting her gentle and airy speaking voice that conversed with the crowd regarding current events like political issues, North Korea, etc.
Del Rey dedicated a verse and a chorus of "God Bless America – And All The Women In It" to the recent women's marches across the country and the audience cheered. Sadly, her surprised musical guest of Sean Lennon wasn't able to make the concert but sent his regards since he was working on new music back on the west coast.  Overall she performed classics such as "Born to Die," "National Anthem," "Young and Beautiful," "Video Games," and "Summertime Sadness," while also showcasing her newer works "Lust For Life," "Love," "White Mustang," and "Change." By the way, "Lust for Life" also earned a Grammy Award nomination for Best Pop Vocal Album at the upcoming 60th Annual Grammy Awards.   My favorite show moments was during "Ride" when Lana's dancers were on swings from the ceiling and when she took about a 10-minute break to meet her fans in the front row to take selfies and sign autographs before singing the last song "Off to the Races." It's nice to know despite her worldwide fame she's still humble to appreciate her fans always.
Final Grade: A
Also, a special shout-out goes to Lana Del Ray's L.A. To the Moon Tour local opening act Kali Uchis. Her real name is Karly-Marina Loaiza and a high school graduate of TC Williams High School. She's a Colombian-American young pop and R&B singer who grew up in Alexandria, VA. In 2017, she was nominated for a Latin Grammy for "Record of the Year" and is currently nominated for "Best R&B Performance" with Daniel Caesar for "Get You" at the 60th Annual Grammy Awards. Most of her set, I couldn't help but compare her to Shakira because she did these sexy hip/belly-dancing moves on stage. She also debuts her latest single "After The Storm" and promoted her music video to the crowd which has already one million views on YouTube! Her next major performance will be at Coachella.