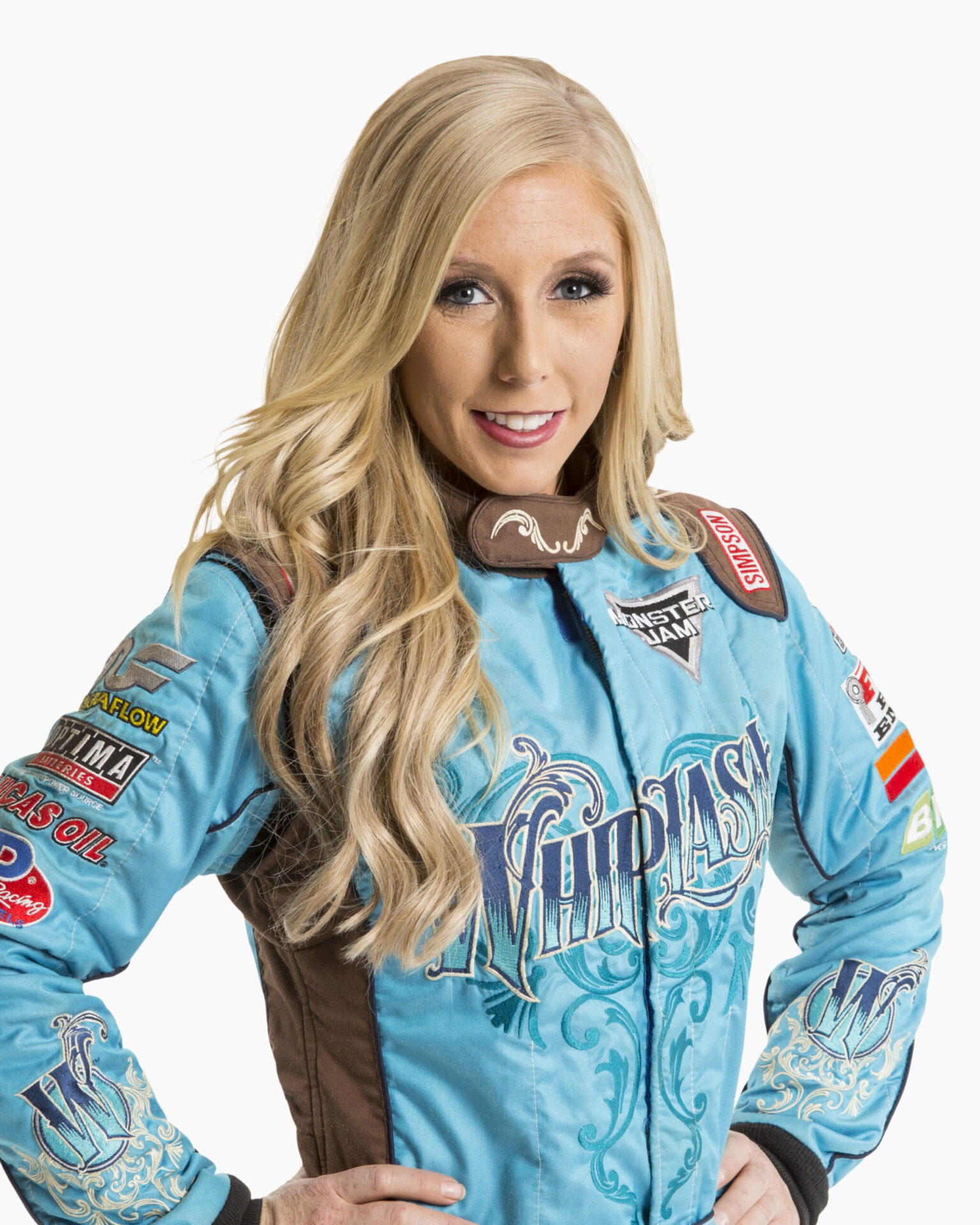 On this edition of THE INTERVUE, we have one of the wonderful drivers who was competing in the Monster Jam, which is touring across America is making a stop right here in Washington DC at the Capital One Arena for one more show today. She is one of the drivers who of the Scooby Doo and the Madusa Monster Truck but now she drives Whiplash, a 1941 Willys Monster Truck we have Brianna Mahon!
So the first question I want to ask you is what got you into the world of monster trucks and motocross in the very first please walk us through that genesis?
Well, I was born into a motor sports family. My parents both grew up racing, my cousins, my aunts, and uncles. So, when I was three, I was climbing all over these big mud trucks, I was riding four wheelers, dirt bike, snowmobiles. And it just progressed from there. And I tried all the normal like, you know, dance tumbling all that stuff, because honestly, I had no coordination as a child. I just didn't love any of it. I swim competitively for cross training. But really dirt bikes was where my heart was.
 So, at 10, I really decided to start racing full time. And I just continued my entire life until my early 20s, where I had gone professional in the sport, and was racing at a professional level. I was unfortunately injured in 2011, I believe it was, and one of my worst injuries. I obviously had a lot, but I was out for a few years in recovery, a lot of surgeries. And that's really when I had to find something else to do. So, I started racing dirt track and sprint cars, loved it. And a couple years down the road. Monster Jam introduced itself in about 2014. And I never looked back it was honestly a dream I never knew that I had and here we are. Eight years later, I designed my own truck. I won rookie of the year I've got third world finals; I won the All-Star Challenge best trick competition. And it's all kind of honestly like a whirlwind and a dream come true.
Well, it sounds like a whirlwind. And you've been wonderful champion, especially you drive in one of the two trucks currently that is exclusively women drivers. And that's historic, amazing.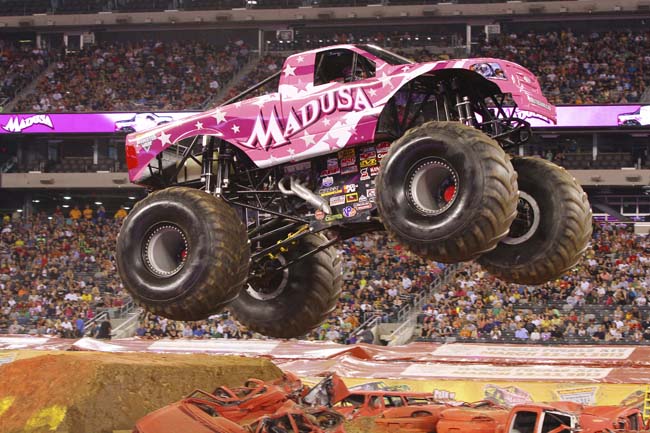 Yes, we used to have a female persona truck called Madusa, which I have driven before, which is kind of where my "Princess of Carnage" tag name comes from. And when they asked me if I'd be interested in designing my own personal brand of a truck back in 2017. I mean, I couldn't say no, it was that opportunity just does not happen. You know, we really, we don't get to design our own trucks in this industry. And, you know, I just, I took off with it. And it's been great building an entire brand from the ground up from the merchandise to the truck, to the theme song just to everything, and it's a cool experience.
Well, that is amazing. I'm glad you got to create this wonderful truck. It's wonderful brand that fans across the country can see and enjoy.
Yes, it's been amazing.
Excellent. So, what is your greatest memory since you have competed in Monster Jam since 2015?
I mean, there's honestly there's so many I mean, I've got to travel the world. I've made history in several countries here in the United States. But honestly, I mean, I've got to say it's just getting Third World Finals. I don't think anything will talk that we not only had a female win World Finals, but then I was the second female in the top three. And, you know, that's never happened in history. And, you know, I was so close to winning as well. So that's honestly just kind of a memory that I'll never forget that feeling and coming back into World Finals. Finally, this year after COVID I'm ready for that gold medal.
Oh, especially since this will be the 21st finals and it's going to be held in May at the Camping World Stadium in Orlando. And since you've done many of these finals over the years, what will be the keys to get you in the finals once again and grab that gold?
You know, just staying consistent and you know, doing well on my tour and, and maybe hopefully possibly being the first female to ever win my championship series that I'm on. And that's never happened before, but just you know, getting to real finals and, and just driving how I know how to drive, you know, all bets are off the table there, there's, you know, kind of an idea of way, like, there's no rules, you know, just go out and do what I know how to do. And, you know, hopefully I can make that dream a reality.
And here's hoping that you do make that a reality indeed. I read somewhere that you love meeting people through Monster Jam, but you hate experiencing new food. I got a two-part question with that. What is your favorite food? And what is the least likely food you will never ever ever, even if they pay you a million dollars and ever try?
Oh, man. Do you want to ask you that a long time ago, I would have said I would never try seafood. But I live in Florida now. And I love seafood. I should say cooked seafood. Not raw seafood. I will never touch anything wrong. But you know, I love pasta and Italian food. That's all I grew up eating. You know, training for motorcross was carb loading. I love carbs. I love pasta.
You know, we've been all around the world and been to so many cities and everyone loves trying new foods and they'll order all this stuff. And honestly, me and another driver sit there, and we won't eat we just want to eat or granola bars. But just honestly just I don't even know what to describe it as like, I'm not big on the Indonesian food, the Indian food just anything spicy. I'm not a spicy girl. A lot of food I won't eat honestly,
I can understand that. I'm not a big fan of spicy, but I'm slowly delving into the spicy world myself.
My husband hates it because he loves spicy.
I gotcha, is this your first time competing in the nation's capital, the DC metro and Baltimore area?
Yes, it is. I have never I've been to Baltimore, and I've been in surrounding areas, but I've never been right here in Washington. So, I'm excited to not only compete here, but to you know, see the sights and, and really go out and explore a little bit well, I have some time.
Are there any sights that you'd like to see in the DC area while you're here?
I'm not a huge history buff that was never really my thing in school, but obviously I want to go see all the monuments and I drove past the Washington Monument last night. So that was cool. And, and honestly, I'm from a town of 300 people all we have or quarantine cows. So, our buildings are not, you know, historical like this. So even just driving in last night in the dark I was in all just the structural of these buildings. And the history that you can just tell us here is really fascinating to me now as an adult.
And if you ever get a chance, next time you come here visit Old Town Alexandria, which is right across the river in Virginia. And you get to see a lot of historic buildings and a cobblestone street has been around since the 1700s. I recommend that sounds awesome. Yes, indeed. Do you have any pre-show rituals that you run through to prep yourself and get into the mind of competing and winning?
Honestly, I'm not really a superstitious person or rituals type of person. I really am just here to have fun and you know, put on the best show I can for the crowd. And, you know, I'll say a prayer before I go out. But other than that, I just kind of relax and enjoy. Enjoy it live in the moment.
And my final question to you is, what advice would you want to give to our young readers and listeners out there who would love to do what you do become a monster truck champ?
You know, just if that's a dream you have you just have to get involved in any way that may be. I mean, we've had crew guys who have started by just showing up and sweeping the shop to help just to be around it get involved. We've had people who go to college to do this in Ohio. You know, for me, I grew up in a family, so I was kind of tossed into it, but go watch local races. Just introduce yourself to people, you know, anything you can do is to get your foot in that door and get involved.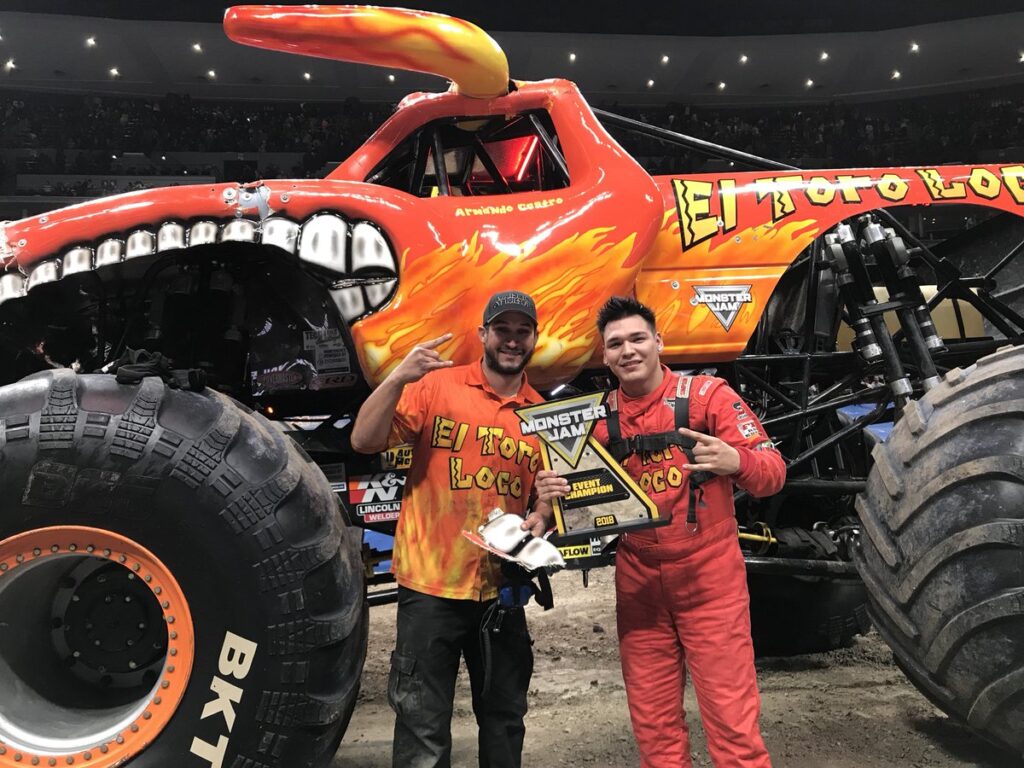 I mean, one of our drivers that's here this weekend, driving El Toro Loco, his name is Armando (Castro). He was what we call a super fan. He was obsessed with monster trucks from a very young age. He came to World Finals and walked up to the first person he saw that had a badge on and introduced himself and lo and behold, it was our main boss. Wow. So, he walked him around, showed him around talk to him, said, Hey, would you like to try out? Like you're, you know, you're Hispanic you seem like you love the sport. We could use someone who speak Spanish and who do you know now he's driving a truck. So any you know, you never know what moment could be your moment.
And he is one of the very few Hispanic drivers currently in Monster Jam?
Yes, yes. Wow, that's historic. Yeah. You never know who you might run into. And, you know, it took him being brave and just walking up to someone and introducing himself. And, you know, it's, we all have such a different story with how we got started. And I just think that's, you know, a great inspiration for people who want to get involved but really have no idea how.
Absolutely and I thank you for sharing your story with us and being one of the historic first in a great wonderful sport, which I enjoyed as a young kid. Sure, our fans and listeners have enjoyed for many years to come. Breanna thank you so much. We appreciate it
Want to see Monster Jam coming to the city near you. Go to their website, monsterjam.com