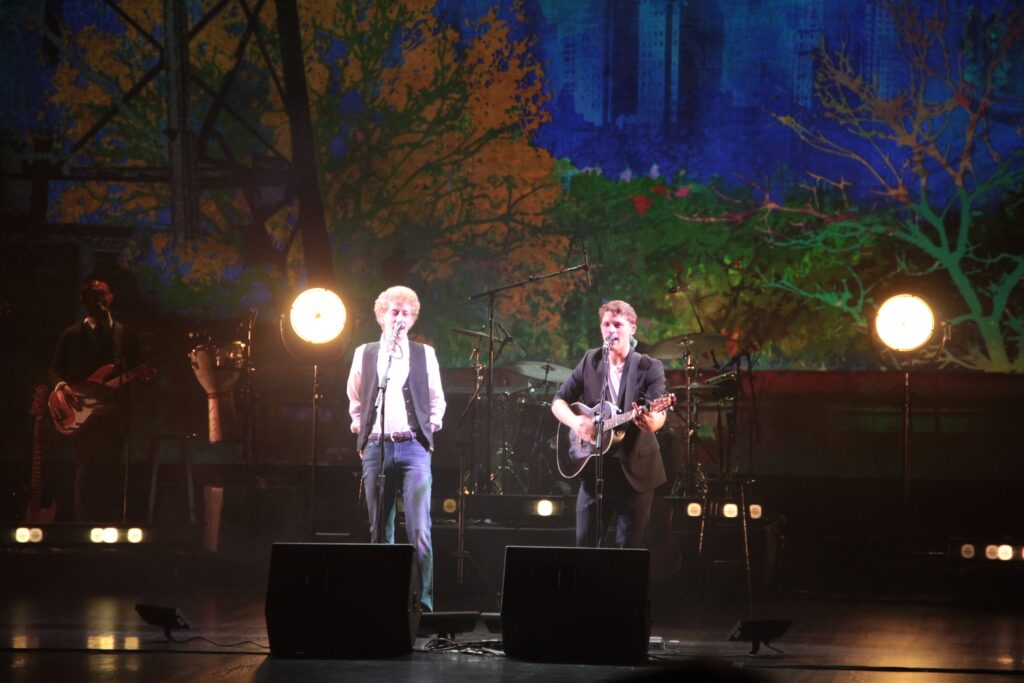 The stage was set. The National Theatre stage was decked out with microphones, guitars, a drum and a keyboard for January 29th thru 30th. It looked like a concert was about to begin and then the performers appeared. One would swear they were looking at Simon and Garfunkel themselves performing on stage. However, the performers were actually Brendan Jacob Smith (Art Garfunkel) and George Clements (Paul Simon). One might recognize Smith from America's Got Talent Season 16, where he made it to quarterfinals with his group T.3. Clements has previously toured with his modern acoustic group, Lonely Heartstring Band, which has released two albums. But, tonight they were transformed into Simon and Garfunkel.
When they began to sing, I was transported back to the memories I have of listening to Simon and Garfunkel's Greatest Hits repeatedly, while I backpacked through the United Kingdom one fall. I could almost smell the leaves. I could only imagine what memories were wafting through the heads of other audience members. A screen behind the performers projected scenes of the times to set the stage. Images of Man on the Moon, the Vietnam war, hippies dancing, Martin Luther King Jr., protests and even old product commercials danced on the screen behind the performers to remind the audience of what was happening in the world during those times that might have inspired each songs' lyric.
A narrative began. Clements and Smith told the story of Simon and Garfunkel's rise to fame. It began with their meeting in a school production, and shortly after forming a band named Tom & Jerry. At age of fifteen, they recorded a song in 1957 called "Hey Schoolgirl" which they wrote together. After school, they decided to performed under their own names. Despite their first album "Wednesday Morning, 3AM" not being a huge hit in 1963, "The Sound of Silence" was overdubbed in 1965 with electric guitars and drums, making it a hit. This propelled the duos careers and led them to more albums.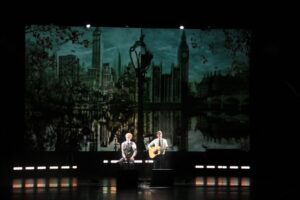 Clements and Smith performed many favorites including "I Am a Rock," "Kathy's Song," "Homeward Bound," "Scarborough Fair," "Mrs. Robinson," "The Boxer," "Cecilia" and "Feelin' Groovy" to name a few. As they sang, Clements and Smith continued to reveal other moments about the duo's careers. I learned that Simon and Garfunkel's final album, "Bridge Over Troubled Water" became one of the world's best-selling albums. The group won ten Grammy Awards. After their split, Art did some acting in a few films including "Catch-22" and published poetry. Paul Simon went on to perform solo. The duo reunited a few times, most famously in 1981 when their performance in Central Park attracted over 500,000 attendees.
As details of the years unfolded, and the background screen echoed images of corresponding moments in time, the duo had a few minute costume changes which reflected the passing of time. They evolved from neat vests & suit jackets to turtleneck shirts. These little details gleefully delighted the audience. Audience members were encouraged to clap along as the musicians began to jam. Marc Encabo (Bass Guitar & vocals) and Joshua Vasquez (Guitars & vocals) were often seen dancing in unison. As Bob Sale (drums & vocals) kept beat, while Zach Kamins played keyboard & sung vocals. Audience members applauded louder and louder, as the story unfolded and more songs were sung. I heard several audience members exclaim that they actually felt like they were at a Simon & Garfunkel concert. I was never fortunate enough to see them perform in person, but, having listened to their music for years, it felt real to me. Clements and Smith were able to capture the harmonies beautifully. I highly recommend seeing this show!
FINAL GRADE" A++