Jonathan Carney Leads BSO With Vigor
2 min read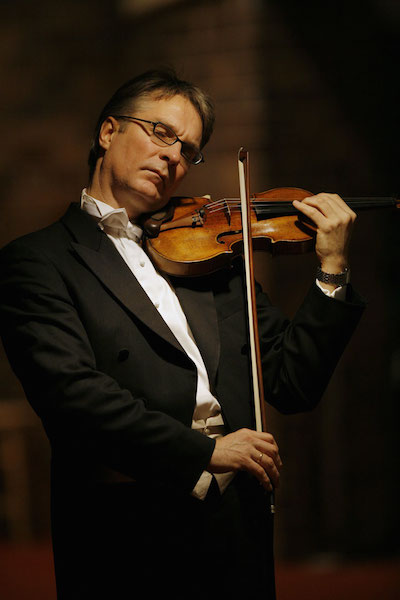 It was a program featuring the master's of baroque style music, Vivaldi, Bach and Handel. Baroque was an all encompassing form that developed in Europe during the 17th century, an elaborate art that produced exuberance and emphasized grandeur in sculpture, paintings, architecture, literature, dance and music. Thursday night the Baltimore Symphony Orchestra led by concertmaster violin Jonathan Carney filled The Music Center at Strathmore with refined exhilaration; and just in time for Bastille Day.
One of the appurtenances of the baroque style is exaggerated motion and that's how Jonathan Carney played. The program Opened with Handel's "La Réjouissance" Music for the Royal Fireworks HWV 351.  He enthusiastically led the orchestra from the edge of his seat; his movements were precise and quick. Music for the Royal Fireworks is a British victory anthem and originally was composed as a wind suite. Tonight, they played the rendition that was later re-scored for a full orchestra, the violins playing the oboe parts and the cellos playing the bassoon parts.
There was an Edvard Grieg suite "Air from Holberg, opus 40" performed after the opening Handel piece and followed by another Hadel piece "Entrance of the Queen of Sheba from Solomon" of which each well received.
The next two pieces were of baroque mastery. They were suites from Antonio Vivaldi's "The Four Seasons" the opening being the infamous "Winter" composure followed by "Summer". These pieces fit the program appropriately as they highlighted solo instrumentation accompanied by the orchestra. Jonathan Carney's violin was magnificent! He stood in front of the ensemble and confidently endured the rigors of what I would describe as a series of incredibly complex and intricate violin solos. During these solos, he communicated directly with principal cellist Dariusz Skoraczewski as they often exchanged parts. The manner in which Jonathan played was breathtaking, it was like elevated joy. This style of playing was a new concept at the time and these songs helped to define solo instrumentation to what it is today. They were so rich with texture, almost as if you can feel the weather changing in each season.
The rest of the program featured a Johann Sebastian Bach piece "Orchestral Suite No. 3" of which had some really pleasant harpsichord parts. They finished with another pair of Handel composures "Alla Hornpipe" and "Air" from Water Music. The whole concert was a tremendously enjoyable experience. Jonathan Carney led a splendid performance and should be recognized amongst the elite violinist, such as Joshua Bell, Mark O'Conner, and Elena Urioste.
TRR Revue By: Alan Duckworth