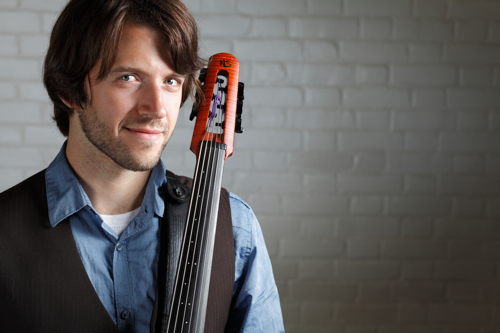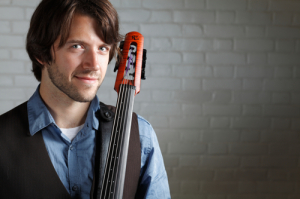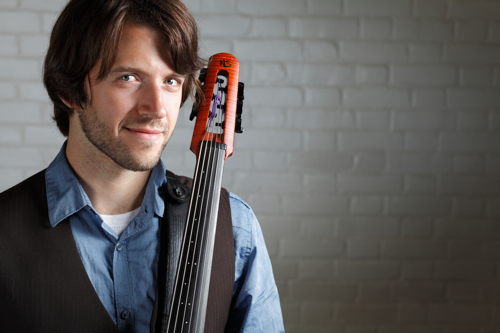 This time on INTERVUE, Music Reviewer, Alan Duckworth, had the opportunity this week to speak with Cellist Wytold in regards to his new album entitled "My Regards" slated to be released on February 13th.
Alan: I would like to thank you for your time, there are just a few questions I would like to ask you about your new album "My Regards" and a few questions about your music in general. Great album cover, by the way!
Wytold: Thank you so much, it was actually a former Strathmore artist in residence Christylez Beacon who is a GRAMMY nominated local hip hop artist. He not only collaborates with me on the album, but he did the artwork, and the photo shoot, and graphic design and all that.
Alan: It's good you mentioned Christylez Beacon. It actually leads into my first question. You've worked with various artist, vocalist Christylez Beacon and percussionist Bryan Bowman and Jerry Tolk. Would you consider yourself more of a solo artist, or as a member of a group?
Wytold: There are people I play with very frequently that I really enjoy playing with and want to continue playing with a lot. I think that my songs have so much flexibility to the way that they can be presented that I do tend to think of myself as a solo artist. The same song performed solo cello, would really fit some venues, whereas a more livelier, noisier setting would be more appropriate to have percussion, have a bass guitar, having Christylez Beacon on beatbox. You know it just varies from show to show, but I'm the constant.
Alan: You have an interesting method of layering and looping various cello pieces. What type of process is involved when composing in this manner?
Wytold: Sure, well it's called live looping. When I'm performing I'm recording little loops of my live playing. Playing them back immediately and adding layer after layer to build up the song as I go. I'll kind of have a set of layers with a verse, a set of layers with a chorus, a set of layers with a bridge and their all created live so when I'm composing every song is a little bit different. Most often I will stumble into a riff when I'm practicing or hear a riff in my head. I'll record it and then listen to it over and over again, note different formatives, different chord progressions. Eventually after jamming on it for half an hour it will have five different parts to it and maybe a few different directions.  It could go the chorus, the verse, and then the bridge. Once I have all these layers together the trick is to figure out a song structure that allows you to go between the different parts musically and quickly. To keep the song moving and keep it heading in a meaningful direction, but not make things too complicated.
Alan: How is "My Regards" different from your previous two albums "When Fulvio Finds Celeste" and "Do You Hear What I Hear"?
Wytold: Okay, where When Fulvio Finds Celeste was just totally cello. You'd hear acoustic cello, you'd hear electric cello, and actually that's where the name of the album came from. Fulvio is the name of my electric cello and Celeste is my acoustic cello, and it's the combining of the two cellos. This album involves more percussion, more collaboration with Byron Bowman on percussion and Jerry Tolk on some percussion and some bass guitar, and Christylez Beacon on beatbox. I'll say that my last album felt a little bit more classical and maybe a little bit more atmospheric than this one, "My Regards" is more melodic. Some songs feel more like instrumental rock songs and have more of a world beat to them, more than anything I've ever released before.
Alan: Speaking of world beat. How did it feel having you music featured in the soundtrack of "Blood Brother"? It was such a powerful documentary. Did it change your perspective any?
Wytold: Yeah, absolutely it was an experience. It really did inspire me and motivate me to push farther and harder than I had been, absolutely. I got to go to the Sundance Film Festival and perform a couple times to support the movie. I also had a chance to attend the premier and be in the theater as my music came in, in an uplifting moment in the middle of a very difficult and powerful documentary. They had standing ovations at all the screenings; it was a real meaningful thing to be a part of. At the same time I had friends involved with the film, there were the directors, and the composers who worked together and independently created there own massive budget and fundraised for a project they believed in and really followed their dreams to a really far place, obviously Sundance is a pinnacle achievement for them. I produced my albums independently; it motivated me to take it a lot farther in the future.
Alan: What do you hope to accomplish with your new album "My Regards"?
Wytold: First and foremost, I hope to connect with the listener. The first track, within the first five minutes I want the listener to feel like their connecting with an old friend, but in the broader scheme of things I hope that "My Regards" is a gateway for me to start sharing my music with more and more people, on the east coast possibly nationally. I'd really like to be performing as much as possible and start to really tour with this album.
Alan: Your new album "My Regards" features a variation of Johann Sebastian Bach's "Cello Suite No. 1". How do you incorporate classical themes in with your more traditional folk sound?
Wytold: Yes, I grew up playing the classical cello. Playing classical repertoires, playing with the orchestras and private lessons, because I had carpal tunnel syndrome I really had to distance myself from that classical world in college. So remixing the classical suite prelude to Bach is like taking all the new musical influences that I absorbed and mixing them into the classical world and take all the classical inspiration and look at it in a different way. Physically the way that I did that is I took really recognizable parts of Bach's prelude and I looped them, and then I considered, one the verse, one the chorus, one the bridge and from there turned the song into something really different. Then bring Christylez in on vocal percussion, and then try to do some improvising and turn it into something else.
Alan: I have just one more question for you. What current artist and musicians are in the Wytold playlist?
Wytold: Ha, Ha, Ha! We'll I'm definitely listening to Andrew Bird. I had a chance to see Andrew Bird perform and meet him backstage at Sundance; I was very excited about that. I also recently discovered; it was a tip from a fan, the Penguin Café Orchestra. A strange revival group that contains sort of, these repetitive string layers with kind of a world beat to them. Really there aren't too many people doing that sort of thing, so I try to fill up whenever I find similar music like that.
Alan: That sounds like something definitely to check out. I guess that pretty much wraps it up. Good luck with your new album "My Regards".
Wytold: Thank you
Look for Wytold's newest album, "My Regards", when it hits February 13th. For more information on this spectacular artist, go to http://www.wytold.com/ or follow Wytold on Twitter @WytoldMusic
For INTERVUE, I'm Alan Duckworth!