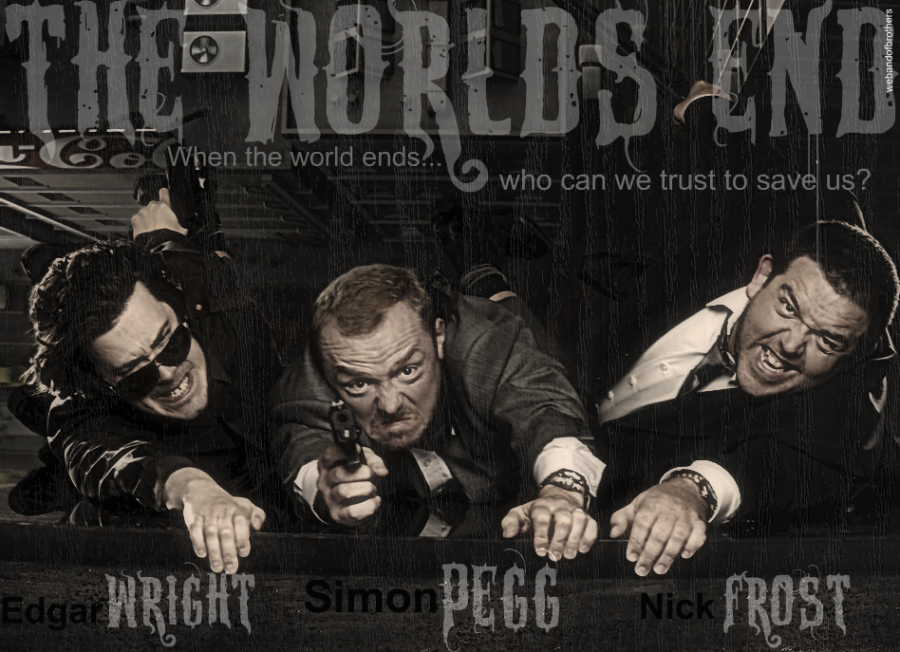 The Cornetto Trilogy is coming to an end and the Best Way to finish it is the ULTIMATE Pub Crawl. 5 five friends, 12 Pints, 12 Pubs. The finish line is at The World's End! What could go wrong? Find out when The World's End drinks its way to theatres to August 23rd. I had the chance to interview Edgar Wright, Simon Pegg and Nick Frost to talk about movies, goals and life – Not in that order of course!
I like how The World's End touched on the theme of goals that we wanting to achieve but never do due to life itself. I like to know from each of you was there a goal in your past or recently that you have yet to achieve but like to someday.  
Edgar Wright: I wanted to be an astronaut when I was very young but I don't think it's ever going to happen. Although, maybe like Virgin Galactic, you need $250,000 to go up into space with Russell Brand.
Simon Pegg: I wanted to be a spaceman when I was a kid. I remember a thing I drew in my classroom of "What you wanted to be when you grow up?" and I drew a spaceman and I like to say that I didn't get to do it but I'm the mother***ing engineer on the Starship Enterprise. So, it worked out well.
Nick Frost: I fancied to be a river sheriff in my early career.
Why a river sheriff, I have to ask?
Frost: Well, you're responsible for a stretch of river and just wander around with your big wankers on and we just make sure the river is all right.
So, I have to pay a toll to cross the river?
Frost: No, no no. You can come over for free. A river sheriff isn't a cop. He actually takes care of that section.
What's your favorite movie of all-time?
Wright: Raising Arizona. Pre-1960 for writing – North by Northwest
Pegg: Some Like It Hot
Frost: Close Encounters for me
Since the Cornetto trilogy is coming to an end. What are your final thoughts and would you change your mind and make a fourth film?
Pegg: I would do a fourth film but it won't be part of the series of films.
Cool, are we thinking another trilogy?
Pegg: Maybe, I don't know. We're free now and we are not constrained by the criteria we set ourselves for the three films which are: Set in the UK, written by just me and Edgar, about loss of identity. Those sort of themes include that fact that there's ice cream in all of them and there's a fence gag. There's a very specific set of criteria that define these three films. The next film we make together won't have to have any of those things. We're free to do whatever we want any ol' time to quote Gary King.
We like to thank Edgar Wright, Simon Pegg & Nick Frost for the laughs and the great interview. Get you drink on at The World's End when it arrives in theatres AUGUST 23rd.
For INTERVUE, I'm Dean Rogers