Disney's Planes
3 min read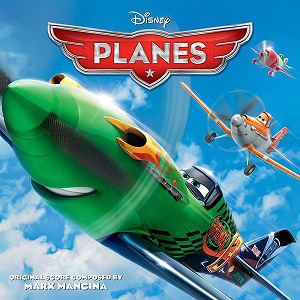 Fasten your seatbelts. It's time to fly the friendly skies with Disney's new film "Planes." With the majority of the soundtrack composed by Grammy-Award winning composer and song writer Mark Mancina—who is best known for his work in "The Jetsons: The Movie" and the Disney film "Tarzan"—the soundtrack takes the audience on an aerial adventure of epic proportions. In this escapade, a crop duster named Dusty desires to race professionally alongside other airborne racers, proving that he is more than a crop duster.
Mark Holman's "Nothing Can Stop Me Now," Chris Classic and Alana D's "You Don't Stop NYC," Jon Stevens' "Fly," and Mark Mancina's "Planes" express Dusty's longing to leave the cornfield and become something greater. "Crop Duster" reminds the audience of Dusty's origin, but also cautions us not to focus on that one aspect of his original design, but of his capabilities and inner strength. "Last Contestant," "Hello Lincoln/Sixth Place," "Show Me What You Got," "Dusty Steps into History," "Start Your Engines," and "Leg 2/Bulldog Thanks Dusty" describes Dusty's journey into his racing future, giving the chance to show the racing community that he has what it takes to be a professional air racer. "Skipper Tries to Fly," "Dusty & Ishani," "The Tunnel," Running on Fumes," and "Get Above the Storm" give you hope that there is always a fighting chance that success is just around the corner and that anything is worth the struggle. "Skipper's Story," "You're a Racer," "Leg 7," and "Skipper to the Rescue" illustrate the story of Skipper's dark past to the restoration of faith and inspiration within Dusty to persevere through the race, regardless of the obstacles in his path.  "Dusty Soars," "1st Place," "A True Victory," "Skippers Theme" and "Honorary Jolly Wrench" demonstrate the success and respect Dusty earns as a professional flyer.
"Planes" co-star Carlos Alazraqui, musician Antonio Sol and voice actor Dave Wittenberg lend their voices to "Love Machine" and "Ein Crop Duster Can Race" respectively, which add to the comic relief of the film. "Armadillo" is the perfect way to end the soundtrack, adding a peaceful ending to such a thrilling movie.
"Planes" has quite a unique track that will whet the palate of every listener. You can never go wrong with a variety of sounds, and the "Planes" soundtrack certainly has that.
Final Grade: A