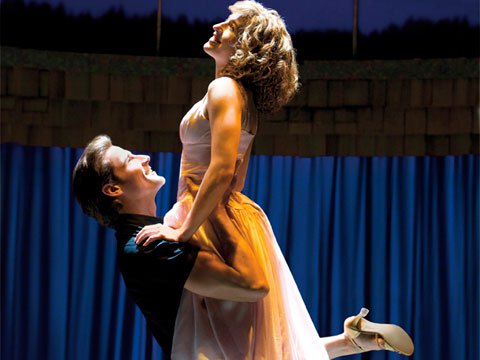 Dirty Dancing – The Classic Story On Stage will launch a multi-city North American tour at The National Theatre in Washington D.C., August 26 – September 14. The staged musical of this worldwide smash-hit film will go on to play over 30 markets in North America including Minneapolis, Atlanta, Houston, New Orleans, Seattle, Costa Mesa and more. Additional cities will be announced in the coming months.
"It's long been a dream of mine to mount a North American tour of Dirty Dancing," says Ken Gentry, CEO of NETworks Presentations LLC. "The proven global appeal for this story is undeniable and I know audiences, both fans of theatre and fans of the film, will be captivated with the way this production re-imagines the movie through an incredible fusion of storytelling, classic songs and electrifying choreography."
The production's book is written by Eleanor Bergstein, who penned the screenplay for the iconic film. The North American tour will be directed by James Powell with choreography by Michele Lynch based on the original choreography by Kate Champion.
Dirty Dancing – The Classic Story On Stage is an unprecedented live experience, exploding with heart-pounding music, passionate romance and sensational dancing. Seen by millions across the globe, this timeless love story features the hit songs "Hungry Eyes," "Hey Baby," "Do You Love Me?" and the heart-stopping "(I've Had) The Time Of My Life." London's Sunday Express says "This crowd-pleasing stage adaptation hits the jackpot!"
It's the summer of 1963, and 17-year-old Frances 'Baby' Houseman is on vacation in New York's Catskill Mountains with her older sister and parents. Mesmerized by the racy dance moves and pounding rhythms she discovers in the resort's staff quarters, Baby can't wait to be part of the scene, especially when she catches sight of Johnny Castle, the resort's sexy dance instructor. Passions ignite and Baby's life changes forever when she is thrown in to the deep end as Johnny's leading lady, both on-stage and off.
Dirty Dancing – The Classic Story On Stage was first performed at the Theatre Royal in Sydney, Australia in November 2004 before embarking upon a hugely successful tour of Australia and New Zealand. A new production opened at the Theater Neue Flora in Hamburg, Germany in March 2006 where it broke records for achieving the highest advance in European history.
The production began performances on London's West End in October 2006 with an £11 million advance and went on to become the longest running show in the history of the Aldwych Theatre. It closed in July 2011 in advance of a two-year UK national tour and then returned to London for a strictly limited season at the Piccadilly Theatre.
The show has gone on to perform across the world in markets as diverse as Utrecht, Holland, Johannesburg and Cape Town, South Africa. It is currently represented by a new UK tour, which launched March 2014 in Bristol.
The North American tour of Dirty Dancing – The Classic Story On Stage is produced by Amber Jacobsen, NETworks Presentations LLC and Grove Entertainment.
Dirty Dancing 2014 – 2015 North American Tour Dates
Washington, DC 8/25 – 9/14 The National Theatre
Durham, NC 9/16 – 9/21 Durham Performing Arts Center
Cincinnati, OH 9/23 – 10/5 Aronoff Center
Minneapolis, MN 10/7 – 10/19 Orpheum Theatre
St. Louis, MO 10/21 – 11/2 The Fabulous Fox Theatre
San Antonio, TX 11/4 – 11/9 Majestic Theatre
Austin, TX 11/11 – 11/16 Bass Concert Hall
Houston, TX 11/18 – 11/23 The Hobby Center
Atlanta, GA 11/25 – 11/30 The Fox Theatre
Tampa, FL 12/2 – 12/7 Straz Center
Jacksonville, FL 12/9 – 12/14 Times-Union Center
New Orleans, LA 12/16 – 12/21 Saenger Theatre
Sacramento, CA 12/26 – 1/4 Community Center Theater
San Diego, CA 1/6 – 1/11 San Diego Civic Center
Portland, OR 1/13 – 1/18 Keller Auditorium
Seattle, WA 1/20 – 2/1 Paramount Theatre
Costa Mesa, CA 2/3 – 2/15 Segerstrom Center for the Arts