Comet TV: MST3K Giveaway!
4 min read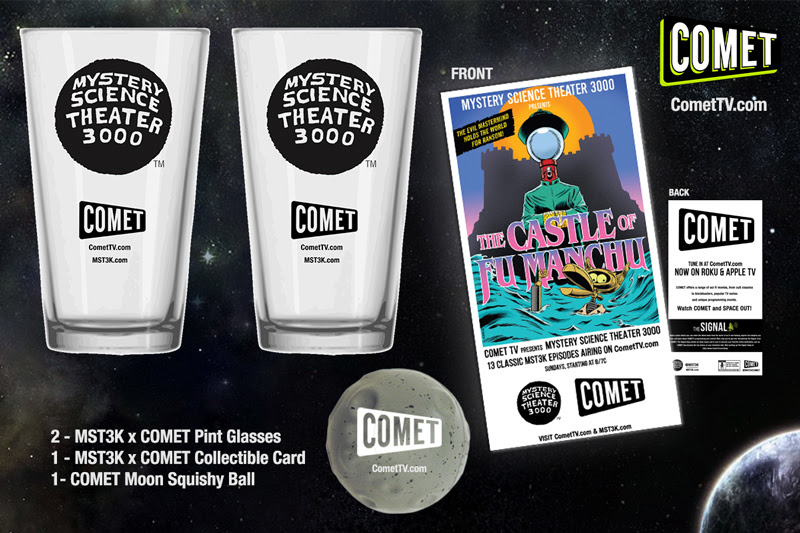 For the month of April we're heading into space to celebrate the fact that Comet TV has a bunch of episodes of MST3K heading back to Comet TV! We thought this was the perfect time for people and fans to introduce Comet TV to our readership, so this April giveaway – we will raise a glass for you and one to share with a best bud, parent or whoever they want to give it to.
TO ENTER:  Send us your name, location, and your favorite sci-fi B-Movie (Past or Present) to therogersrevue@gmail.com with the Subject MST3K  by Friday, MAY 5th @ 6:00pm EST – This contest to open all residents living in the United States !
One randomly selected person will WIN this prize pack, GOOD LUCK!
The MST3K Pack will include:
2 limited Edition MST3K Pint Glasses: Share with a bud, or keep them both, yes we'll judge you but in this day and age does it matter? You can only get these glasses in this pack!
A Moon stress ball: When your stress gets out of this world, just squeeze this stress ball to get it all out… GET IT OUT!
A custom MST3K flyer: Designed for the discriminating fans of MST3K.
RULES:
Each household in the US is only eligible to win one (1) MST3K pack which includes 2 limited edition MST3K Pint Glasses, a moon stress ball and a custom MST3K flyer. Only one entrant per email address per giveaway. If you have won the same prize on another blog, you are not be eligible to participate in the giveaway. Entries must be received by  MAY 5, 2017 @ 6:00pm EST. Any entry after the time stated, will not be qualified.  Winner is subject to eligibility verification. The prize will be sent via FedEx or USPS. No P.O. Boxes please. Please note that the assets included within this message were delivered to you to promote COMET. Any actions (including contest and competitions) that you complete with the provided assets are your liability, and should comply with both local and international laws. Also, please remember to disclose that you are working with COMET, or that COMET supplied these materials to you if required by local law.