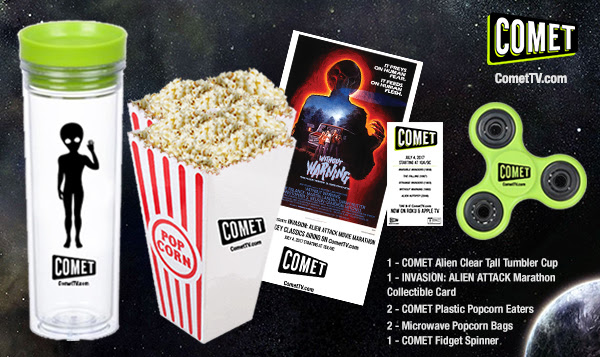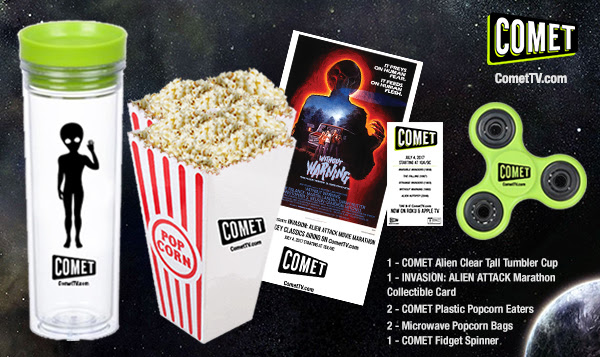 For the month of July, Comet TV will celebrate our Independence Day with an Alien Marathon! We thought this was the perfect time to run this new giveaway – with an amazing Alien Attack Movie Marathon Pack!
Tweet @WatchComet and let us know about your latest sighting, abduction or let us know what you'd like to see on COMET.
TO ENTER: Send us your name, location, and the answer to the question How would you survive an alien invasion? to therogersrevue@gmail.com with the Subject Alien Attack by Saturday, JULY 8th @ 7:00pm EST – This contest to open all residents living in the United States !
One randomly selected HUMAN will WIN this prize pack, GOOD LUCK!
The Comet TV Prize Pack includes:
1 – Limited Edition custom designed Fidget Spinner: They are all the rage right now and there's no better way to cool down when you're hot under the collar and worried about the survival of the human species!
2 – Comet TV Popcorn Tubs: Munch your cares away with these two custom design popcorn tubs. Perfect to share with a friend or keep all the rations to yourself. You just might need it!
1 – Comet TV Cylinder Survival Bottle: During times of invasion you still need to hydrate. What if you were by a lake or stream while running from the aliens and didn't have anything to put water in. Breathe freely my friends, we got you covered!
2 – Bags of Popcorn: How can we give you Popcorn Tubs without the popcorn. We're not evil… Well…. Only sometimes.
1 – Limited Edition Comet TV Alien Invasion Collector Card: Warn your friends about the Alien Invasion with this handy dandy card! Shout it from the rooftops, scream it from the top of your lungs… Or just share it on Facebook. Either way, this limited edition collector card is an awesome way to share the love!
FACT: Did you know July 4th is the 70th anniversary of the Roswell UFO crash.
RULES:
Each household in the US is only eligible to win the Comet TV's Alien Attack Movie Marathon Pack. Only one entrant per email address per giveaway. If you have won the same prize on another blog, you are not be eligible to participate in the giveaway. Entries must be received by JULY 8, 2017 @ 7:00pm EST. Any entry after the time stated, will not be qualified. Winner is subject to eligibility verification. The prize will be sent via FedEx or USPS. No P.O. Boxes please. Please note that the assets included within this message were delivered to you to promote COMET. Any actions (including contest and competitions) that you complete with the provided assets are your liability, and should comply with both local and international laws. Also, please remember to disclose that you are working with COMET, or that COMET supplied these materials to you if required by local law.