COMET TV Con Survival Pack Giveaway and The Godzilla Get Down!
3 min read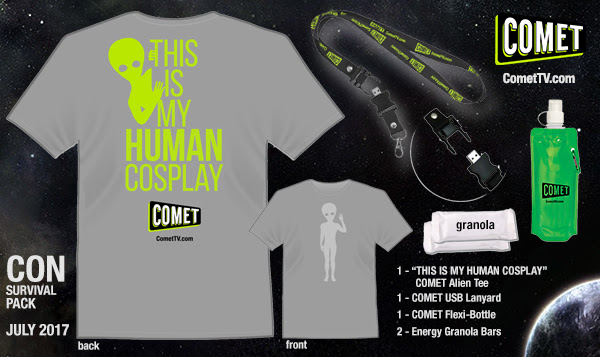 The summer is filled with so many conventions all over the country. Now you can win the Comet TV's Con Survival Pack. ENTER TODAY!
TO ENTER: Send us your name, location, and the answer to the question What helpful hint would you give you a first time con-goer? to therogersrevue@gmail.com with the Subject CON SUMMER by August 2nd @ 5:00pm EST – This contest to open all residents living in the United States
One randomly selected person will WIN this prize pack, GOOD LUCK!

I hope you're feeling Con-tastic because it's July and you know what that means… It's Convention season!
To celebrate the madness and fun of convention season, we've put together an awesome Con Survival Kit! It's the perfect thing to get you prepared to tackle any convention! Whether you're heading down to the madness of San Diego, checking out the Disney adventures in Anaheim, or just getting ready for the multitudes of conventions this summer our Con Survival Kit will get you prepared for anything.
The Con Survival Kit includes:
1 Limited Edition Comet Cosplay Shirt – It doesn't matter if you dress up as an out of this world creature or just head down to your favorite convention in street attire, our limited edition Comet Cosplay shirt will help you make a statement.
1 Comet 2GB USB Lanyard – You need something to hold your badge in place, heck it might have taken blood sweat and tears to get it! This isn't just an ordinary lanyard though, it's also a 2GB USB drive, perfect for holding music, photos and anything else you can fit on there!
1 Collapsable Flexi Water Bottle – I… Crave… Water… You know you're going to be practically parched running from panel to panel but fear not! We have the perfect flexi bottle to keep you safe and hydrated. Ah… It makes you feel better already doesn't it?
2 Granola Bars – Look, we all need a little bit of a pick me up right? We have a couple bars to keep your inner Godzilla at bay and a smile on your face!
Also, don't forget about The Godzilla Get Down airing on Comet TV in July! Some rip roaring Godzilla Goodness is about to take over Comet TV!
GODZILLA GET DOWN has arrived! In one of our BIGGEST programming events ever, COMET will be airing two classic Godzilla movies back-to-back every single Saturday in July.
Rodan (1956)
Saturday, July 8 at 10P/9C
Godzilla: King of Monsters (1956)
Saturday, July 8 at MIDNIGHT/11C
Mothra VS. Godzilla (1964)
Saturday, July 15 at 10P/9C
Ghidorrah: Three Headed Monster (1964)
Saturday, July 15 at MIDNIGHT/11C
Godzilla VS. Monster Zero (1964)
Saturday, July 22 at 10P/9C
Godzillas Revenge (All Monsters Attack) (1969)
Saturday, July 22 at MIDNIGHT/11C
Terror of Mechagodzilla (1975)
Saturday, July 29 at 10P/9C
Gojira (1954)
Saturday, July 29 at MIDNIGHT/11C
RULES:
Each household in the US is only eligible to win the Comet TV's The Con Survival Kit. Only one entrant per email address per giveaway. If you have won the same prize on another blog, you are not be eligible to participate in the giveaway. Entries must be received by AUGUST 2, 2017 @ 5:00pm EST. Any entry after the time stated, will not be qualified. Winner is subject to eligibility verification. The prize will be sent via FedEx or USPS. No P.O. Boxes please.