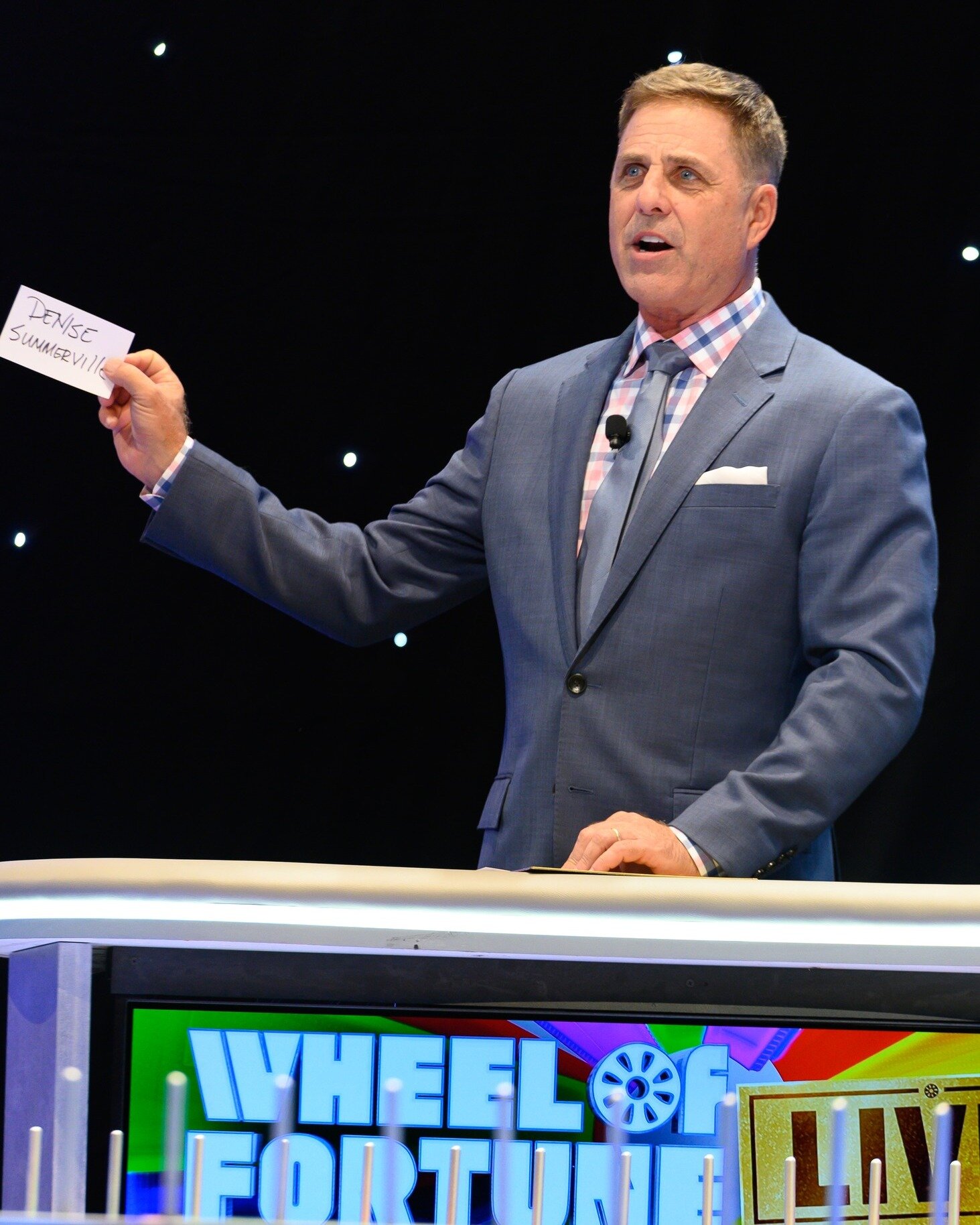 In today's INTERVUE, when it comes to my interviews for the past fourteen years, if there's one thing that I love about my interviewing great people is when I get to talk to a celebrity the second time around. And ladies and gentlemen, for the second time in two years, I get to talk to a wonderful talented game show host. 
He is back for the sophomore year of Wheel of Fortune LIVE – Mark L. Walberg,
How you doing today, Mark?
I am well, how are you?
I'm doing great. I cannot believe it's been over a year since we last talked about Wheel of Fortune LIVE and here you are in your sophomore year back again. How does it feel to be back?
I'm grateful that we're doing it again. This tour is going to be pretty great. I think, we started last year and we're still coming. I know it sounds crazy with live audience are still having the effects of the pandemic, so they weren't 100% back. I'm looking forward to getting back out on the road with this show and bringing America's game to people in their own neighborhoods because not everybody can make it to Hollywood. Of course, we're doing a staged version is not the TV version but it's a lot of fun for me, and hopefully it will be for the audiences as well.
And for those who are reading, Mark's hosting on Saturday, November 4 at the Hollywood Casino at Charles Town Races, in Charles Town, West Virginia. So, this is the first time I'm promoting a show in West Virginia. And I'm actually going to be there to see you once again.
Oh, great. I've been to Charles Town. I've been to this casino several times with The Price is Right LIVE. I'm looking forward to bringing Wheel of Fortune there should be fun.
Excellent. I want to thank you because when I talked to Bob Goen a few weeks ago, you told him that I was a great interviewer. So, thank you very much for the praise. I really appreciate it.
My pleasure. I've known Bob my whole career. Bob's a game show nerd like us and is maybe you know, the silent king of the game show nerds. I'm not sure about that.
I don't know about that. There's a little bit debate about that. Since Wheel of fortune LIVE is now in its second go round, has there been any changes as far as you know, from the first time that you've toured across America with this fabulous show?
I think there are a little bit of format changes a little bit of a different pace to the show this year. We're gonna get people involved in the audience like we did last year, but in a different way. This year, we have a new announcer out there in the audience, a guy named Cody Dove, who's really funny and people will love him. And yet, but still staying true to basically a celebration of the game we watch every night on TV, so chances to win whether you make it onstage or not. We're going to pepper the audience with stuff. A lot of times people want to play but not everybody wants to come on stage. So, I have a handful of people on stage. But if you're in the audience doing nothing, just watching, you could still be a winner. So that's exciting.
Well, that's great to hear. Is Kalpana pot returning as a model, do you have a new model for this go round?
Kalpana is going to do part of the tour. But we have a new model. Daisy, who's out there on the road now. I will be there in November with her and Cody. You know, these tours of three months long, not all of us can be available for the whole thing. So Bob Goen is out there doing it right now. The only one of us live hosts have actually hosted the Wheel of Fortune TV show. That's fun for the audience. And then I'll do my thing when I get out there. I leave next week and start on the road, and I'll be in Charles Town
How does it feel to have Bob Goen going out as a fellow show of WoF Live?
I know Bob, for a long, long, long time. I'm grateful that he's out there doing his thing. I wish that we could be in the same room at the same time and hang out but that doesn't happen. We pass in the night as he's leaving, I'm coming. Regardless of whether you see me or see Bob, Wheel of Fortune LIVE won't disappoint. You'll have a good time.
And especially earlier this year, we got the unfortunate news that Pat Sajak is retiring from Wheel after 41 incredible long years. When you first heard the news, what was your reaction?
I don't know that I reacted. I saw it coming. He had hinted that he was gonna leave. And he sure did his job great for decades. And so, I, wish him well in the future. And it's time to enjoy the fruits of his labor and onward he goes, absolutely.
This year marks the untimely passing of W.G.M.C., Bob Barker, and you were one of the great hosts of The Price is Right LIVE for many years. Have you ever worked with or interacted with Bob Barker? And if so, what was the story behind it?
I never met Bob, never really interacted with him when he retired. And the sweepstakes was on for everybody trying to get that job. I didn't really push it. I didn't want to kind of try to weasel my way in with Bob. I've been an admirer of his work. I've watched clips of his work for all those years and grateful that he's resting in peace. Now he got his money's worth out of this planet.
From your perspective, as a game show host, what makes a great contestant especially since you're going to go on tour? You have seen a lot of the at home players, they play the game at home prior to being the one called on stage to play their favorite game show.
The ability to play the game well is always nice, but we since we select our contestants randomly, we don't always get particularly great, expert wheel players. But more importantly than that, especially on the live show, just have fun. If you mess up laugh at that, if you're excited, be excited. It's just it's a party. Just have fun. And I'll take care of you from there.
You'll take good care of them. As we mentioned plenty of times through our interviews, you have hosted some of the best LIVE gameshow out there. Is there any game show out there that you would love to see a live version of?
That's a good question. I don't know off the top of my head. It could be Pyramid. It's hard to say it might be fun to see some of the big primetime shows like "The Cube" or something that's more physical stunt based would be fun to do in a live setting. I usually stay out of that part and just show up or I'm asked to show up and do my thing. If they come up with another show, and they want me to do it, then I'll look at my schedule and probably say "yes".
What do you want to say to the people who have never seen of these live game show versions, but encourage them to come out and try this out once in your life?
If you love the show on TV, and like playing the game, then it's basically a party with a roomful of people that feel the same way as you. It's fun to kind of celebrate the Wheel of Fortune that we see every day in our living room, and then the wheel, the set and the puzzles are there. I would say it's a good time, and we'd love to have you come down and play.
After the Wheel of Fortune LIVE tour and you just wrapped up the season of Temptation Island, what's next for you?
I'm starting a podcast. I'm gonna get in the game there. Look for that in the next couple of months, I'm recording episodes now. But I won't launch it for a little bit. And I got a little game show idea that I came up with that I'm going to bring out and see if anybody wants to buy. But other than that, I'm playing golf, I'm hanging out with my family and playing with my dogs. I'll be living on a bus for three weeks starting next Tuesday. So that's what's up with me.
See Mark host Wheel of Fortune LIVE this Saturday November 4th at 8:00pm at the Hollywood Casino at Charles Town Races in Charles Town, WV. Tickets are available through TicketMaster.com!
Follow Mark on his social media