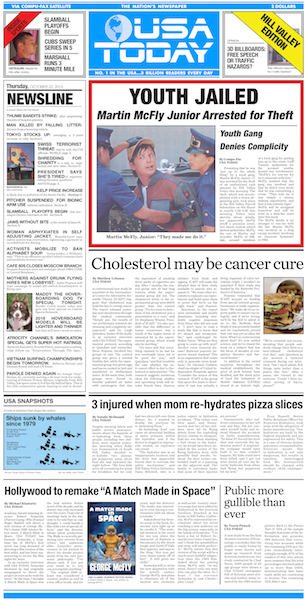 If you're a Back to the Future fan, Be sure to look for the special Hill Valley Edition of the famous 2015 USA Today front page as hits newsstand tomorrow. Get tomorrow's news TODAY – well tomorrow
The publication will be bringing the famous USA TODAY front page from the film to life (with all the fun headlines that you may recall, like 'Cholesterol may be cancer cure and Marty McFly Jr. arrested for theft') by wrapping all papers on newsstands this Thursday with the legendary film version.
If you can't wait for tomorrow, some select major cities will be showing BTTF 2, starting at 4;29pm. For people near Reston,
Don't forget, today is Back to the Future day. Set your alarms for 4:29pm PST (7:29pm on the East Coast) This is when Doc Brown and the gang arrive in the FUTURE!!!