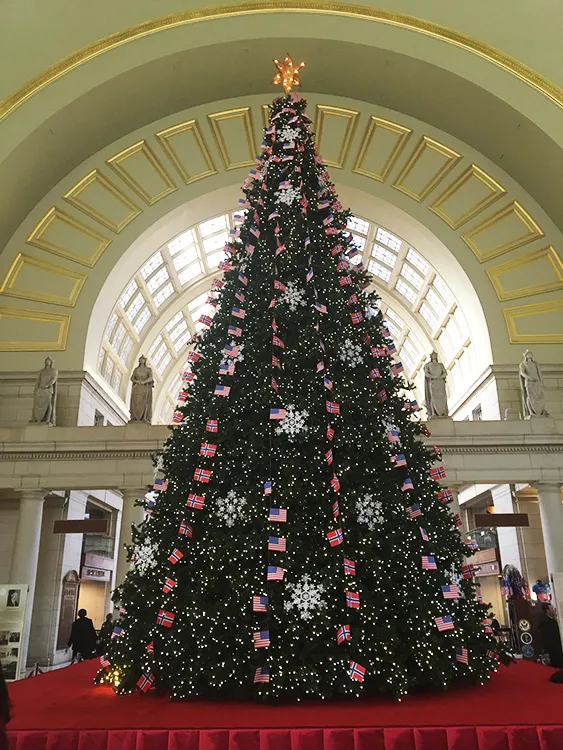 The annual Norwegian Christmas Tree Lighting, presented by Washington Performing Arts in partnership with the Royal Norwegian Embassy, kicks off the holiday season with festive music from artists including Norwegian singer Lisa Stokke, the voice of Elsa in the Norwegian language-version of Frozen and Frozen II; D.C.-based singer James Murphy; D.C.-based harpist Kim Sator; rock, country, reggae, and pop band Brent & Co.; an appearance by Santa and Mrs. Claus; and the lighting of the magnificent Norwegian Christmas Tree. The event will be hosted by WUSA-9's Allison Seymour.
The country of Norway presents the Christmas tree to the people of Washington, D.C., in recognition of the strong friendship between Norway and the United States, and in gratitude for America's assistance during and after World War II.
Washington Performing Arts partners with the Royal Norwegian Embassy, NorCham USA, and Union Station in this beloved holiday event. More information is available at www.unionstationdc.com/events/norwegian-tree-lighting-ceremony
WHEN: Thursday, December 7, 2023, at 6:00 p.m.
WHERE: Union Station Main Hall (50 Massachusetts Ave NE, Washington, DC 20002)
ARTISTS:
Headlining artist: Lisa Stokke | Norwegian singer, actress and voice-over artist
James Murphy | DMV-based singer
Kim Sator | harpist
Brent and Co. | D.C.-based band
Follow Washington Performing Arts on Social Media:
Facebook: https://www.facebook.com/WashingtonPerformingArtsSociety
X: https://twitter.com/WashPerformArts
Instagram: https://www.instagram.com/washingtonperformingarts/
YouTube: https://www.youtube.com/user/wpasadmin