It's often harder to write a review when I thoroughly enjoy a show and Aaron Posner and Teller's adaptation of The Tempest has left me with writer's block. Filled with mesmerizing illusions, incredible acting, and a beautifully detailed set, this production turns a fantastical story into literal magic.
The tale is centered around Prospero, who seeks vengeance for being deposed as the Duke of Milan. Exiled years earlier, Prospero now lives on a remote island with his daughter and mythical aides: Ariel, a spirit, and Caliban, a monster. With some magical interference, Prospero shipwrecks those who took his title, where they are plagued by the wilds of the island and Prospero's spells. The story feels a lot like A Midsummer Night's Dream, equally imbued with magical creatures and comedic misunderstandings.
This production of The Tempest had been on my to-see list since it was announced as part of the 2020 Folger on the Road season (which was delayed by the COVID-19 pandemic). I was curious to see how Teller incorporated modern day illusion into a story about a sorcerer and the result exceeded my expectations.
While all of the acting is top notch (I have experienced nothing less in a city filled with incredible Shakespearean actors), there are two absolutely standout characters worth noting.
The first is the spirit, Ariel, played by Nate Dandy, who is a magician in addition to being an actor. What this translates to are visual elements on stage that one would associate with a pure magic show, such as card tricks to symbolize characters, the sudden appearance of props, and levitating characters. Teller's fingerprints are all over these artistic decisions. Posner notes "​​so many productions of The Tempest deal with [Prospero's] magic as metaphor… but here we deal with his magic… as magic!"
The second, jointly performed by Hassiem Muhammad and Ryan Sellers, is the monster Caliban. Muhammad and Sellers seem acrobatically fused together, their movements and vocals so perfectly synchronized as they tumble their way across the stage. The show's choreography is by the innovative Pilobolus, and is clearly evidenced in the physicality of the way Caliban moves.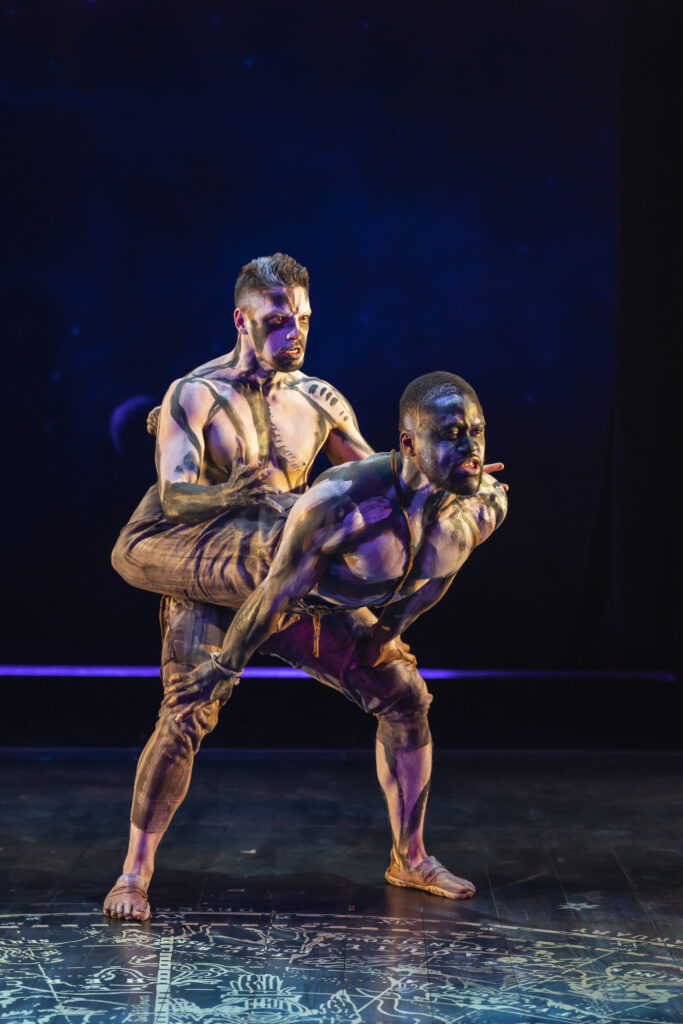 I would be remiss if I didn't mention that the whole performance is set to live music by Tom Waits and performed by Lizzie Hadstedt, Kanysha Williams, and Ian M. Riggs. Their on-stage band has a Caribbean/folksy/jazz quality appropriate for the island setting, with a tonality that is equally eerie and fantastical. Small tunes give sound to the visual magic on stage.
Magic by Teller, dance by Pilobolus, music by Tom Waits – I would watch each of these elements separately, but together they create a unique variation of the Bard that I haven't seen yet in the DMV. There are so many unique and creative artistic choices in this adaptation, that I strongly recommend that you see it all come together for yourself.
Final Grade: A
The Tempest runs from November 23, 2022 to January 15, 2023 the the Round House Theater in Bethesda, MD. Tickets can be purchased by calling 240-644-1100, ordering online at RoundHouseTheatre.org,The Round House Theater is located right off of the Bethesda Metro Station (red line). https://www.roundhousetheatre.org/On-Stage/Explore/The-Tempest
Running Time: 2 hours and 30 minutes with a 15 minute intermission. But I recommend going early for a pre-show magical surprise.
COVID Safety Protocols: Masks are required at all times inside the theater, regardless of vaccination status.